The pool deck is a must-have addition to your aboveground pool. It eliminates the need to double-adjust chemical levels, since the dirt from the adjacent yard will not enter the water, and allows you to place sun loungers and a BBQ next to the pool while keeping your yard pristine.
It may seem that such functionality can be expensive, doesn't it? Therefore, we collected four aboveground pool deck ideas on a budget, estimated their cost, and created a detailed guide on how to build them.
If you're still worried about pool contamination or have already experienced similar problems, a
pool filter pump
can be a great addition to your deck and make pool water maintenance a breeze.
What Is The Best Material To Build A Cheap Deck?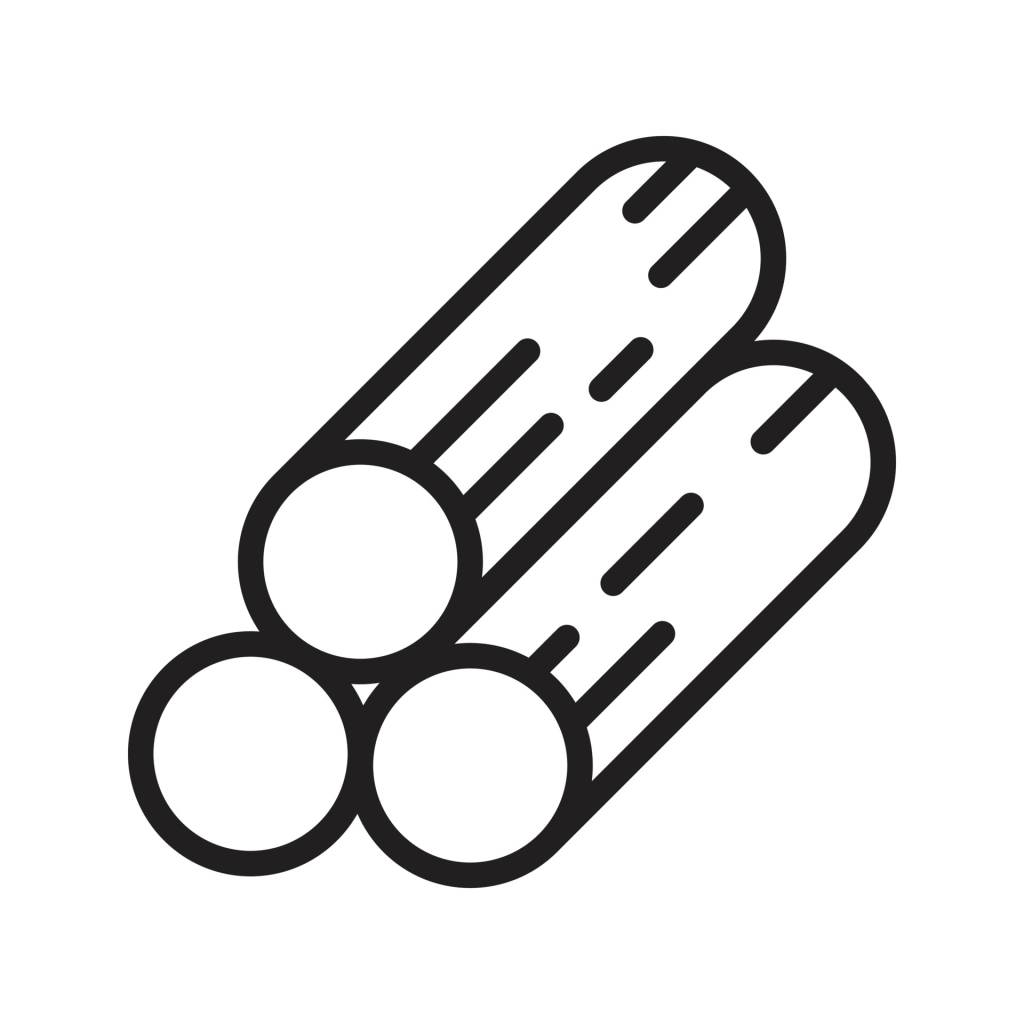 In addition to cost, other indicators should also be considered when choosing a material for a pool deck. You don't want to settle for a cheap surface that is impossible to walk on because it's slippery or too hot. Therefore, we have identified five key criteria to consider when deciding on a material for a pool deck to save on the purchase, installation, and maintenance.
*Note that these materials are also suitable for inground and semi-inground pools.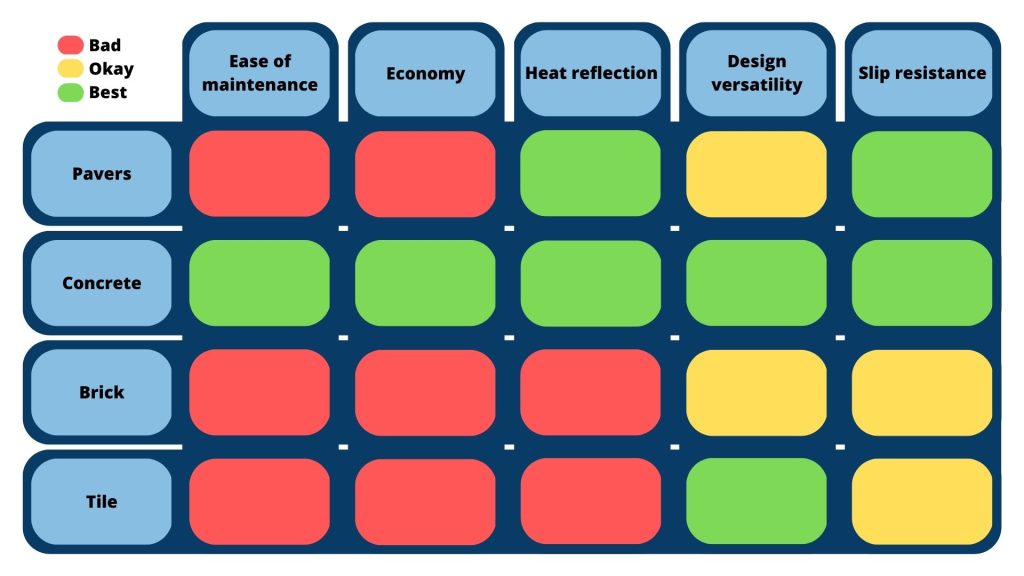 Ease of maintenance. The winner is concrete because, unlike the others, it has no seams, which may become deformed and require repair.
Price. Below, we have compared the approximate cost of materials for a 15 by 30 foot aboveground pool, which requires a pool deck of 450 square meters.
Cost of material and installation*

Pavers

Brick

Tile

Concrete

$2,250–$18,000

$2,250–$11,250

$450–$15,750

$2,700–$6,750
*at the time of writing
The cheapest option is tile. However, cheap tiles will not last long because they can't withstand heavy weight. As for concrete, its highest cost is still at least 40% cheaper than the rest. Moreover, you can find options resistant to permanent water loads and corrosion.
Heat reflection. You don't want the legs of your plastic lounge chairs to melt in the heat and your feet to get baked on a hot surface. Concrete can effectively ward off heat and keep the deck cool, so that you can walk on it barefoot.
Slip resistance. You don't want to get hurt while relaxing in the pool. In this case, you should consider pavers or concrete, as they don't get slippery even in wet conditions. The obvious one to avoid is tile, as its surface is smooth.
Design versatility. Concrete and tile will provide the widest variety of designs. However, concrete is a better solution, as you can create any shape.
If you are considering purchasing a pool deck for an aboveground pool, you should consider PVCPVC – colorless, transparent plastic., wood, and composite, as seen below: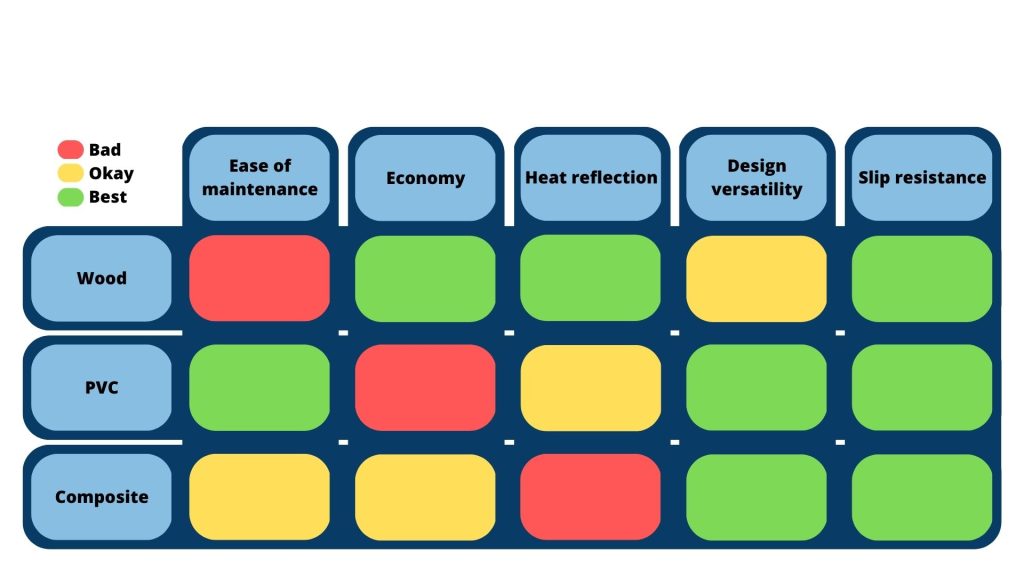 . This material is resistant to corrosion and decay because it has no pores where water can penetrate.
Wood. It is a cheap and durable material that will not get hot in the sun, and comes in a broad palette of colors. However, it should be sealed and pressure-flushed every two to five years to avoid rotting.
Composite. This material is made from recycled wood and plastic. It also does not rot like and has a wide range of colors like wood. However, this material is prone to abrasion and may heat up.
✅ Verdict:
Concrete is the best option for inground and semi-inground pools. As for aboveground ones, you can consider
, wood, or composite materials. If you need durability, should be your choice. If appearance is crucial to you, consider wood. Composite materials are a compromise.
How Much Does It Cost To Build A Pool Deck?
When it comes to the materials we have been discussing, prices break down in the following ways:
| | | |
| --- | --- | --- |
| Material | Cost per sq. ft. | Cost for a 450 sq. ft. pool |
| Wood | $8–$24 | $3,600–$10,800 |
| PVC | $14–$26 | $6,300–$11,700 |
| Composite | $13–$25 | $5,850–$11,250 |
| Pavers | $5–$40 | $2,250–$18,000 |
| Brick | $5–$25 | $2,250–$11,250 |
| Tile | $1–$35 | $450–$15,750 |
| Concrete | $6–$15 | $2,700–$6,750 |
Top 4 Aboveground Pool Deck Ideas On A Budget
We explored different materials and found out the approximate cost of building an aboveground pool deck. It will cost $450–$18,000 for you. However, not all the materials are suitable for aboveground pool decks. You should consider wood, PVCPVC – colorless, transparent plastic., and composite, the best designs from which we have listed below.
Now, it's time to consider the top four ideas on a budget.
Pool With PVC Deck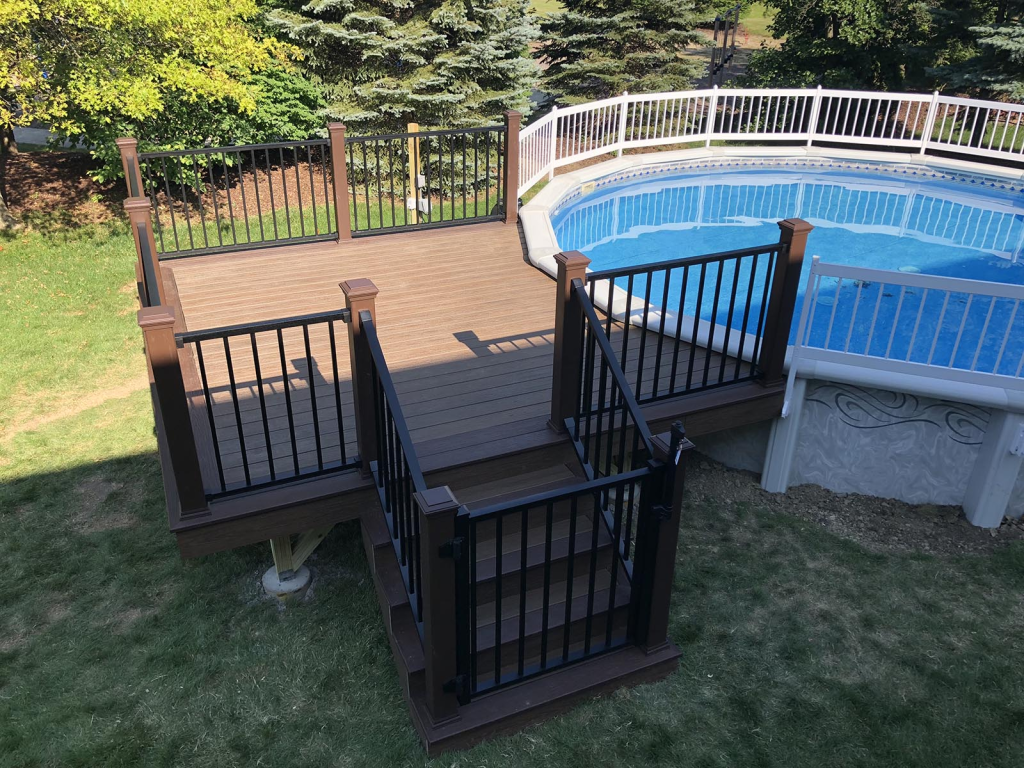 The cost of 1 sq. ft. of PVCPVC – colorless, transparent plastic. pool deck ranges from $14 to $26, of which $9–$16 is material, and $6–$10 is installation. You can avoid installation costs if you consider a small pool deck (photo below).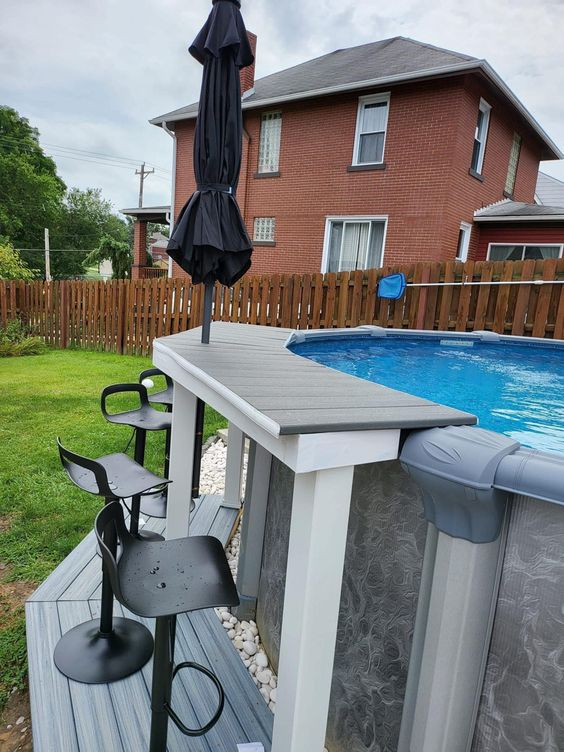 Pros
Low susceptibility to corrosion and decay due to lack of pores
Ease of care due to the absence of the need to seal or paint
You will not slip, even with a lot of water on the surface
Cons
is 8–43% more expensive than wood and composite
Pool With Composite Deck
Composite is cheaper than PVCPVC – colorless, transparent plastic. because it is made from recycled materials. However, do not count on a significant difference (only 4–8%), since the installation cost remains the same at $6–$10.
As for ideas, the most popular are pool decks with railings. However, you can also surround your aboveground pool with material to make a platform.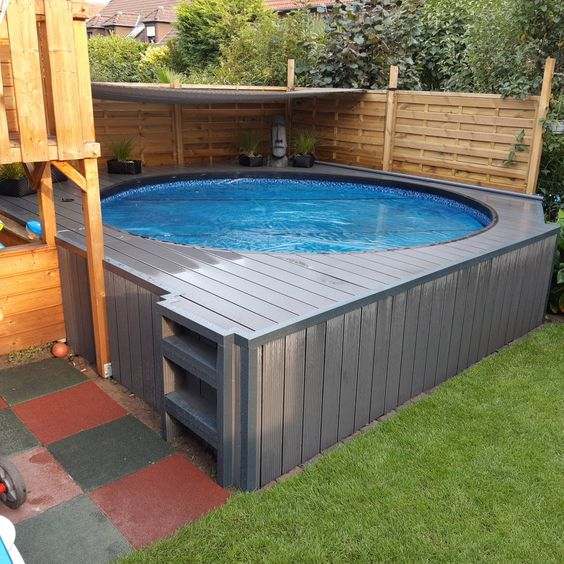 Pros
It is not subject to deformation, burnout, rotting, or corrosion
A wide selection of colors and textures, including repeating wood
Better for the environment because 80% of its composition is recycled materials
Cons
The composite surface is subject to
, so you may need to eventually repaint it
Pool With Wooden Deck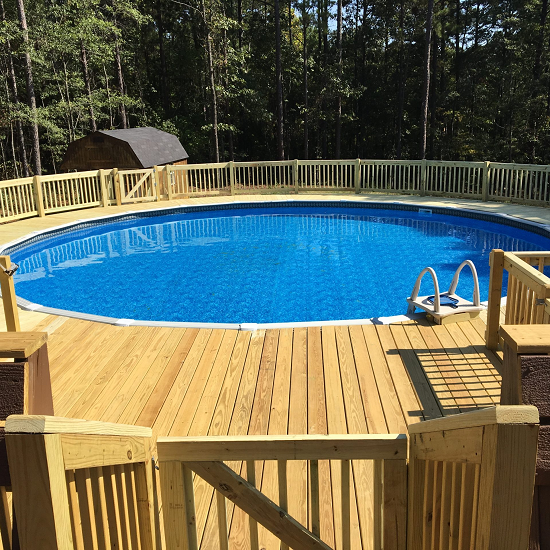 Wood is the cheapest material for pool decks. In comparison, 1 square foot of wood will cost you 4–43% less than composite or PVCPVC – colorless, transparent plastic.. Even premium options like tigerwood or redwood are still cheaper than PVCPVC – colorless, transparent plastic. or composite.
Therefore, even with a small budget, you can build a large terrace around your pool.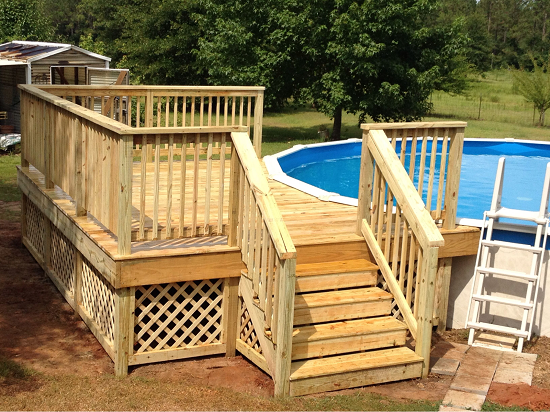 Pros

Cons

Cedar



✓ Resistant to decay and corrosion

✓ Easy to install because cedar is easy to cut

✓ The cheapest option ($8–$17)

It is subject to deformation and scratches, so it requires a lot of care

Redwood



✓ You can walk on it barefoot, as it does not heat up

✓ Resistant to deformation

It can absorb moisture, so it requires careful maintenance to avoid damage

Tigerwood



✓ Resistant to warping, rot, scratches and insects

✓ It requires minimal-to-medium care

Dark wood planks can get hot
Small Pool Deck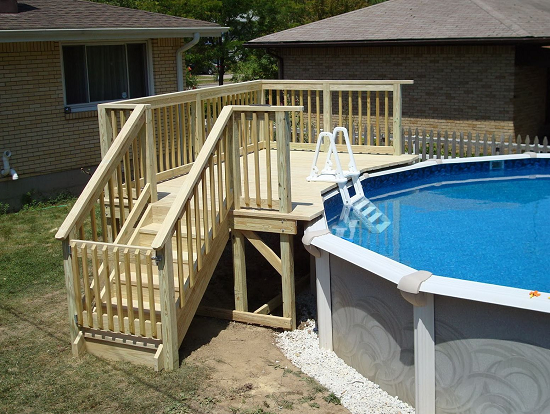 Small pool decks range in size from 270 to about 400 square feet. In this case, you can count on the following cost, depending on the materials:
| | | |
| --- | --- | --- |
| | 270 square feet | 400 square feet |
| Wood | $2,160–$6,480 | $3,200–$9,600 |
| PVC | $3,780–$7,020 | $5,600–$10,400 |
| Composite | $3,510–$6,750 | $5,200–$10,000 |
The most popular small pool deck ideas are small platforms with steps. They are enough to climb into the pool comfortably, and large enough to place shelves, deck chairs, and umbrellas.
How to Build a DIY Pool Deck on a Budget
You can easily build a pool deck on your own and expect a cost of about $500 (4–21 times cheaper!). For this, you need to do the following steps:
Fence off the area around your pool where the deck will be located. Dig eight holes two feet deep – four in the corners and four halfway between those.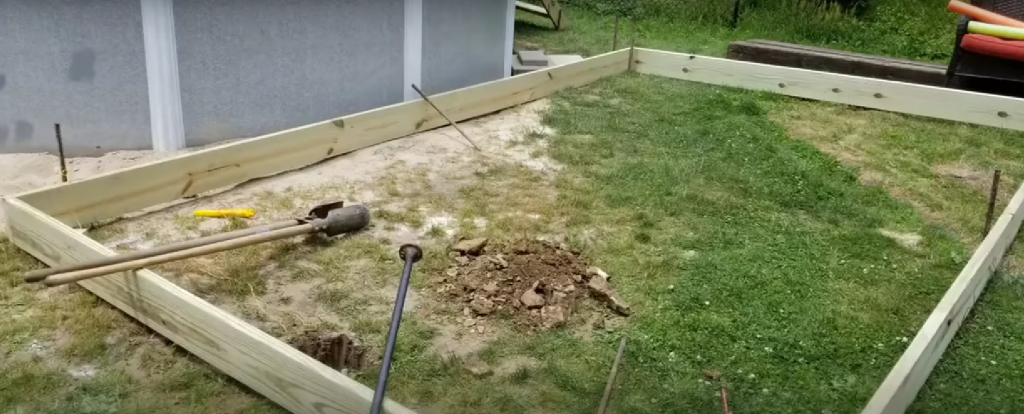 Install posts into the holes, cement them in, and let dry overnight.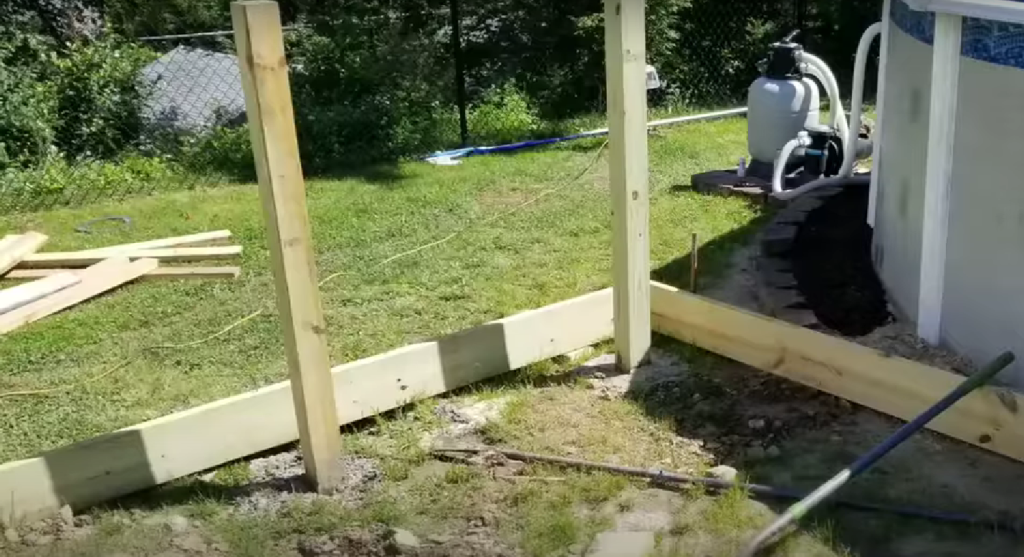 Install the cross planks 3/4" below the top of the post around the structure perimeter. Cut off any excess wood.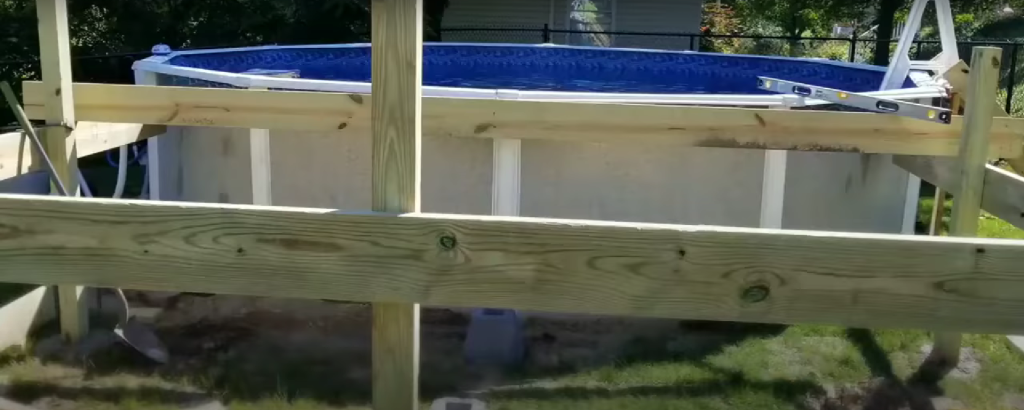 Install the joints every two feet, then install the railing on the posts.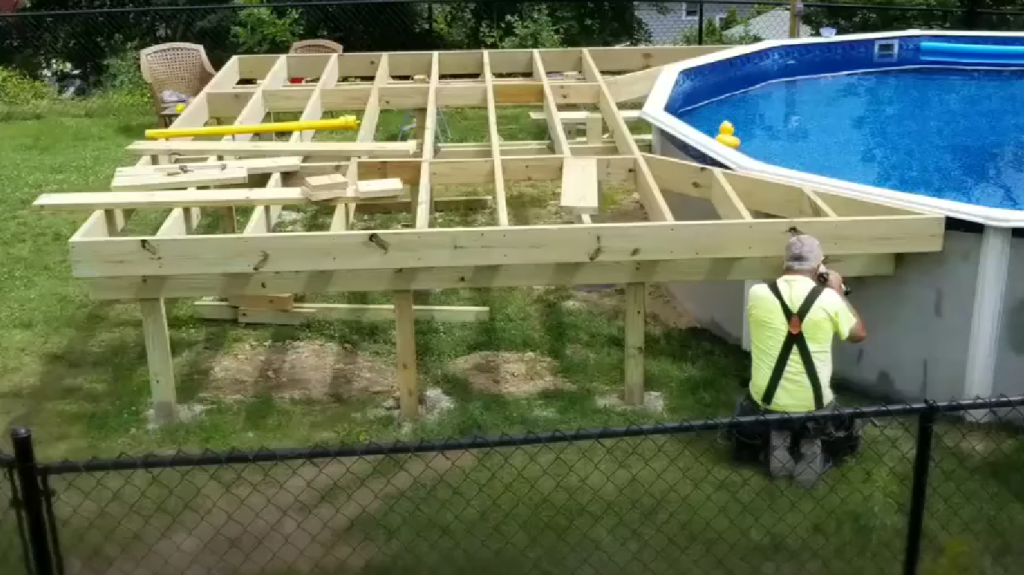 Lay floorboards and cut off the excess wood.
Install pickets every 3″ to complete the railing and build steps.
Voilà, you're all set!
Decorating A Pool Deck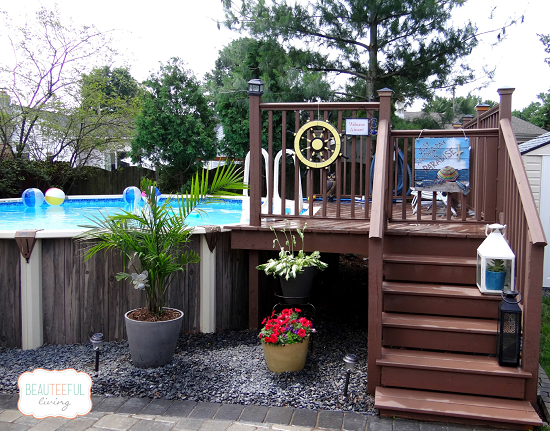 There are many options for decorating a pool deck. You can add elements for aesthetic pleasure, or that have specific functionality.
Deckchair. Set it up for sunbathing between dips in the pool.
Water slide. Diversify your leisure time in the pool and add some fun! However, keep in mind that a hard shell can cost a minimum of $1,000.
💡 Note:
Don't know which water slide to choose? Check out our article and find the top four
water slides for aboveground pools
!
Lighting. You can mount lighting in the floor of your pool deck and create a romantic atmosphere in the evening.
Dining area. Set up chairs and a table to turn the pool deck into a waterside dining room.
Summary
Aboveground pool decks are an opportunity to decorate your pool and diversify your leisure time. You can build them using wood, PVCPVC – colorless, transparent plastic., composite, concrete, paver, brick, or tile. However, for aboveground pools, you should consider wood, PVCPVC – colorless, transparent plastic., or composite, as others will be time-consuming and expensive to install.
Based on this information, we have collected the top four aboveground pool deck ideas on a budget, listed possible accessories, and created a guide on how to build a DIY pool deck.
FAQ
❓ What should I put around my aboveground pool?
You can use a wood, PVCPVC – colorless, transparent plastic., or composite deck to place sun loungers, waterslides, chairs, and tables to enhance your leisure time and brighten up your yard.
💸 What is cheaper, paving or building a deck?
Paving will be cheaper than decking because it requires fewer materials. However, for an aboveground pool, you should only consider decking.
🤑 Are pavers cheaper than concrete around a pool?
No, because concrete costs about $6–$15 per square foot, and pavers will cost you $5–$40. Moreover, concrete is more durable because it does not have seams that can absorb moisture.
🏠 Does an aboveground pool devalue my home?
An aboveground pool does not devalue your home. However, you should not expect this to increase the value of your home, as an aboveground pool is not a convenience that necessarily affects the price.