When considering a major investment such as a hot tub, it's important to have a clear understanding of the features, benefits, and potential limitations of the product. The purpose of this article is to provide an in-depth review of AquaRest Spas hot tubs and all of their features to help you, our readers, make an informed decision.
For our research, we have analyzed more than 2,000 hot tub reviews to determine which features are the most important and what you should be aware of before deciding to go with AquaRest Spas. We also did a thorough analysis of the brand's entire lineup and are ready to recommend two of the best AquaRest hot tubs to you.
AquaRest Premium 300

AquaRest Premium 400


Winner category: best 2-person hot tub


Winner category: best 4-person hot tub



- Includes 20 powerful massaging jets that can be easily adjusted to suit your preferences
- The jets are equipped with stainless steel covers to ensure easy cleaning and hot tub longevity
- Includes soothing foot massage jets for additional comfort

Jump to the detailed review



- Arctic full foam insulation for maximum heat retention
- Each seat is designed with lumbar arch support, which helps relieve tension and enhance comfort during your hot tub experience

Jump to the detailed review



What are AquaRest Spas?
With over 25 years of experience since 1997, this brand was one of the first to manufacture rotomolded hot tubs. The company is located in Lake Mary, Florida, and also owns such brands as Dream Maker Spas and Syncrylic.
AquaRest hot tubs are known for being affordable and comfortable to use. They are a popular option for people who want a budget-friendly and more accessible spa experience that is as good as the installation of a permanent, traditional hot tub.
According to reviews, what people appreciate about AquaRest is:
How lightweight their hot tubs are
The easy-to-follow instructions, and the simple setup process that does not require a professional installer.
All models include a waterfall with
lights that can be customized
Does a very good job of maintaining a safe water temperature
This brand offers four spa models designed for different numbers of people and capabilities: Select, Premium, Elite, and the most luxurious model — DayDream. We've analyzed each of them and selected the two best representatives that have a perfect balance between price and quality.
Detailed Reviews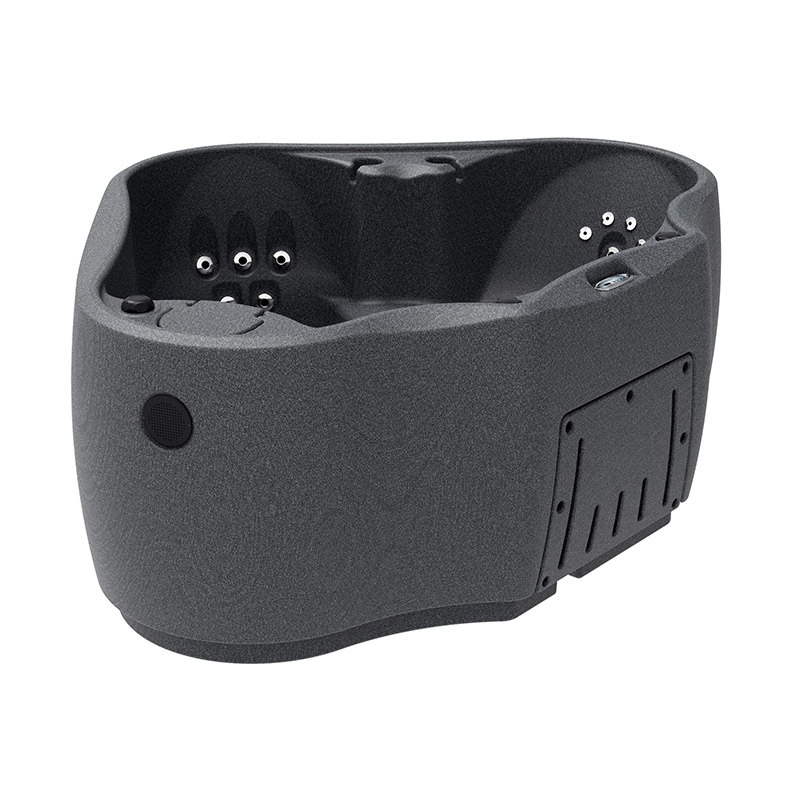 Winner category: best 2-person hot tub
Technical specifications:
Dimensions: 80" x 68" x 31"
Material: Polyethylene
Weight: 232 lb
Pros
The best offer among plug-and-play hot tubs with the ability to convert from 120V to 240V
Triangular shape, thanks to which this spa feels roomy, can easily fit in a small area and is also much easier to store
Includes an ozonator for easier chemical balance maintenance
Sturdy yet lightweight impact-resistant one-piece shell construction
Warranty for 5 years for the shell, 1 year for parts, and 90 days for labor from the date of purchase
Cons
This design didn't consider footrests, limiting your position in a tub
The design of the spa is slightly textured, which may cause skin irritation, but you can easily sand it down
AquaRest Premium 300 spa is small yet roomy enough for one or two people to relax. It's a plug-and-play gem that can switch between 120V and 240V power, making it a smart investment for the long run. The polyethylene material of the spa provides the perfect balance of durability and weight.
It has a 160-gallon capacity, which may not seem like much at first. But keep in mind that for two people, this volume is very beneficial because it reduces water and electricity consumption, water heats up faster and retains heat longer. Maintenance is a breeze, too, thanks to the included ozonator. It keeps your chemical balance in check, saving you time and hassle.
The triangle shape not only allows you to maximize space, but it also fits snugly into small areas, making it easy to store. But keep in mind that the same triangular shape can limit your view, so if you want to enjoy the stunning views from your spa, think ahead about how you want to position it.
Now, let's address a couple of points to keep in mind. The design didn't factor in footrests, which might limit how you position yourself in the tub. Also, take note that the spa's texture might cause a bit of skin irritation. No worries, though — a little sanding can sort that out.
Similar to the Premium 300 model, there's also the AquaRest Select 300 model. While it might seem a bit cheaper upfront, it's not the best choice for the long term. Unlike the Premium 300, the Select 300 can't switch to 240V power and uses an MVHRMechanical Ventilation with Heat Recovery or Friction Heat Recovery System heating system instead of the more energy-efficient heater in the Premium 300 model.
Basically, water can be heated by friction, and if you shake the water very hard, it will heat up over time. This is how the MVHR system works — it captures the heat generated from water movement in the pump and puts it back into the tub.
So if you plan to get the Select model instead, be prepared for the scenario where the funds you saved on buying a spa will go towards paying for additional electricity bills since this system uses a lot of energy to pump water to keep it warm longer.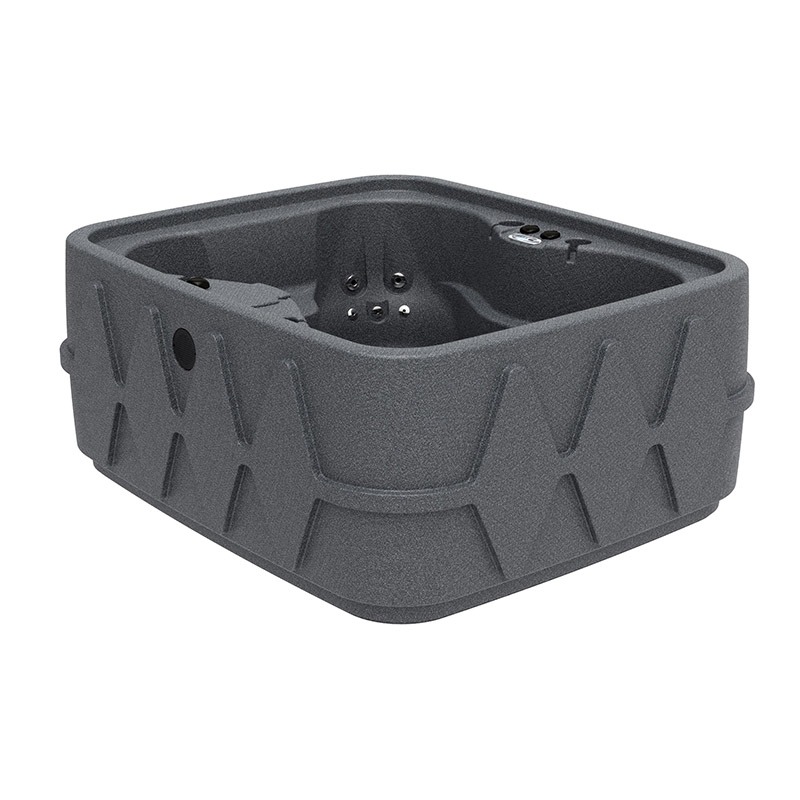 Winner category: best 4-person hot tub
Technical specifications:
Dimensions: 79" x 79" x 32"
Material: Polyethylene
Weight: 294 lb
Pros
All pros mentioned in the Premium 300 model can apply here as well, just like all pros here can be applied to the previous model. This one, however, is designed specifically for comfortable seating for 4 people
The patented Easy Kleen 100% water filtration system reduces chemical reliance by up to 75%, offering an environmentally conscious and energy-efficient spa experience
The integrated 2-horsepower pump with 2-speed options provides robust water circulation, while the 1kW / 4 kW electric heater ensures efficient heating to hold the preferred temperature 
Has a 20-jet adjustable setup, designed carefully to focus on different muscle areas 
Cons
In the plug-and-play mode, the jets and the heater can't run simultaneously, but they can in 240V mode
Like all models, it's not compatible with saltwater
AquaRest Premium 400 hot tub shares all the positives of the Premium 300 model. It's designed for the utmost comfort, comfortably seating four people. It's the perfect retreat for you and your friends.
You'll appreciate the power this hot tub brings. The built-in pump has 2-speed levels that guarantee strong water flow. Plus, the electric heater keeps the water warm to your liking. It should be noted that in the plug-and-play mode, the jets and heater can't run at the same time. However, this isn't an issue in the 240V mode it offers. The saddest thing is that AquaRest hot tubs are, unfortunately, not compatible with saltwater.
Now, here's what makes it even more impressive. The patented Easy Kleen 100% water filtration system stands out. It reduces chemical reliance by an incredible 75%, providing an eco-friendly and energy-efficient spa experience.
We also recommend this hot tub as "family-friendly". It is perfect for a family with children. And because this is a hard-sided hot tub, the possibilities it would break or leak are extremely low, plus it's very easy to clean. It is well suited to accommodate 4 adults, too, but in this case, you would need to monitor the volume of water.
For the same reasons as we stated in our previous review, such models as Elite 500, Select 150, and Select 400 didn't make it to our list because they only use an MVHRMechanical Ventilation with Heat Recovery or Friction Heat Recovery System heating system. For a two-person spa, this system can still justify itself due to its smaller size, but for a four-person spa, this system will not be able to keep the heat constant.
Instead, we can recommend the Premium 500 model, which not only has the same electric heating system as the Premium 400 but also incorporates a lounger seat into its design. However, it should be noted that although the company claims that this is a spa for 5 people, it is actually more comfortable for 4 people. We would like to talk about this case with seat capacity separately.
Full Specs Of AquaRest Premium Spas
Features
Premium 300

Premium 400
Product Type
plug-and-play
Material
Plastic
Primary Material
Polyethylene
Max Occupancy
2
4
Dimensions
80" x 68" x 31"
79" x 79" x 32"
Power Cord Length
12'
Weight
232 lb
240 lb.
Weight Filled
1548 lb.
1831 lb.
Voltage
120V (can be converted to 240V)
Amperage
15-amp to 40-amp converted
15-amp to 50-amp converted
Heater Type
1kW / 4kW
Min Temp
70°F
Max Temp
104°F
Number of Jets
20
Number of Pumps + Horsepower
1 pump with 2hp
Waterfall Included
Yes
Ozonator Included
Yes
Lights Included
Yes (
Light)
Water Capacity
60 Gallons
190 Gallons
Cover Included
Yes
Insulated Cover
Yes
Steps Included
No
Cupholder Included
Yes (2 included)
Yes (4 included)
Slip Resistant
Yes
Stain Resistant
Yes
UV Resistant
Yes
Product Care
Avoid using cleaners or compounds with harsh abrasives, as well as heavy-duty rubbing or buffing compounds. Use a soft liquid cleaner for cleaning. Maintain good water quality by adding chemicals, preferably bromine. Cover the spa when not in use to prevent heat loss and keep leaves, dirt, and foreign materials from settling in the water.
Country of Origin
United States
Assembly
United States
Warranty
5 years shell, 1-year plumbing & equipment, 1-year cover, 90 days labor
Colors Available
Brownstone, Cobblestone, Graystone
What's the Problem With AquaRest 6-Person Hot Tubs?
You may be surprised to know that we recommend spas for two and four people, but not for more. Well, there is a reason for this.
When we looked through the reviews of all the AquaRest Spas hot tubs with a capacity for 5, 6, or 7 people, we noticed that most of the reviews claim that these spas are not comfortable for that many people.


Yes, the manufacturer may indicate that "this is a 6-person spa", but have you ever seen in a description that it can fit 6 people comfortably, right? This is not considered false advertising, but we believe that one should not overpay for a hot tub that is comfortable for only 4 people when you can actually get an affordable hot tub that is designed for 4 people. This will save you both money for the purchase and time for hot tub maintenance.
Plug-and-Play Explained — What To Expect From Them?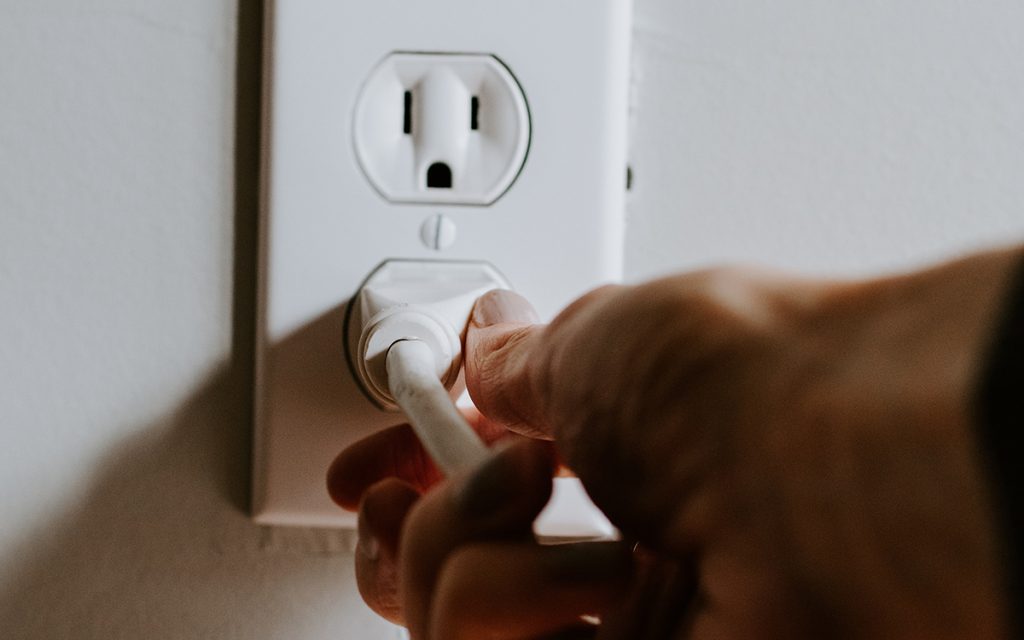 Plug-and-play hot tubs offer convenience and ease of setup, but they also come with certain limitations compared to traditional hot tubs.
For example, for the sake of being able to easily connect the hot tub to the home power supply, you might have to sacrifice jet power and heating capabilities, which could affect the overall hydrotherapy experience. Also, some models are not capable of converting to 240V for cold weather. And even if conversion is possible, it usually comes with additional costs.
Many customers complain that plug-and-play hot tubs cool off way too fast. However, this may not be because the brand is misleading, but simply because of health security measures. According to the National Spa and Pool Institute [1], the safest and most comfortable temperature in a hot tub for a healthy adult is 100F, and the duration of staying in the hot tub for an adult should not exceed more than 20 minutes. 
This brand has taken into account these safety measures in the AquaRest Spas manual [2] and that is why it may seem that the hot tub is cooling down too quickly, although, in fact, it is more like a natural hint that it is better to end the session.
Of course, no one forbids soaking in the water a bit longer, but in this case, if you plan to be in the spa for a long time, you should lower the water temperature to about 99F, which is closer to normal body temperature. Sitting in water with a constant high temperature can be fraught with certain conditions like heatstroke or hyperthermia.
Things To Consider Before Buying an AquaRest Spa
Compared to traditional hot tubs, this brand is budget-friendly. However, $2000-3000 is still quite a big purchase, so you need to consider all the possible risks that may come with your purchase.
Are AquaRest Spas hot tubs really budget-friendly in the long run? Here's what we found out.
💯 Spa Cover Quality
The hot tubs of this brand are of excellent quality, but we cannot say the same about their covers. Most of the reviewers say that the included cover loses its insulating qualities very quickly, from the second month onwards, and replacements are not always available in stock.
To save time on the search for a proper replacement, we've already prepared an article in advance, in which we have collected the best hot tub covers that fit any conditions.
🛡 How durable are their spas?
According to reviews, people start complaining about product defects after about two years of use on average. But these AquaRest spa problems are easily covered by the product warranty [3].
👨‍👩‍👧‍👦 Fitting capacity
As we mentioned above, the spas of this brand for 5–7 people are not really that comfortable for the specified number of people. Such spas will be comfortable for families with children, but seven adults are going to feel like packed sardines.
💸 Extra costs for accessories
The spa covers are provided within the set, while the steps are offered as separate purchases. Furthermore, many customers find these steps to be notably high-priced. We advise you to first compare AquaRest's steps with the available alternatives and check out our article where we have collected the best steps for hot tubs.
Our Verdict: Is It Worth Getting AquaRest Spa?
To begin with, AquaRest Spas are an excellent choice for those new to the world of hot tubs. The convenience of its plug-and-play feature is a significant advantage. However, the plug-and-play feature is both a strength and a weakness when it comes to jets since their power is limited for the sake of convenience.
This brand did a good job taking into account the needs of its consumers, and they are truly leaders when it comes to plug-and-play hot tubs. But If you're looking for something with more powerful jets or a larger tub that can comfortably accommodate a small group, you may want to upgrade to a higher-end model with more features.
Summary
In this article, we provided an in-depth unbiased review of AquaRest Spas, aiding your hot tub decision. We explored the features of their hot tubs, models, and all pros and cons, including their budget-friendly appeal. Our experts uncovered AquaRest's plug-and-play convenience but also acknowledged its limitations in terms of jet power and healing capabilities.
We hope that this article will help you make an informed choice for your ultimate hot tub spa relaxation.
| | |
| --- | --- |
| AquaRest Premium 30 | AquaRest Premium 400 |
| | |
| The best 2-person hot tub | The best 4-person hot tub |
FAQ
🤔 What are AquaRest Spas made of?
AquaRest's hot tubs are made of polyethylene: a lightweight, durable plastic. Polyethylene is less prone to chipping, cracking, or showing signs of wear and tear, which ensures a more extended duration of your investment. Moreover, it's totally recyclable.
🔌 What is a rotomolded hot tub?
A rotomolded hot tub is a type of hot tub that is built using a manufacturing process called rotational molding (or rotomolding). This method includes molding and melting plastic in a container to build a hollow, long-lasting shell. Rotomolded hot tubs are recognized for being affordable, light in weight, and easy to move around.
🛠 Are AquaRest Spas easy to maintain?
These spas are designed to be very easy to maintain. To keep them clean, simply wipe the surface with mild detergent and a soft cloth. This brand has its own patented cleaning system and ozonizers built into some models for easier chemical balance.
❄️ Are AquaRest Spas suitable for cold weather?
Plug-and-play spas are best suited for summer weather and warm regions. AquaRest on the other hand, offers a possibility to convert their spa for 240V to withstand cold temperatures. However, this feature is available only on Premium models and higher, and the process is not covered by the company, so you would need to pay additionally for this feature.
🌎 Why are AquaRest Spas not available in California?
You may have noticed that all websites, including AquaRest's official website, state that they temporarily do not offset shipment to California. At the same time, no one clearly states the reason, which seems strange since the spas of this brand have been approved with California Energy Commission Standards [4]. We can conclude that this situation is related to private property rules regarding spas and pools.
Sources
ANSI, American National Standard for Residential Portable Spas and Swim Spas: https://issuu.com/thephta/docs/apsp-6_2013
AquaRest Spa Owner's Manual: https://secure.img1-ag.wfcdn.com/dm/document/96193cb9-0572-4c47-91c3-c96f45dd8531/1673455.pdf
AquaRest Spas Limited Warranty: https://secure.img1-ag.wfcdn.com/dm/document/fbf7286b-7e34-4eaf-b7b7-86ffc9c9784b/ar%20warranty%20usa%20%20canada%202023.pdf
California Energy Commission, Analysis of Efficiency Standards and Marking for Spas: https://efiling.energy.ca.gov/GetDocument.aspx?tn=222413&DocumentContentId=31256