There is no need to doubt the hot tub as an excellent tool for nice relaxation. But do you sometimes feel a lack of comfort? Your hot tub's main task is to give you bubbles; however, it may not be enough. That's where the benefits of accessories come in.
As this topic is vast, I've decided to do deep research to find as many advantageous accessories for your hot tub as possible. Be ready to explore, since some of them will let you throw an amazing party, while others will be perfect for creating a cozy atmosphere or just for a more convenient hot tub experience!
How Accessories Affect Your Pleasure And Comfort
I want to start with a short story that happened long ago. I had a party on my birthday, and a friend of mine came to congratulate me. He knew I had bought a hot tub so far, so he passed one of the boxes to me. After opening it, I was confused as there was a stand, and I didn't know its purpose. My friend noticed my perplexity and hastened to explain. It was a cupholder.
A few days later, I couldn't imagine using my hot tub without this accessory. I was so glad my friend gave it as a gift to me. Since that moment, we have had a small tradition of drinking a glass of wine from that cupholder on my every birthday (as it is still in good shape!).
Sometimes you don't even know how certain accessories can boost your hot tub experience. That's why, during my research, I tried to find as many such things as possible. And I didn't even know about some of them, despite their significant benefits. So let's explore the best accessories for your hot tub and how they can positively impact your relaxation.
Accessories To Achieve A Clean And Inviting Hot Tub
I decided to start with this type of accessory since maintaining hot tub water in top condition is one of the prime tasks. Here you'll find out the best tools for creating the most inviting hot tub ever.
Ultimate Spa Filter Cleaner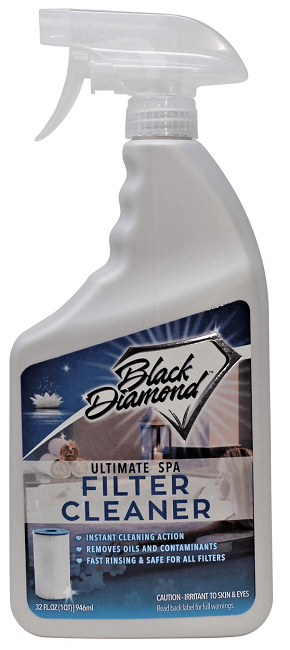 Who enjoys being in dirty water? Black Diamond Stoneworks Filter Cleaner is on this list because of its incredible efficiency. Maintaining your hot tub filters in tip-top condition will provide you with crystal-clear water. But hosing for hours with a garden hose or frequently changing them is not an attractive solution, right? That's where Black Diamond Stoneworks shows its power. By simply spraying hot tub filters, the cleaner will be absorbed by dirt, so as a result, you will just need to rinse the filters. Since water will quickly remove all the grime, you can spend more time relaxing in the hot tub.
Scumbug Oil-Absorbing Sponge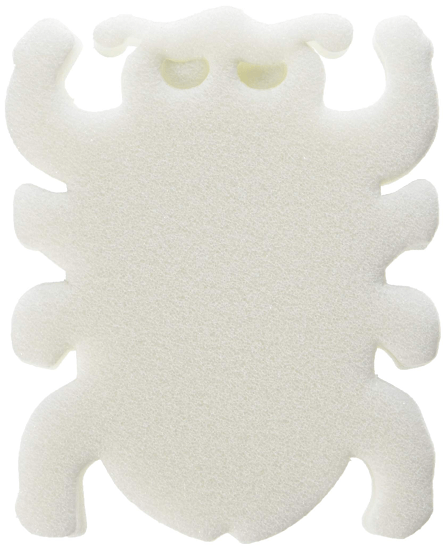 No accessory will give you the desired pleasure if your hot tub has dirty water. This is why it's important to have some tools like these sponges in your warehouse to let them soak all the oils, scum, and other contaminants to make the hot tub water crystal clear. You may find it a bit expensive, but this accessory will serve you for at least three to four months, since you can clean and use it repeatedly.
Easy Set Pool Filter Cartridges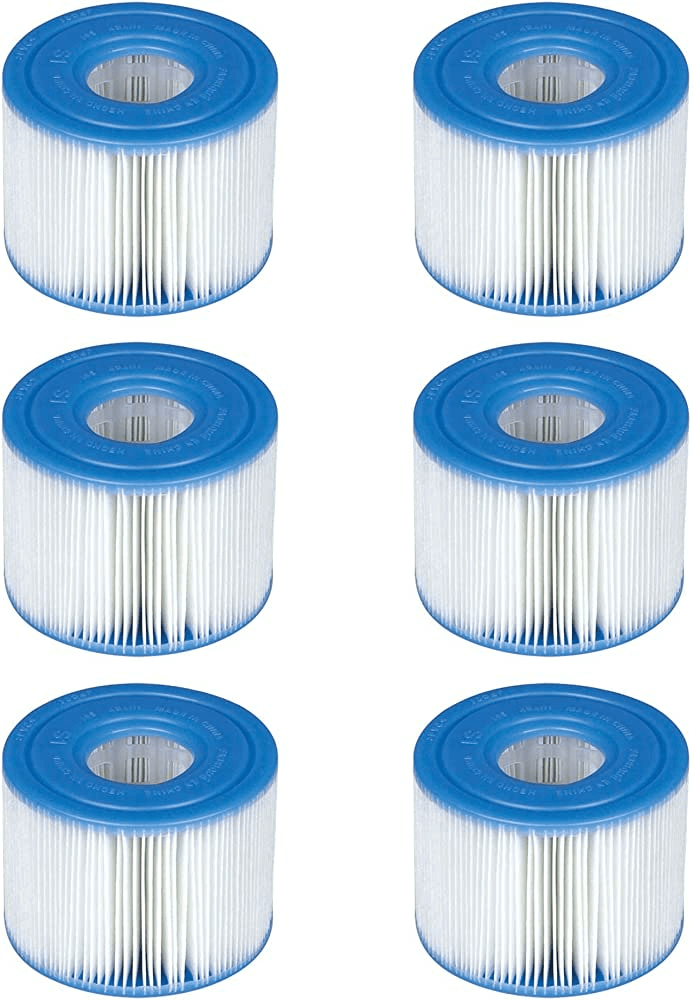 The cleanliness of the hot tub water depends on the filter quality as well. If you neglect cleaning and changing your hot tub filters, you will face such hot tub problems as poor water quality, which will lead to intense chemical use, risk of health issues, and equipment damage. That is why purchasing an Intex pack of six filters will facilitate your hot tub maintenance. As these filters do all the dirty job, all you need to do to keep the inviting and clear water is simply clean a filter once a week and then replace it every three to six months.
Accessories To Achieve the Most Comfort Ever
Sometimes hot tubs can be not perfectly suited for you. It may be reflected in your wet hair, inconvenient getting in and out of the hot tub, etc. In this section, I collected all the best accessories that are worth your attention.
Hot Tub Booster Seat
Do you find your hair wet while relaxing in a hot tub? Or does your height and the height of the hot tub wall make your rest inconvenient? With Star Splash Hot Tub Booster Seat, you can forget about these problems. This pillow will lift you, so you can enjoy your bubble pleasure. Star Splash considered your comfort and made a non-slip rubberized micro-dot surface for this seat. That means that when it is drawn, you don't have to worry that it will slide or float, but instead focus on your enjoyment.
Non-Slip Steps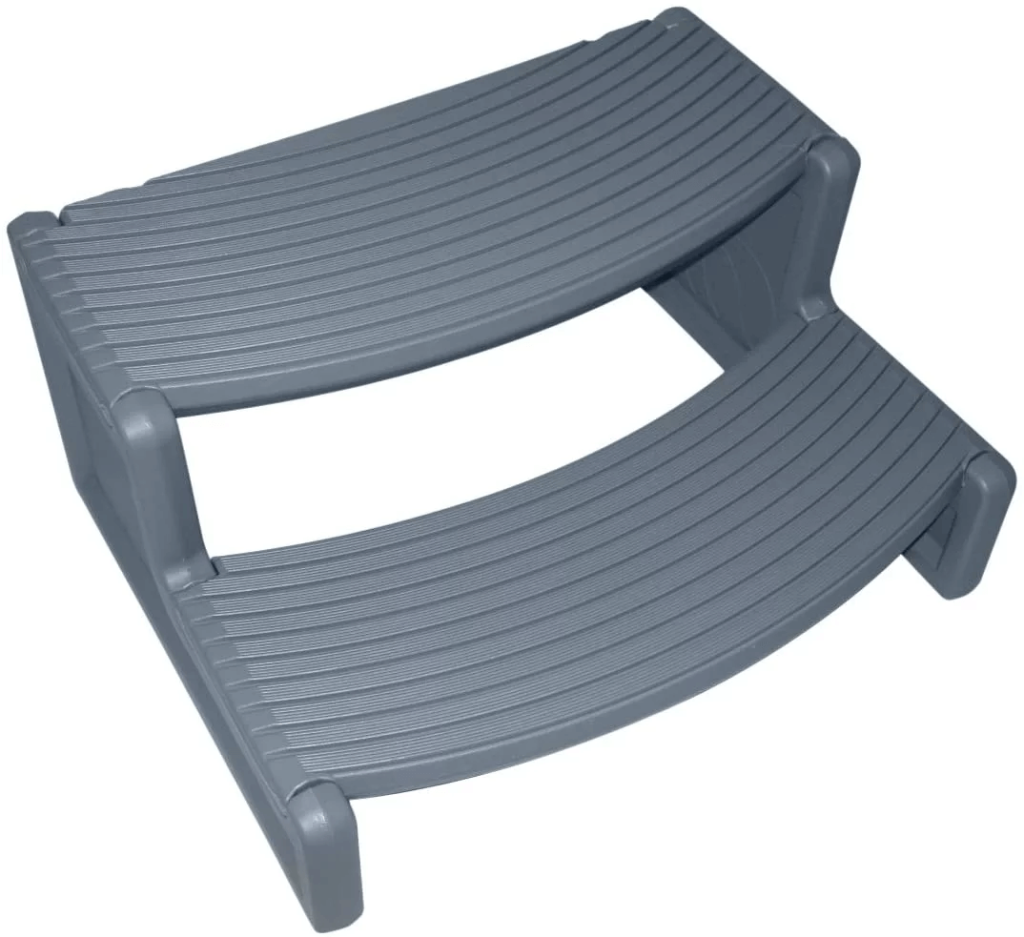 Getting in and out of the hot tub are movements that should be as safe and convenient as possible. That is where Confer Plastics shows its beneficial steps. It is made from very sturdy plastic that holds up to 300 pounds and has slip-resistant grooves. Also, you won't have problems with assembly since Confer Plastics made the snap tool-free. These non-slip steps are a good choice due to their compatibility with straight and curved spa setups, making them useful even in households. Some owners shared their experience using these steps to get to the high shelves or to get to the top of the wardrobe.
PureSpa Cupholder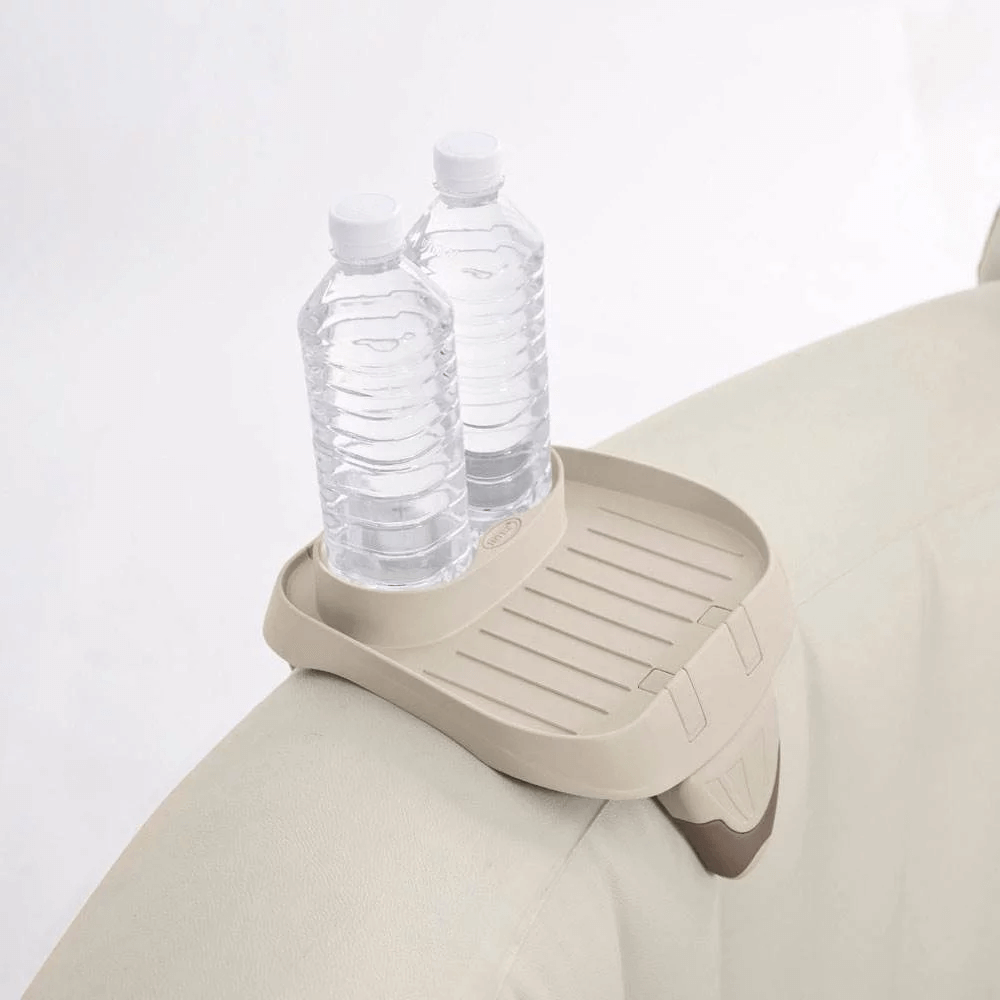 Cupholder is a type of accessory you can't forget about. You will always have water, snacks, glasses, or any other refreshments you put on this tray within reach. Sturdy materials make the Intex cupholder resistant to water damage and have a stable hold on the inflatable hot tub. With this accessory, you don't have to pause your spa enjoyment, since you can place necessary things on this tray.
Floating Spa Thermometer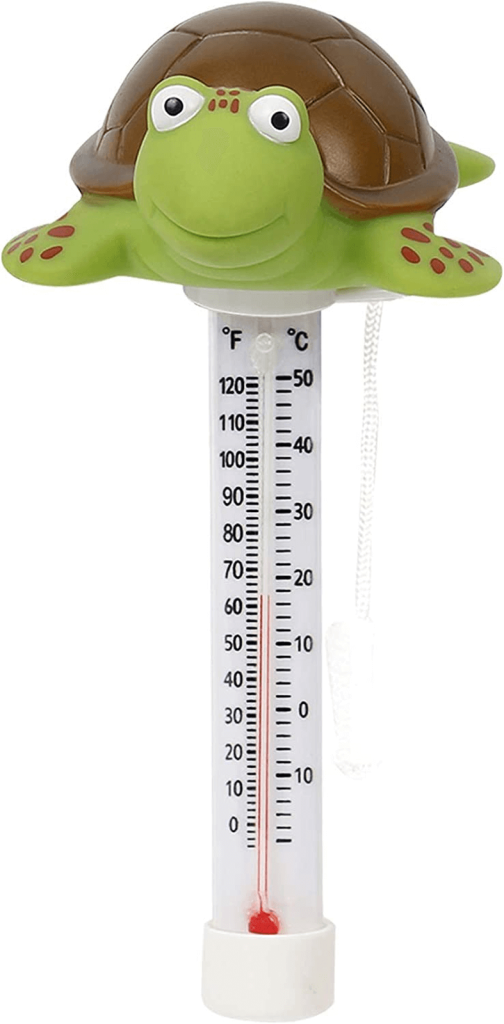 Maintaining the right water temperature is crucial, especially if you have children or a pregnant woman chilling in your hot tub. But having this cute turtle thermometer will solve this problem. Despite its simple design, this thermometer has a wide range of degrees which makes it suitable not only for the spa but for a pool, aquarium, fish tank, regular bath, etc.
Universal Waterproof Phone Pouch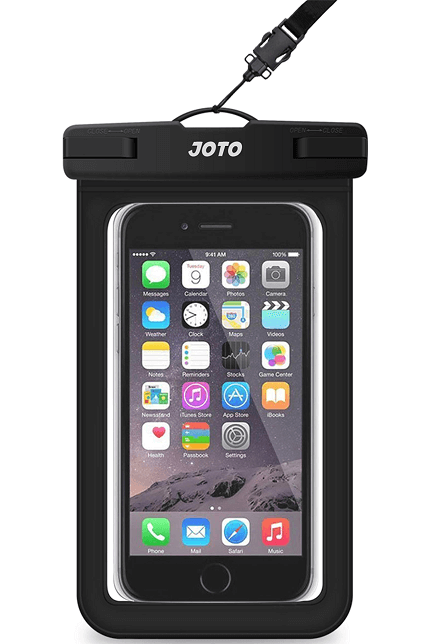 This waterproof pouch is not only an accessory for your hot tub or pool, but for your mobile phone as well. You can forget worrying about your device getting wet in the pool or hot tub, as with this pouch you can use it even when diving in the ocean! Moreover, you won't need to wipe your hands to switch songs or to take photos, since JOTO waterproof pouch is suitable for almost all mobile phones, which makes it a must-have for water enjoyers.
For example, more than 77,000 people highly rated this pouch. 84% of users are satisfied with high-quality materials, 89% find this pouch completely waterproof with a reliable seal, and a total of 92% of buyers agreed that this is a valuable purchase!
P.S. We have to warn you that you should keep your phone underwater in the hot tub for no longer than 20 minutes, because this may cause your device to overheat.
Hot Tub Accessories for Your Party To Be Amazing
Do you have moments when many guests are lounging near your hot tub, but something is missing? Or when you are alone or with someone you love, but the atmosphere is not matching your mood? Here you will find the solutions to those problems.
Spa and Bath Aromatherapy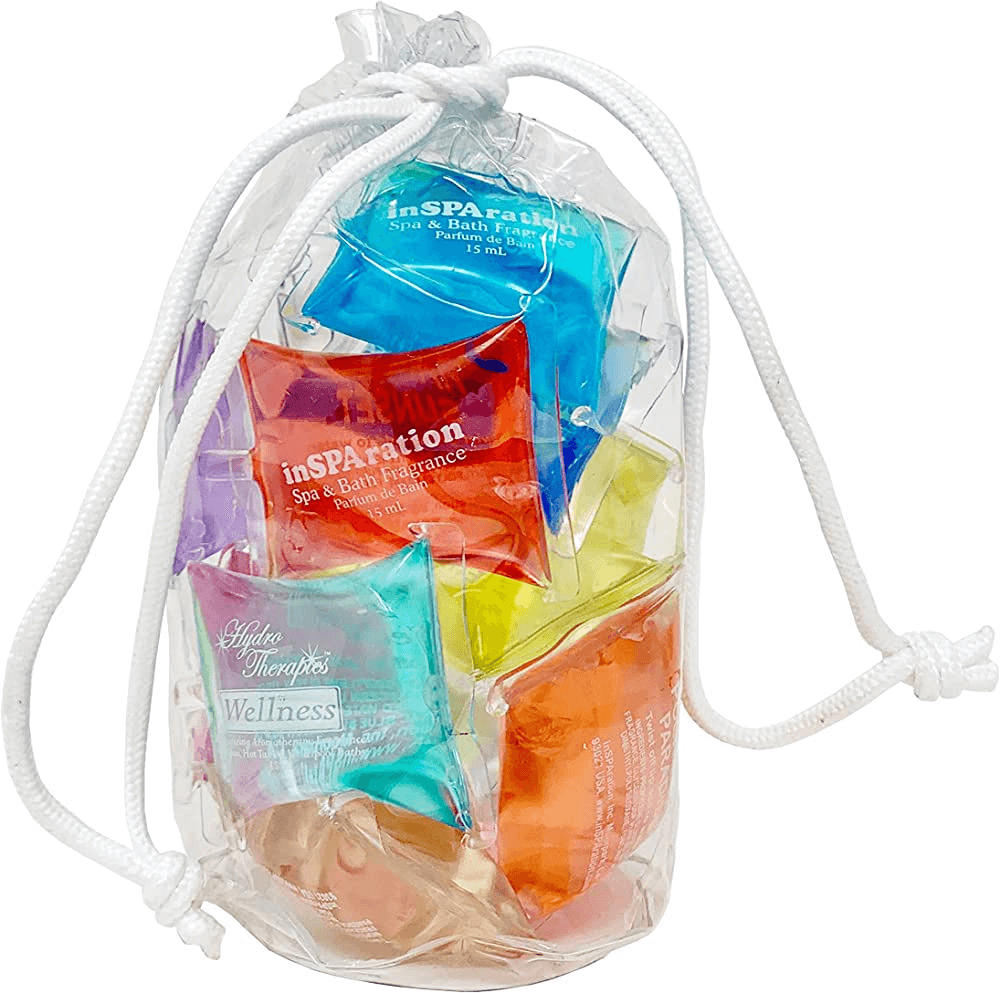 inSPAration aromatherapy bag is a win-win accessory. It can be bought both for yourself or as a gift. One of its main benefits is that the inSPAration bag includes 12 different odors, so they won't get boring, and you're sure to find a couple of favorites among them. In addition, if you like one, it is possible to order a big pack of that exact odor from inSPAration.
Overall, you can find numerous advantages of aromatherapy application. For example, it can help you reduce chemical odor, your skin will smell and feel amazing, and it won't influence your chemistry level.
P.S. Beware that some people find inSPAration odor to be short-lived.
Bluetooth Speakers With Colorful Lights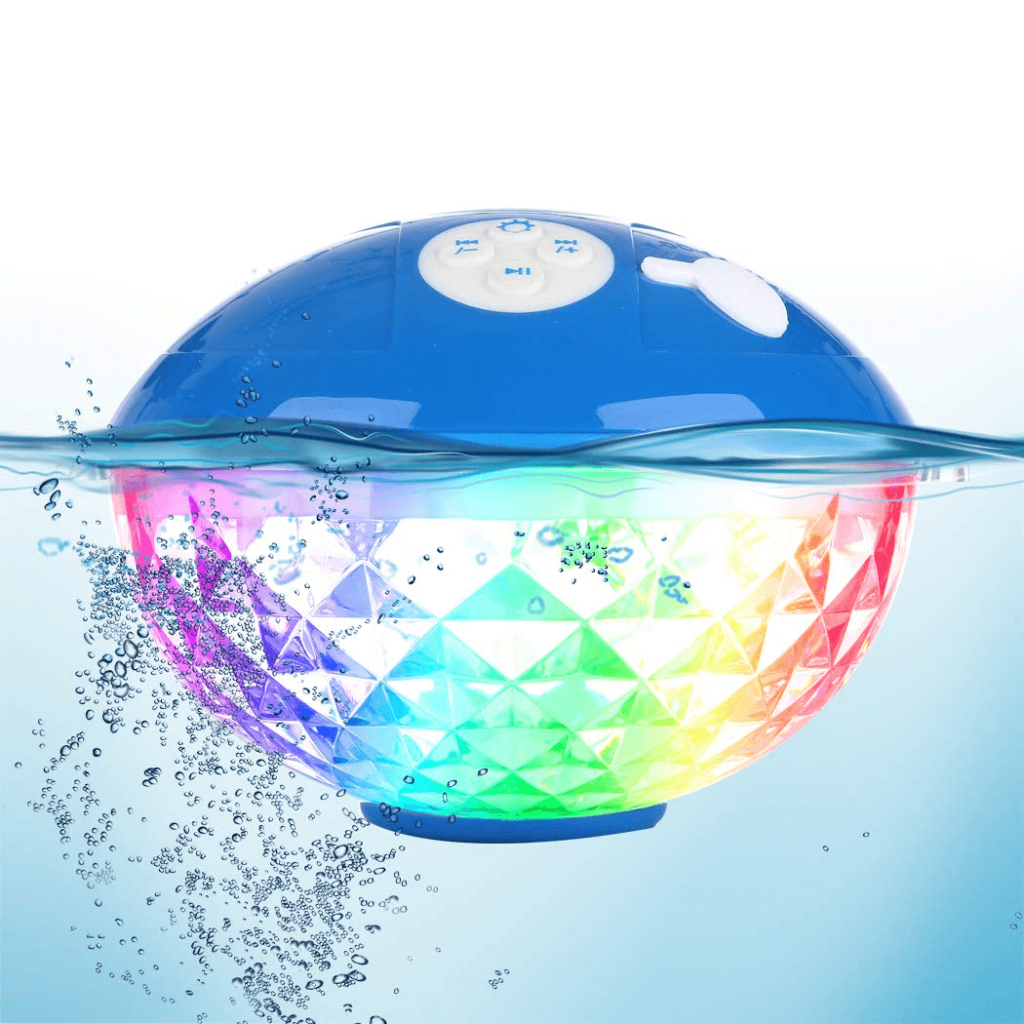 What can influence your hot tub atmosphere better than music? A Bluetooth speaker is a universal accessory that will also be useful outside the hot tub. Bright lights will add some charm and joy to your bubbly water. Loud sounds and a battery that lasts for up to 8 hours will suit both an outstanding party and a romantic evening. I personally find this accessory beneficial for creating a peaceful, energetic spa lounge.
Submersible LED Lights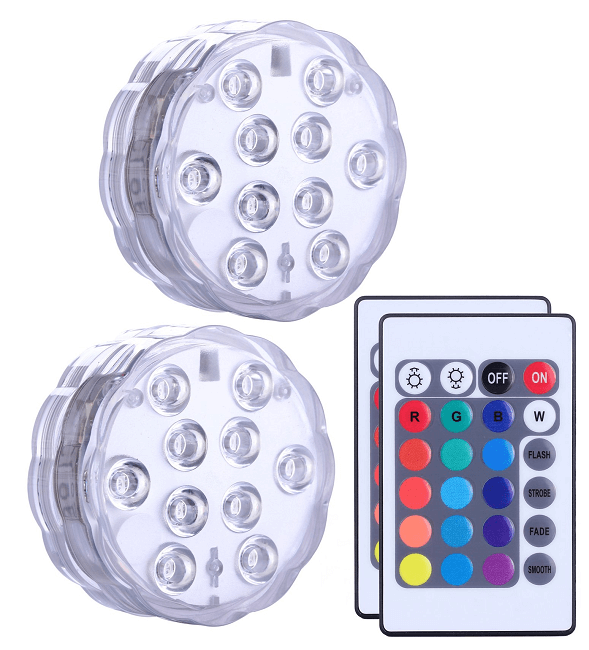 Red, yellow, purple, or all of them. These are the colors your hot tub water can be. Qoolife has bright lights, which fully illuminate your hot tub, creating any mood you want. The remote control lets you have control over the LED lights. Moreover, you can use it in different environments from hot tubs to fish tanks, and from vases to Halloween buckets.
LED Floating Lights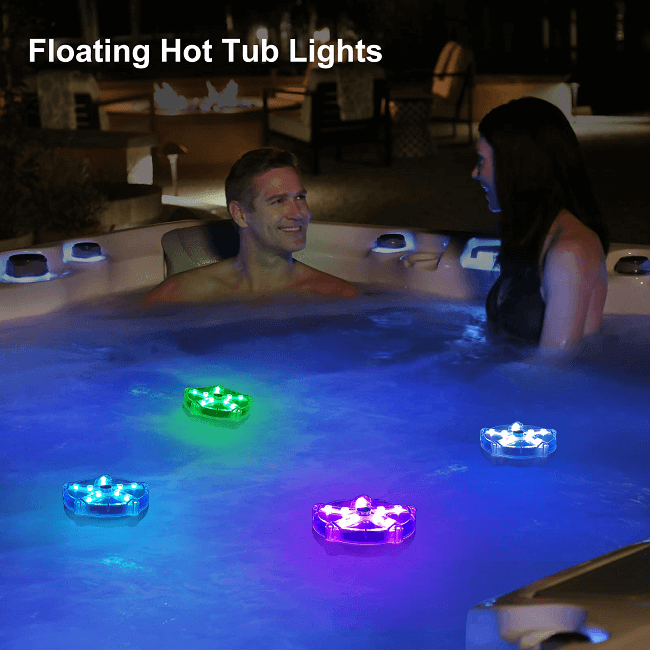 Having your hot tub water the color you want is a joy! With these LED floating lights, you can personalize the spa chill to your mood. Seven bright colors will create any atmosphere you want. Don't know which one to choose? Blufree can offer a gradient mode with a smooth color change for the best calming effect. If you don't use your hot tub for some time, feel free to put those lights in an aquarium or vase.
In addition, you can use these LED lights without floating. Blufree made magnets in the back of the housing, so you won't have any problems using these lighting starfishes at a party or in the garden by putting them on some metal frame.
🎭
You may think that both of these lights are the same. But the difference is that Qoolife LED lights are heavier, so they create a pleasant atmosphere due to water illumination from the bottom.
In its turn, Blufree LED lights have a design that allows them to float. As a result, you can even flip them upside down (depending on rather you want your water to be bright or just want to have a colorful lighting lounge zone)
Long-Living Hot Tub With Accessories For Protection
When your hot tub is damaged, no accessories will give you joy, right? So the next adaptations will help you achieve the right protection approach that will save you a lot of money and time, which is the major need for every hot tub owner.
Waterproof Square Hot Tub Cover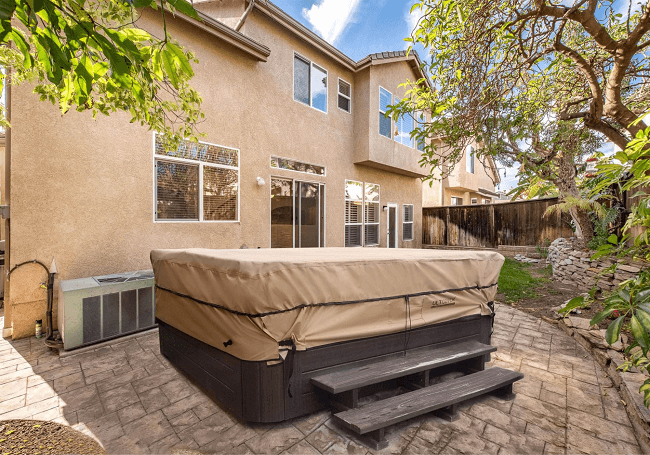 Investing in a waterproof hot tub cover is a good choice. Why? Its top-quality polyester canvas protects your hot tub from rain, snow, sun, wind, etc. The absence of this cover may lead to an expensive replacement of some hot tub details (especially your insulated hot tub cover) due to weather damage. ULTCOVER made its waterproof cover perfectly suitable for hot tubs, with tight security that won't let it fly during strong wind.
Offset Hanging Umbrella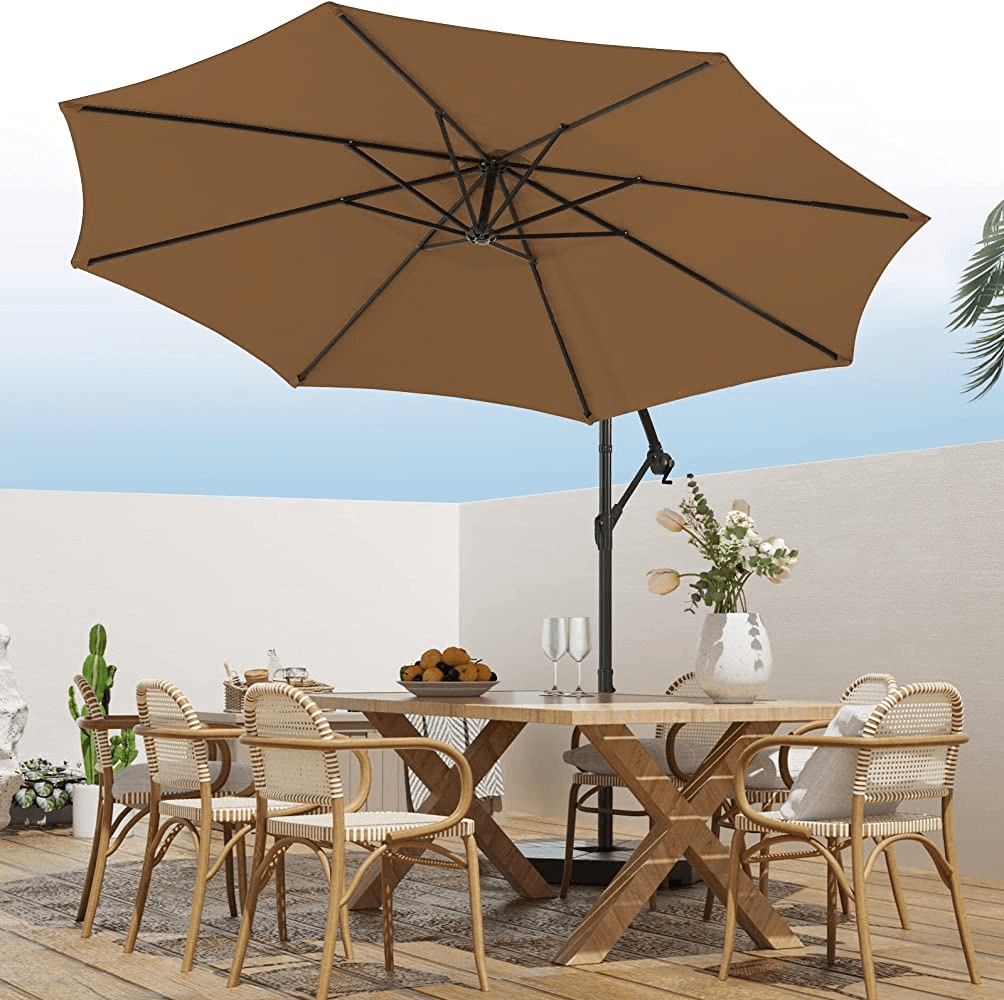 Sometimes the sun can ruin your relaxation or even damage your hot tub. Not the best outcome, right? This is where an umbrella is going to save you. As a versatile accessory, you can use the umbrella for both hot tub and yard needs. In addition, it can protect you not only from UV impact but from rain as well. The only disadvantage is that the umbrella isn't stable enough when it comes to the wind. But if you live in a non-windy area, investing in the umbrella can be a great alternative to the hot tub cover, since it will be much more beneficial for you.
Final Thoughts
Having a large TV without a cozy couch can be quite boring, right?
In the same way, a hot tub itself can be a fantastic place for getting enjoyment. But sometimes you want to have a drink without getting out of a hot tub, listen to calm music, or create a peaceful atmosphere with some lights. Do you agree?
With the accessories, you can facilitate maintenance, create an atmosphere that perfectly suits your mood, and just have the most convenient experience. I hope you have found something that will bring the best emotions to you and your guests during bubbly sessions!
| | | | |
| --- | --- | --- | --- |
| | | | |
| Black Diamond Stoneworks Ultimate Spa Filter Cleaner | Intex PureSpa Cupholder | Blufree LED Floating Lights | ULTCOVER Waterproof Square Hot Tub Cover |
| Best accessory for achieving clean and inviting hot tub | Best accessory for getting maximum comfort | Best accessory for amazing hot tub party | Best accessory for hot tub protection |
FAQ
🥤 What Accessories Are Best Suited for Adults in the Hot Tub?
Versatile hot tub accessories such as a cupholder, waterproof Bluetooth speaker, spa aromatherapy, and submersible LED lights are needed to create the best conditions for adults.
🎢 How Can I Make My Hot Tub More Fun?
To make your hot tub rest more fun, you'll need the next accessories: waterproof speakers, submersible or floating LED lights, and a waterproof phone pouch. This will let you listen to music, play different games, and have a cozy atmosphere.
🤿 What Are the Must-Have Accessories for My Hot Tub?
Must-have accessories should include chemicals, spa filter cleaner, oil-absorbing sponge, spa cover, and others for protecting and maintaining your hot tub. Since your hot tub condition and your relaxation are related, it is crucial to maintain your spa in a top state.
🔎 What Are the Best Inflatable Hot Tub Accessories?
You won't miss it if you buy a booster seat, non-slip steps, cupholder, and pillow. These are the best accessories for your inflatable hot tub to make your spa experience much more convenient.