Having a pool clarifier in your arsenal is an excellent decision to get rid of green or cloudy water whenever it appears. But how to choose the right product? And how to use it for the best benefit?
In this article, Peter Rossi and his team share all the tips about pool clarifiers. We'll reveal everything from what it is to how it works and how to use it for maximum profit.
Keep scrolling to explore all the secrets that will help you keep your pool shiny and attractive.



BioGuard Polysheen Blue Clarifier

Key benefits

- The most effective cleaning
- Compatible with all pool types
- No need to dilute

Read more




Aqua Clear Pool Water Clarifier

Key benefits

- The fastest results
- Ease of use
- Budget-friendly

Read more




Clorox Super Water Clarifier

Key benefits

- The most long-lasting solution
- Free mobile
- High-quality bottle

Read more




Tidal Vision Crystal Clarity

Key benefits

- Chemical-free composition
- No pH affection
- No added dyes or fragrances

Read more
Pool Clarifier: What It Is And How It Works
Imagine that on one sunny day, you decide to take a dip. But once you step closer to your pool, you notice that the water is cloudy and murky. Your desire to swim in the pool fades away…. But now this is not a big problem. The modern world has a solution – a pool clarifier.
Its name speaks for itself. But what does a pool clarifier do exactly? Are there any secrets or harsh chemicals?
Even though a lot of pool owners think that a clarifier kills all the pollutants, in reality, it's not true. A pool clarifier works by capturing all tiny particles that make your water unattractive. Those parts could be dust, pollen, oils, and other impurities. A pool clarifier has the power to glue all those particles together. As a result, your water becomes crystal clear and safe, with all the dirty clumps being washed away with a skimmer, which makes it effortless to clean.
📝 Note:
If your cloudy water has been caused by organics or algae, the clarifier will do nothing. You can explore our article about the most necessary
pool chemicals
to be ready for any case.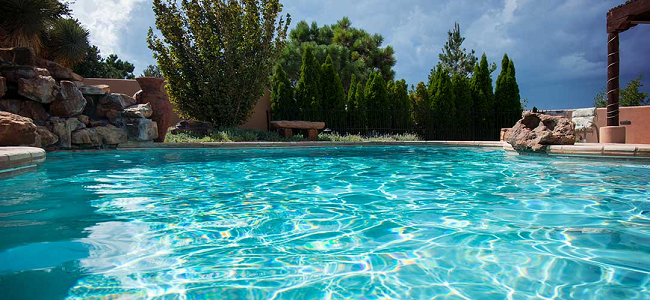 Why Pool Clarifier Is A Must-Have for You
Today, companies can promote pool products that are unnecessary for your pool. You may think that a pool clarifier is one of them. So let us explain all the proven benefits you get using it.
Sometimes your water can become green, murky, or cloudy even though the chemical levels are fine. As draining your pool is far from the best option, choosing a pool clarifier will save you money, time, and energy.
Another non-obvious benefit is that a pool clarifier improves the efficiency of your pool's filtration system. With fewer tiny particles clogging up the filter, your pool equipment can do its job more effectively, making your pool stay sparkle clear day after day.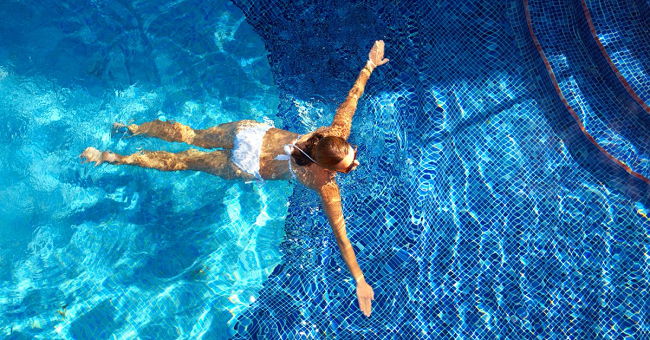 Pool Clarifier vs. Flocculant: What Will Suit Your Needs The Best
Looking for an answer to this question on forums will puzzle you. Some people may say that you need a pool clarifier. Others – that flocculant is your perfect match. But what are the differences between them, and which one is your ideal option? Let's find out everything about the pool clarifier vs. flocculant battle.
As we mentioned earlier, the pool clarifier is suitable for cloudy or murky water. Its job is to capture all the tiny pollutants, make them glued together to avoid floating and turn your cleaning into a breeze.
Flocculant, in its turn, is a pool clarifier on steroids. It's an ideal choice for fighting with water, which seems to be a lost cause. Pool floc collects and glues all the debris into large clumps, making them heavy enough to avoid floating.
The main difference is that clumps created by the pool flocculant are too heavy, so you'll need to remove them manually. However, all the byproducts of the pool clarifier activity are easily sucked by a pool skimmer.
We have the whole article about the best
pool flocculants
based on more than 500 reviews. Feel free to dive in to find everything in the detail.
Detailed Review
BioGuard Polysheen Blue Clarifier — The Most Effective Cleaning

Pros
The most effective cleaning
Compatible with all pool types and systems (compared to Aqua Clear)
Fast-acting chemical composition
No need to dilute
Cons
Several customers claimed it doesn't work with hot tubs
If you look for an effective pool clarifier, then BioGuard Polysheen Blue Clarifier may be one of the best solutions for you. The high-quality chemical composition of this pool clarifier makes this solution not only efficient but fast-acting. And hundreds of positive reviews prove that. BioGuard pool clarifier doesn't need to be diluted, which makes the usage a breeze. In addition, you will have no worries with this pool clarifier since it's compatible with all kinds of pools (compared to Aqua Clear). Not only that, but this cleaning solution won't affect your chemical levels.
After applying BioGuard Polysheen Blue Clarifier, you don't need to do it again for a minimum of 3 days to achieve the best results.
The only disadvantage is that several customers reported that this clarifier is not compatible with hot tubs.
Aqua Clear Pool Water Clarifier — The Fastest Results

Pros
The fastest results
Ease of use
No need to dilute
Budget-friendly
Cons
Some buyers found the bottle made not as sturdy as they expected
Aqua Clear Pool Water Clarifier is a must-have solution for your maintenance arsenal if you prefer not to waste time cleaning your pool. Its budget-friendly price (compared to Tidal Vision) makes it even more desirable among pool enjoyers.
Aqua Clear doesn't spend too much money on branding, which lets to keep the most beneficial price. Also, you do not need to dilute it, which makes an application even more convenient. Just pour it directly into your pool and see clouds going away. In addition, Aqua Clear states that its pool clarifier is compatible with saltwater systems.
The quality of the bottle, however, was rated not as high as the quality of the clarifier. Some buyers found it to be made from not sturdy materials, which makes storing and delivering Aqua Clear pool clarifier a quite risky task. But you can easily solve this problem by ordering some plastic bottles for convenient and safe use.
Clorox Super Water Clarifier — The Most Long-Lasting Solution

Pros
The most long-lasting bottle
Free mobile chemical app
The bottle has a cap seal (compared to Aqua Clear)
Quick effect
Cons
Some people experienced foam
Clorox is one of the most famous pool chemicals brands, and its Super Water Clarifier is a piece of evidence. The manufacturer recommends you use only one fl oz per 5,000 gallons. This makes Super Water Clarifier super efficient, letting the bottle last as long as possible. A lot of customers claimed that you'll be able to treat your average pool more than 10 times with this clarifier. As a pleasant bonus, the Clorox Super Water Clarifier bottle has a cap seal, which makes storage and usage safe and convenient (compared to Aqua Clear).
However, there are some reviews from people who experienced foam after use. But more likely, they just did a wrong measurement which caused that, since following the instructions can guarantee no foaming.
Tidal Vision Crystal Clarity — The Safest Composition
Pros
The safest composition
Compatible with all pool types
Does not affect pH balance
No added dyes or fragrances
Cons
Some owners reported that it took more time than stated to work
Tidal Vision Crystal Clarity is a pool clarifier that will perfectly suit people seeking chemical-free solutions. It is made based on chitosan – non-toxic, environmentally safe, and biodegradable sugar that comes from the outer skeleton of different kinds of shellfish. Also, no dyes or fragrances are added during the manufacturing process. As a result, Tidal Vision Crystal Clarity composition doesn't affect chemical levels, which makes it compatible with fresh and saltwater pool systems.
But despite all the benefits, some reviews say this clarifier works not so fast as Aqua Clear Pool Water Clarifier. If timing is important for you, you can just consider another option for your needs.
How To Use Pool Clarifier To Achieve Crystal Clear Water
Before starting any chemical ritual, ensure that your pool system is up and running. This step is necessary, so your pool clarifier will be spread evenly across the water surface.
We spent more than 36 hours researching all the best
pool chemicals
to help you make the right choice. Click to learn more.
The timing of adding a pool clarifier plays a huge role in its efficiency. The best option is to add it as soon as you don't see the bottom of your pool, or you noticed that your pool water is cloudy. In this way, the pool clarifier will have all the conditions to show its full potential.
The right dosage is a second factor that affects the efficiency of the pool clarifier. If you add too little of it, then nothing will happen. Adding too much of a pool clarifier, however, may make the condition of your water even worse. The 100% solution here is to read the manufacturer's instructions carefully to find the needed dose for your pool.
Once you calculated everything, simply add the clarifier to your pool water while walking across the surface of your pool. How long does it take for the pool clarifier to work? On average, it may take from 24 to 48 hours to completely clean the water. So we recommend you leave your pool filtration system running to help the pool clarifier make its best.
Our team has often been asked, "Can you swim in the pool after adding the clarifier?" We have good news. Since a pool clarifier is a safe-to-swim chemical (or even non-chemical) solution, you can wait for about 20 min and continue your swimming session.
📝 Tip:
When the pool clarifier did its job, clean your filters and test your water chemistry. Since some pool clarifiers may affect chemical levels, you may need to balance them.

Final Thoughts
As you see, the pool clarifier is a pretty useful weapon to fight sick water symptoms. We hope that our research, with all its tips and hints, will help you to maintain your water in the shiniest state.
Since there are even natural chemical-free pool clarifiers, you can be sure that nothing will harm you and your pool equipment.
Feel free to recheck our compilation with the best pool clarifiers to make your pool the most pleasant place for relaxation after a hard day.
FAQ
🧹 What Does a Clarifier Do to a Pool?
A pool clarifier has a reputation as a contaminant killer. But in fact, it glues all the dust, oils, and other pollutants to protect your pool equipment and make it easier for you to clean.
📅 When Should I Put Clarifier in My Pool?
You should add a pool clarifier as soon as you have seen the water get worse. Cloudiness, murkiness, and green color are the most obvious reasons to take action.
⏳ How Long Does It Take for Pool Clarifier to Work?
On average, your pool clarifier will make its job in 24–48 hours. If you add it in the evening, a significant difference will be already waiting for you in the morning.
📊 How Often Can You Put Clarifier in the Pool?
In general, adding a pool clarifier once a week is enough to keep your water shiny and clear. But as different factors can affect your pool water quality, don't be afraid to add it more or less frequently if needed.