Maintaining a hot tub is necessary to ensure the water is safe and balanced. Did you know that despite the chemicals' importance, you should clean the hot tub filters as well? The poor quality water may result from dirty filters, even though chemical levels in your hot tub are fine.
There are, however, some special steps to follow to remove even old dirt from your filters. In this article, we show the results of our extensive research on the best hot tub filter cleaners. With their help, your cleaning is going to be a breeze.
As a bonus, we explain how to properly approach and what are the reasons for hot tub filter cleaning. In addition, we prepared a step-by-step guide to make sure you did everything well.
Soaking solution

AquaDoc Filter Cleaner
Winner category
The highest quality ingredients

Key benefits
Build-ups prevention, a nice smell

Read more

Eco One Filter Cleanser
Winner category
The most long-lasting packaging

Key benefits
It is made of skin-safe ingredients

Read more
Spray

SpaGuard Filter Cleaner
Winner category
The most durable effect

Key benefits
Provides fast results, no need to soak the filters

Read more

Leisure Time Instant Cartridge Cleaner
Winner category
The fastest effect

Key benefits
The grime is easy to clean after use

Read more
Nozzle

Bonus: Mikise Filter Flosser

Winner category
The best chemical-free solution

Key benefits
Much longer life span compared to chemicals

Read more
Reasons For Regular Cleaning Your Hot Tub Filters
An understanding of why you need to clean your hot tub filters is an excellent point to start with. A lot of people think that removing hot tub filter cleaning from their maintenance routine will save them time, money, and energy. We have a list of consequences of neglecting filter cleaning that shows the opposite:
Reduced filter efficiency
Altered water chemistry
Higher operating costs
Decreased hot tub lifespan
Does it seem like a great alternative to skipping hot tub filter cleaning? Investing a couple of bucks and a couple of hours in maintaining will guarantee you have healthy water and a protected hot tub.

Why Your Filters Get Dirty
If dirty filters may cause a big amount of negative effects, then what is the reason for their pollution? Understanding the root of a problem will help you make your hot tub filters much more durable.
👦🏻 Human pollutants. Hair, oils, dead skin cells, cosmetics, and other human by-products may lead the filters to become grimy quicker than usual.
🧪 Water chemistry. Improper chemical levels let the bacteria and algae develop in your hot tub. As a result, filters collect all of them and become a source of pollution.
🧽 Insufficient maintenance. When your hot tub water is full of contaminants, and you don't take any action, then your filters will grab all of them. Not cleaning the filters, however, provokes bacteria development as well.
Methods for Effective Hot Tub Filters Cleaning
Looking for the most potent methods of cleaning hot tub filters, you'll find the next ones:
Bleach. We don't recommend using this chemical, since its harsh composition can damage your hot tub filter.
Dishwasher. It is worth mentioning that dishwashers are used for hard surfaces such as ceramic, plastic, and glass. The dishwasher may clean your hot tub filter, but you are likely going to receive it damaged.
Vinegar. We consider using vinegar as a homemade filter cleaner, not a bad option. It is a mild acid that you can equally dilute with water. Let your filter soak for up to two hours and scrub all the dirt with a moderate brush. Use your garden hose to rinse the filter and enjoy the clean water.
Filter cleaner. This is a tool that works similarly to diluted vinegar, but it works much more effectively and faster. Hot tub filter cleaners contain gentle chemicals which make reducing dirt a breeze.
If you are interested in detailed instructions on how to properly use hot tub filter cleaners, feel free to jump to the guidance part. But now we suggest you explore the best filter cleaners with their pros and cons for easy cleanings.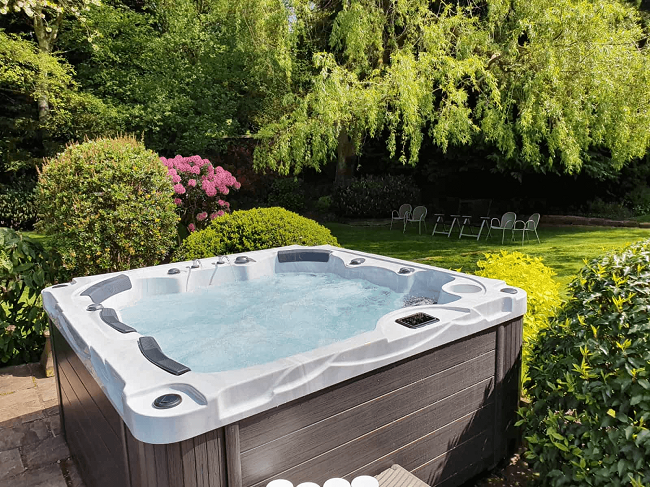 Detailed Overview
AquaDoc Filter Cleaner — The Highest Quality Ingredients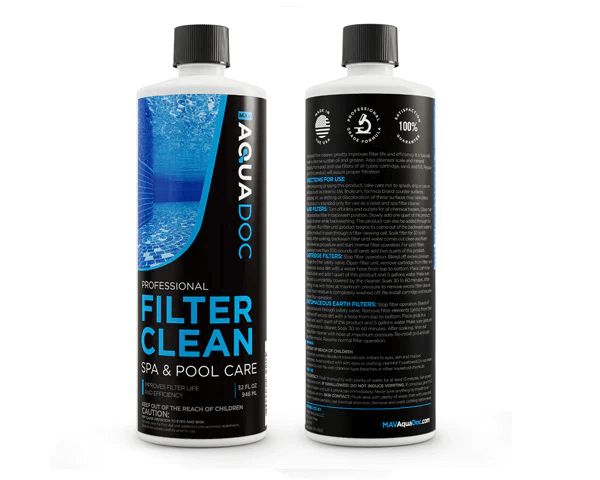 Pros
The highest quality ingredients
An ability to prevent build-ups
Quick soaking for 30–60 minutes
A nice smell
Cons
The bottle may last not as long as Eco One
Consumption

Per filter

Package size

One quart

1 pint – 1-gallon
AquaDoc is an ideal option if you look for a high-value cleaning solution. Did your hot tub filters not see cleaning for several or even more months? Or is there any build-up in your hot tub caused by dirty filters? With AquaDoc you can face even these difficult issues. It works so great that you only need to soak your filters in AquaDoc. In addition, no foaming or bad smell was reported.
The manufacturer claims its product has high-quality ingredients. As proof, you get a 100% refund if this professional-grade formula won't work for you.
But we have to warn that some people found the AquaDoc bottle short-lasting, since it was enough only for one hot tub filter cleaning.
Eco One Filter Cleanser — The Most Long-Lasting Packaging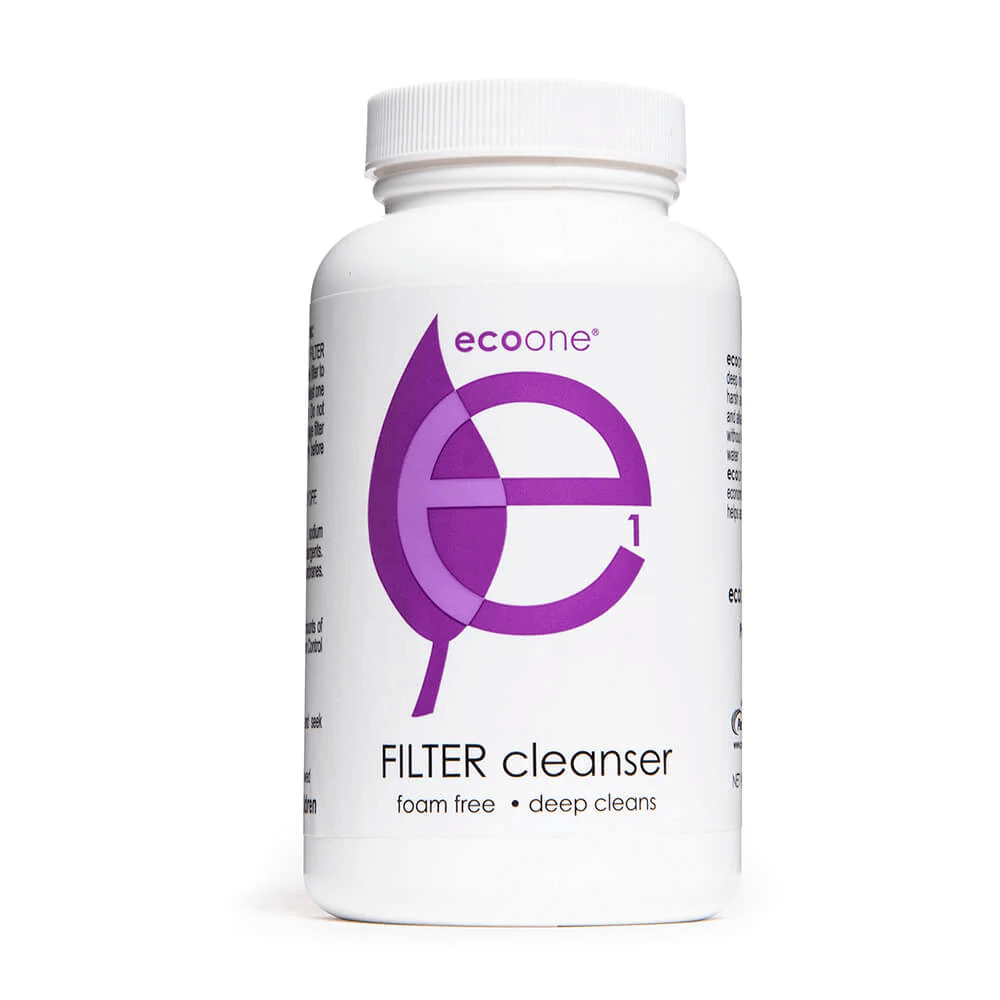 Pros
The most long-lasting packaging
Price-worthy option compared to Leisure Time
Skin-safe ingredients
No residue left after dissolving
Cons
Takes some time to dissolve
Consumption

Per filter

Package size

One-two caps

8 oz (up to 15 cleanings)
Eco One offers one of the most affordable cleaners, and its packaging lasts the longest. This powder features all-natural ingredients that won't harm you, your hot tub, or your filters. This is the only chemical that provides a powder instead of a liquid. When it dissolves, it doesn't leave any traces but effectively does its job.
If you are curious about how long this packaging will serve you, then some people stated it lasted for up to 15 cleanings.
If you know that hot tub filter cleaning may take some time, and you do not mind, then Eco One Cleaner might be the best investment for you.
SpaGuard Filter Cleaner — The Most Durable Effect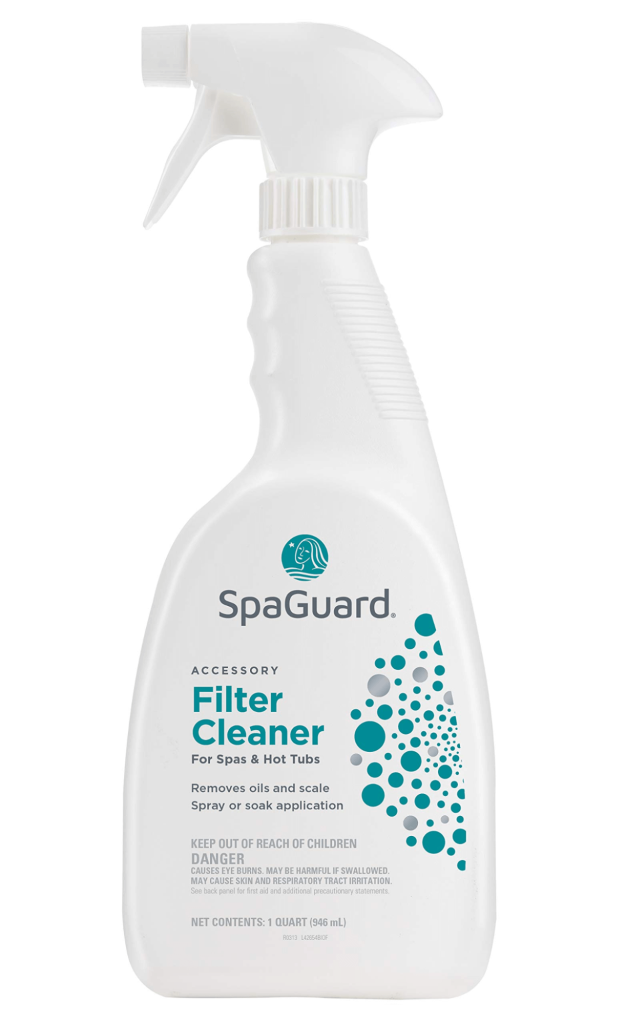 SpaGuard Filter Cleaner
Pros
The most durable effect
Two-four times faster results compared to AquaDoc
Spraying instead of soaking (improved ease of use)
An ability to eliminate the unpleasant odor from the hot tub
Cons
Some people rate bottle design as inconvenient to use
Sometimes filter soaking may feel an eternity, as you want to chill in your hot tub, right? SpaGuard Filter Cleaner is a solution that shortens your cleaning several times (compared to AquaDoc). All you need to do is just spray your filters. Then wait a bit. And rinse them thoroughly. 
What makes SpaGuard even more beneficial is that it gives your filters the most durable protection due to the high level of cleaning agents. That means you don't need to clean them so often.
The only disadvantage of this spray is that a few people found the bottle has a defective design, which may complicate your use.
Leisure Time Instant Cartridge Cleaner — The Fastest Effect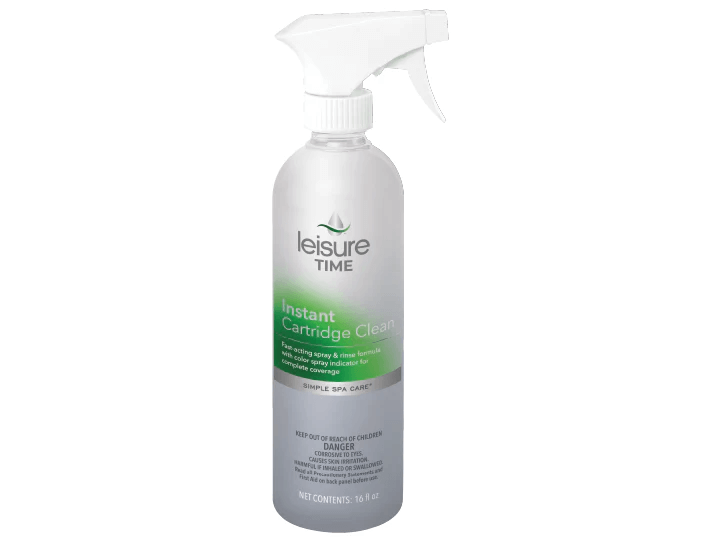 Pros
The fastest and smoothest solution
The grime is easy to remove after use
A little amount of the cleaner is needed (compared to AquaDoc)
Compatible with all sanitizers including chlorine, bromine, ozone, and biguanide
Cons
Some people find their water to be foamy (because of poor rinsing)
Don't want to spend time rinsing or soaking your hot tub filters? Then we commend you to pay attention to Leisure Time Instant Cartridge Cleaner. This excellent spray solution cleans filters on average, in less than one hour. In addition, you don't need to use as much cleanser as AquaDoc to get the same effect.
As Leisure Time Cartridge Cleaner was reported to make water foamy, we suggest you intensively rinse your filters to avoid that problem.
🎁 Bonus: Mikise Filter Flosser — The Best Chemical-Free Solution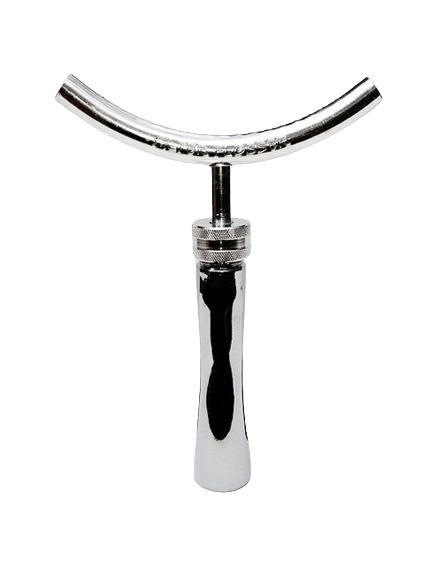 Pros
The fastest chemical-free solution
No need to wait for chemicals to clean
Lasts much longer than chemicals
Compatible with all types of washable cartridge filters
Cons
Effectiveness depends on your water pressure
Mikise Filter Flosser is a perfect solution if you are not sure about chemical cleaners, don't want to make long pauses soaking filters, or don't want to have a chance to get foamy water. This nozzle helps you effectively clean your filter without spending long hours compared to rinsing with a garden hose. Investing in this tool will let you use it for years, which can't be said about chemicals. 
Mikise filter flosser fits any garden hose and reduces water consumption by up to 50%. Its design allows you to clean your hot tub filters in three ways: vertical, horizontal, or converged. Depending on your water pressure, this flosser will cut your cleaning routine to 5–10 minutes.
The only recommendation we have is to store the Mikise filter flosser far from chemicals, so its materials won't corrode.
The Right Way To Use Hot Tub Filter Cleaners
As the main task of hot tub filter cleaners is to facilitate and make your maintenance more effective, using them is not a big deal. Let us provide you with step-by-step instructions to clear everything up.
⛔ Precautions. Always turn your hot tub off before getting filters out, ensuring your hot tub equipment won't get any damage.
🔌 Preparation. Whether you have a spray or soaking cleaning solution, there are some necessary steps to take. Once your hot tub filters are out, rinse them with a hose to remove easy-stuck dirt. In this way, your cleaner will spend even less time doing its job.
🧽 Cleaning. Different solutions require different approaches. That is why it is essential to check the manufacturer's instructions. Sprays, in general, should be applied directly to the filter and should stay for up to 30 minutes before washing out.
Soaking cleaners have another application method. You need to let your hot tub filters absorb the cleanser. You should have a large bucket to fit your filters to do that. Fill the bucket with the needed amount of the cleaner (check it on the labeling) and leave it to soak for one night.
🚿 Washing. As soon as your filters have spent enough time absorbing the cleaner, you need to rinse them thoroughly. It is better to spend a bit more time washing them out to ensure there are no chemicals left, since you don't want to have your hot tub full of foam afterward.
How To Keep Your Hot Tub Filters Clean
Ensuring your hot tub is protected from environmental and human pollutants will reduce the time you spend and the frequency of maintenance.
Covering the hot tub and controlling your chemical levels is necessary for minimizing bacteria development and slowing down filter contamination.
But to decrease human contaminants, you and your guests should take a nice shower before the hot tub rest to wash all the dirt away.
Final Thoughts
Keeping filters clean is essential for your hot tub to stay a safe, inviting, and pleasant place for relaxation. That's why we found as many valuable products to facilitate your maintenance routine as possible.
More care about your hot tub = fewer cleanings and problems. That is why you shouldn't neglect our recommendations for preventing your filters from becoming dirty fast.
As cleaning hot tub filters without specialized tools can be tough, we hope you've found your perfect dirt-free solution.
FAQ
🧽 What Do I Clean My Hot Tub Filter With?
The best tool to clean your hot tub filters is a cleaner. It consists of mild chemicals that help you easily remove all the dirt by soaking it for a short time.
🧹 How Do You Clean a Spa Tub Filter?
All you need to do is to spray your hot tub filter with a cleaner, let it soak for a few hours, and thoroughly rinse it with a hose. These steps ensure you get a clean filter with no foam in the end.
🚿 Can I Clean My Hot Tub Filter With Vinegar?
You can clean your hot tub filter by equally diluting vinegar with water and letting your filter soak for up to two hours. Then you need to scrub the dirt with a soft brush and give it a nice rinse.
🥫 Can You Clean Hot Tub Filter With Baking Soda?
Using baking soda for cleaning hot tub filters won't guarantee you cleanliness in the end. We recommend you use a special filter cleaner to effectively remove all the dirt and bacteria to ensure your healthy and shiny chill sessions.