Hot tub owners often have to use various chemicals for cleaning, but not all of them can remove the fine silt that has settled on the bottom of their spa or the large leaves that have fallen in. Instead of cleaning it all by hand and spending a lot of time, people can make it easier on themselves by using a hot tub water vacuum cleaner. But there are so many of them on the market, and they all seem so similar, so how to pick the best one?
In this article, we'll take a closer look at the top-rated hot tub vacuums, how they work, and why they're an essential tool for any hot tub owner.
Comparison Table
Having found a lot of information about these products, we analyzed them in detail with the help of numerous real reviews from people who clearly noted their advantages and disadvantages of them. Finally, we gathered all the important info in one short table to ease your choice.

Pool Blaster Max Hot Tub Vacuum

Most powerful suction
- The maximum suction strength
- Very simple to use
- Quick cleaning

Go to a detailed review


Aura Hot Tub Vacuum

Easiest to use
- The simplest approach to use
- It has no batteries to keep it charged and works without the need for recharging
- It is more lightweight compared to other models on the list

Go to a detailed review


Efurden Hot Tub Vacuum

Best for fine sediment
- The best for fine sediment
- Provides quite strong suction
- Simple to use and clean

Go to a detailed review


Pool Blaster Catfish Hot Tub Vacuum

Suits all sorts of dirt
- Removes all types of dirt
- It has a powerful battery
Fast cleaning


Go to a detailed review

What Is A Hot Tub Vacuum?
A hot tub vacuum cleaner is a device designed to remove debris and dirt from the bottom of your hot tub, keeping it clean and hygienic. Hot tub vacuums are available in a variety of models and sizes to suit different types of hot tubs and cleaning requirements. Some models run on batteries or rechargeable power, while others require a mains connection. The suction strength and power of the vacuum cleaner may also vary, with some models able to handle heavier debris, while others are better suited for smaller particles and silt.
How Does It Work?
A hot tub vacuum is a handheld device that typically includes a suction head, a telescoping pole, and a collection bag or canister. The suction head is attached to the pole and is used to vacuum debris from the surface of the water or the bottom of the hot tub. The collected debris is then stored in the collection bag or canister, which can be easily removed and emptied after use. Whether or not the pool cleaner is equipped with an electric pump, the operation is straightforward.
Models with a piston pump are propelled by the efforts of human hands. The gadget is completely self-contained and does not require a connection to the electric grid, although it does require some physical training. It is a long rod that comes with a hose for pumping water, a brush, and a trash bag. The individual drag the brush over the bottom by pushing the piston, forcing water to travel through the bag where the dirt collects.
Water is cleaned similarly by a vacuum cleaner with a motor, but no human effort is necessary. Water circulates due to the activity of a pump. In this case, the debris can be gathered in a specific collector located on the body and also transmitted to the hot tub filtration system.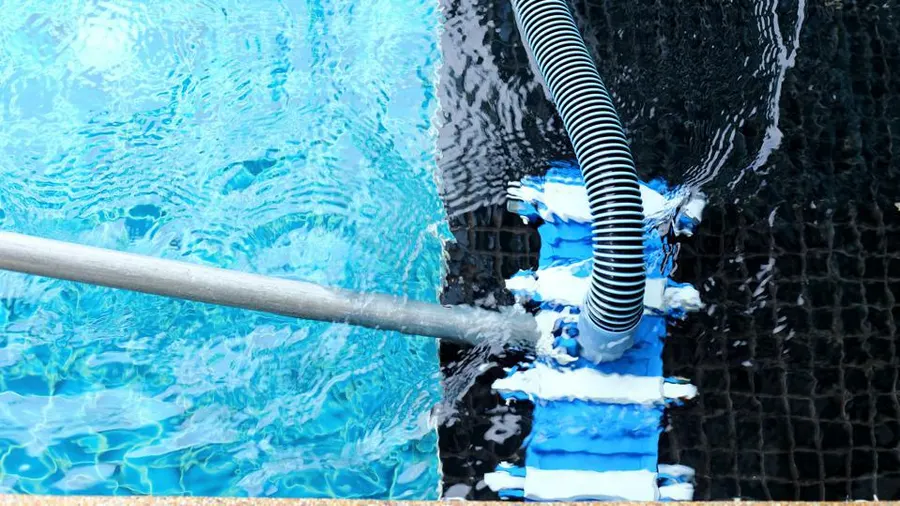 Reasons To Use
Hot tub pollution is unavoidable. The wind transports dust, tiny debris, leaves, and insects, which might gather on the water's surface or sink to the bottom. People can pollute the water by leaving hair, cosmetic residue, and skin flakes behind. Accordingly, the most significant duties that an underwater vacuum cleaner may assist with are keeping surfaces clean, reducing algae growth, and maintaining good hygiene.
The vacuum cleaner adds to the hot tub's circulation by sweeping up trash and sludge from the walls and bottom. Since microscopic particles of algae passing through the filter are destroyed and their growth is retarded, this acts as an effective prevention of blooms and green scum in the water as well as on the surfaces of the hot tub.
Regular vacuum cleaning of a small hot tub will allow you to change the water less frequently, and in a large tub, it will extend the life of the filters. This saves a significant amount of time and effort spent on maintenance.
Benefits of Using
A hot tub vacuum might become a truly worthwhile purchase for you, given its multiple benefits:
The hot tub vacuum makes maintenance and cleaning of the spa much easier. Such technology enables the rapid cleaning of even enormous artificial ponds. The gadgets are simple to operate and do not necessitate the application of particular talents or physical force.
The vacuum's suction power can quickly and efficiently remove debris from hard-to-reach areas like corners and crevices, ensuring that the hot tub is spotless in a matter of minutes (up to 1-1.5 hours for big hot tubs).
Cleans the water and surfaces of scum and other unwanted things. This removes the requirement for frequent water changes, which would usually be required once per 3–4 months (particularly for outdoor hot tubs).
It helps to reduce your use of chemical cleaning products. Although chlorine and other ingredients successfully destroy germs and cleanse the water, they do not address the issue of falling leaves, insects, and other foreign components entering the pool from the street, but a vacuum cleaner eliminates all sorts of contaminants without affecting the composition of the water.
The gadget operates immediately in the water and does not require extensive hot tub surface preparation.
The vacuum cleaner brush does not leave any scratches and does not compromise the integrity of the wall and floor coatings.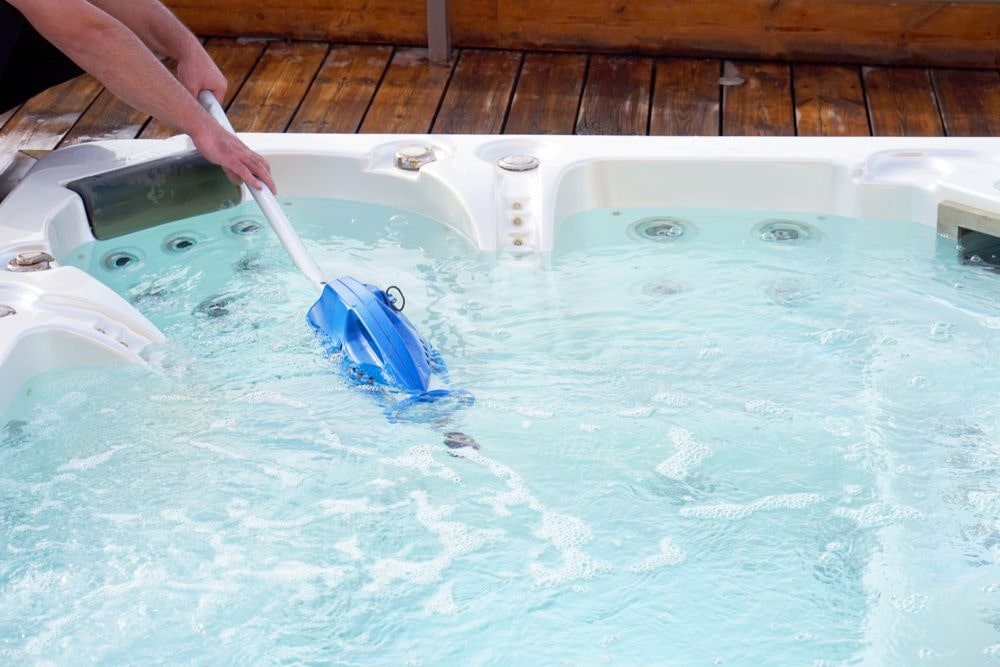 How Did We Choose?
Before recommending any device, we conducted full-fledged research to determine the most worthy models.
First, we found 60 spa vacuum cleaner models with the best ratings and a lot of reviews.
Then we selected 10 models for a detailed review (excluding outdated models or models with a few reviews).
After that, we analyzed more than 100 positive and negative customer reviews, determined quality criteria for choosing a hot tub vacuum, and identified the four best models in different categories.
You can see our calculation process below.

Best Hot Tub Vacuums For Home Use In Detail
With so many options available on the market, it can be challenging to choose the right hot tub vacuum for your needs. So we did some in-depth research to make it easier for you to choose (after all, it should be easier to pick from 4 models than from 50, right?). Now we will look at the features, pros, and cons of each vacuum to help you make an informed decision and keep your hot tub clean and sparkling.
Pool Blaster Max Hot Tub Vacuum — The Most Powerful Suction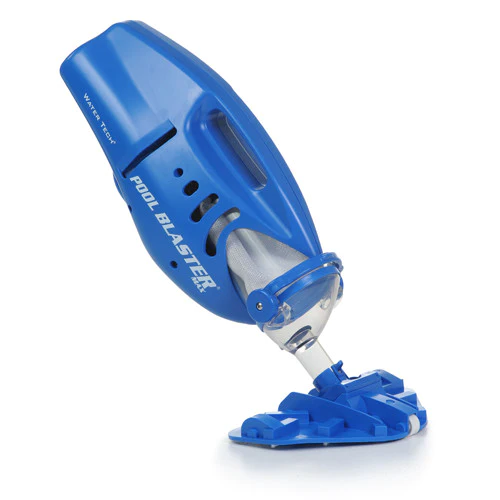 Pros
Provides the highest suction power
It is almost as easy to use as Aura Hot Tub Vacuum
Ensures fast cleaning
Picks up large leaves
Cons
It can be a bit difficult to clean the filter
Sometimes the water can become turbid, accumulating many blooms that are difficult to remove, but the Pool Blaster Max Hot Tub Vacuum can easily deal with such contaminants with its strong suction and big debris catch chamber for cleaning acorns, twigs, leaves, dirt, and sand.
With this vacuum, you can clean the entire hot tub or do a spot-clean in seconds. Unlike the Aura Vacuum Cleaner, which is lightweight by itself and is more suitable for small, hard-to-reach places and cannot have very powerful suction, the Max Vacuum Cleaner has a very strong motor design that is designed to pick up debris quickly.
Also, the device includes a detachable 10.5″ vacuum head for general cleaning, or you can just separate it to reveal the nose cone head for difficult-to-reach locations. This device is ideal for outdoor hot tubs.
Moreover, the Max model is powered by a lithium-ion battery and can operate for up to an hour. Also, the vacuum has push-button control, and if you have a large hot tub, it fits any standard telescoping pole to clean the whole hot tub.
Customer reviews
"There is no more need to order cleaning"

This has saved me from having to hire any additional cleaning services. I'm happy and grateful. No, because it is smaller and has a smaller battery, it is as good as or better than the ones they use. However, it was effective! Net the bigger chunks from the bottom and use it to collect dirt, sand, and other smaller particles. This is incredible. I'm ecstatic.
Alison, NC
"Very easy to use"

This is quite simple to connect and utilize. There will be no more hose and skimmer mishaps. Simply turn it on and begin vacuuming. I like how simple it is to clean the pull-out filter, and how thick it is, capturing all of the little debris and particles.
Sandra, NJ
Aura Hot Tub Vacuum — The Easiest To Use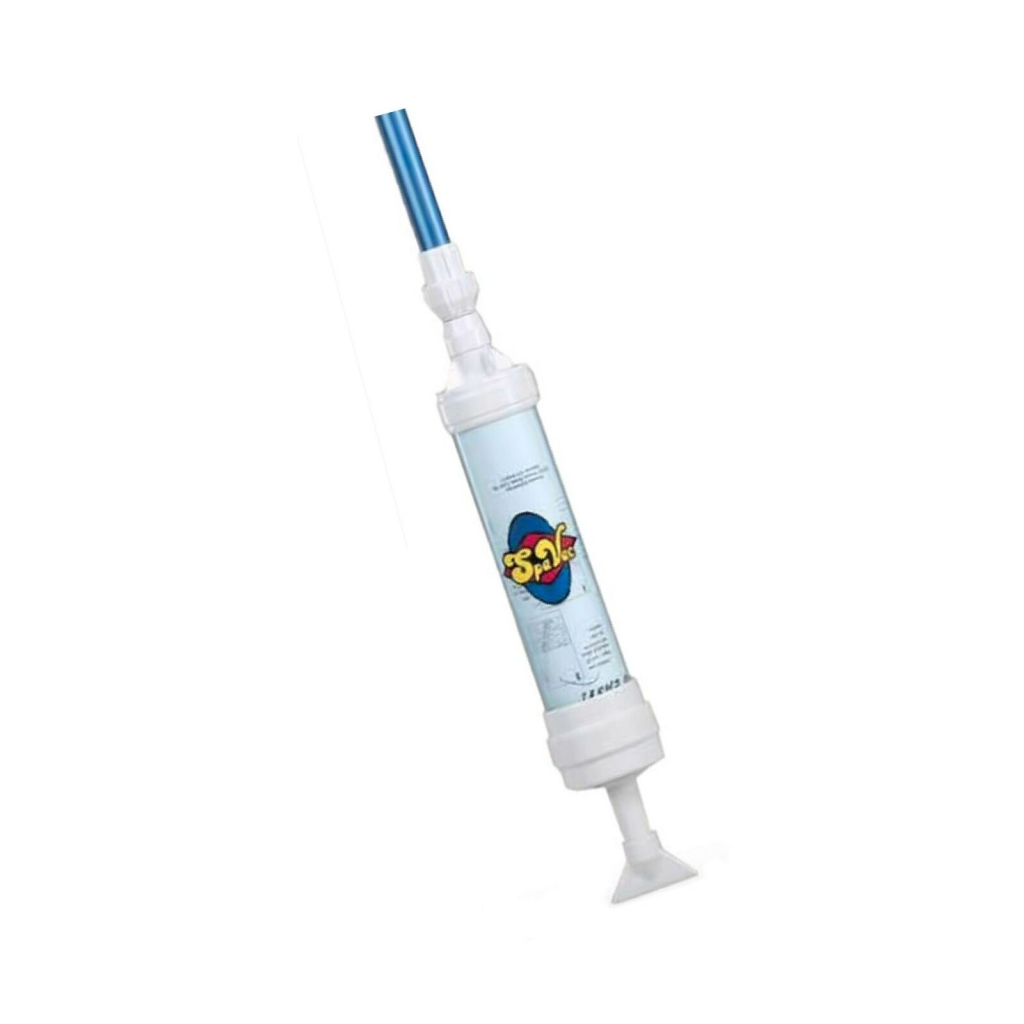 Pros
The simplest vacuum to use
The vacuum is without batteries to keep charged and works without the need for recharging
Lightweight and smaller than Pool Blaster Max
Good for the fine sediment 
Cons
The device cleans better small areas and is not so good with large ones
Can be a bit slow in cleaning, as is used in difficult-to-reach places.
If you have been dreaming of a lightweight and easy-to-use vacuum cleaner, then the Aura Hot Tub Vacuum is just for you! This vacuum cleaner is self-contained and does not require charging, so you can use it whenever you want. It uses the simple siphon principle to remove dirt and debris from your spa. Debris enters the siphon, settles to the bottom of the part of the appliance where the water blockage is located, and remains there until the siphon is cleared. Liquid wastewater passes through this compartment unhindered and is discharged through the outlet into the general sewer system.
There is also no pumping, batteries, or water connection (as with hoses), and it picks up pebbles, coins, marbles, and beach sand.
Also, since this vacuum cleaner is light and small, it is used more for cleaning specific, hard-to-reach places, and therefore cleaning may take a little longer than with the Pool Blaster Catfish.
Customer reviews
"Fast cleaning"

The simplest solution is the best. There are no moving components or batteries. This gadget employs the simple idea of water siphoning to generate a brief but strong suction capable of collecting detritus at the hot tub's bottom. It took me four cycles to get everything out. What used to take me 15 minutes with hoses and siphoning my water out of the tub now takes me about 30 seconds with minimal water loss.
Jake, NJ
"Easy to assemble and use"

I just got this and utilized it in my inflatable spa, and I'm quite pleased with it. I was able to vacuum up 98% of the little particles of trash and tiny roof shingle stones that I could never remove with my net in approximately 15 minutes. There is no need for pumps or batteries, which is fantastic.
Clara, AZ
Efurden Hot Tub Vacuum — The Best For Fine Sediment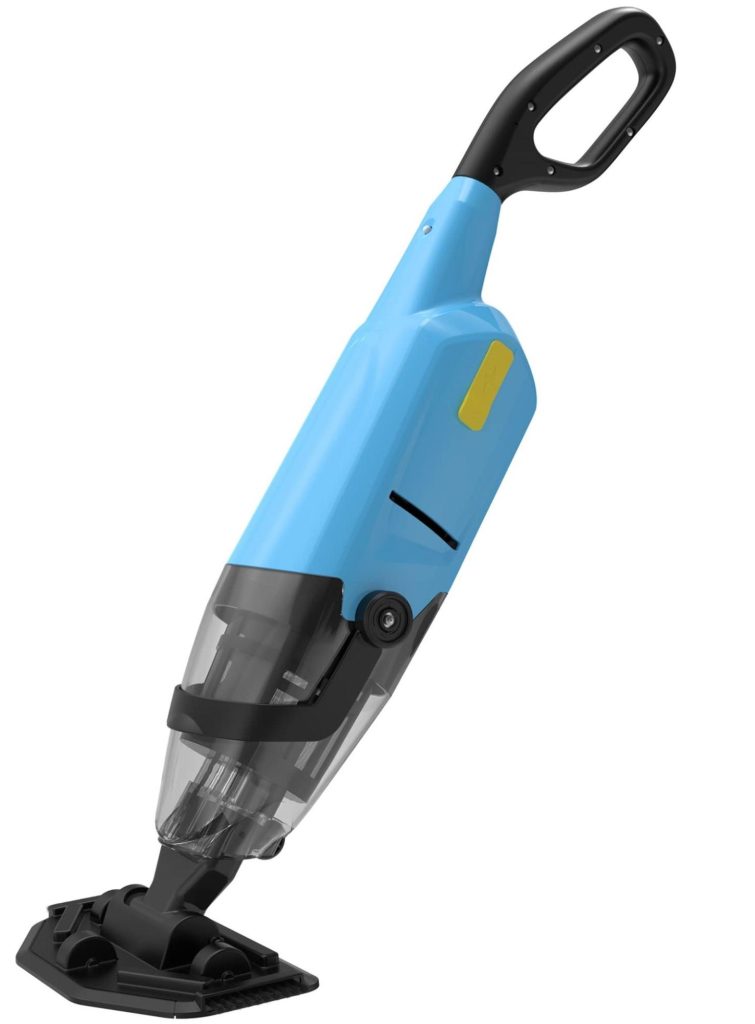 Pros
The most suitable for fine sediment due to large chamber filter
More powerful suction than the Aura Hot Tub Vacuum 
It is easy to clean 
Has an automatic switch if the vacuum cleaner is not underwater, which saves the charge
Cons
Sand, hair, and other fine sediment are always very hard to remove, and they are very harmful because they clog the water drain system. But the Efurden Hot Tub Vacuum is good at this very task, as it features a robust motor with an 8-gallon/min water displacement for powerful suction.
The device is powered by a 6000 mAH battery and lasts around 60 minutes. This will allow you to thoroughly clean the entire hot tub, and then you need to charge it for the next time, as frequent full discharging of the device damages the accumulator.
But how to use it? Simply attach the device to the provided pool pole, turn it on, submerge the machine's water outlet, and you're ready to vacuum like you would on the floor. Assembly requires no tools at all.
Remember that the vacuum cleaner needs to be cleaned after each use. Simply flip the lever to open the unit, and the filtration system pops out.
But nothing is perfect, and cleaning may take a little longer than with other devices, such as Pool Blaster Max. This can happen if there is a lot of small debris and sludge in the tub, and because the vacuum cleaner has a large and capacious filter.
Customer reviews
"Removes fine sediment"

This stuff is fantastic! Because I reside in the desert, our pool's bottom is littered with fine sand and dirt. Nothing has been able to remove all the small particles until this product! It works well and has an incredible battery life. Simply keep cleaning the filter to avoid clogging it and allow it to continue performing properly.
Elizabeth, TX
"Works great"

This was ordered to assist clean the bottom of my pool. I was apprehensive at first, but I was greatly pleased. This small vacuum is fantastic. I've tried going slow and fast, and it picks up on both. However, I recommend starting slowly because it works better that way. Worth the money!
Caroline, GA
Pool Blaster Catfish Hot Tub Vacuum — Suits All Sorts of Dirt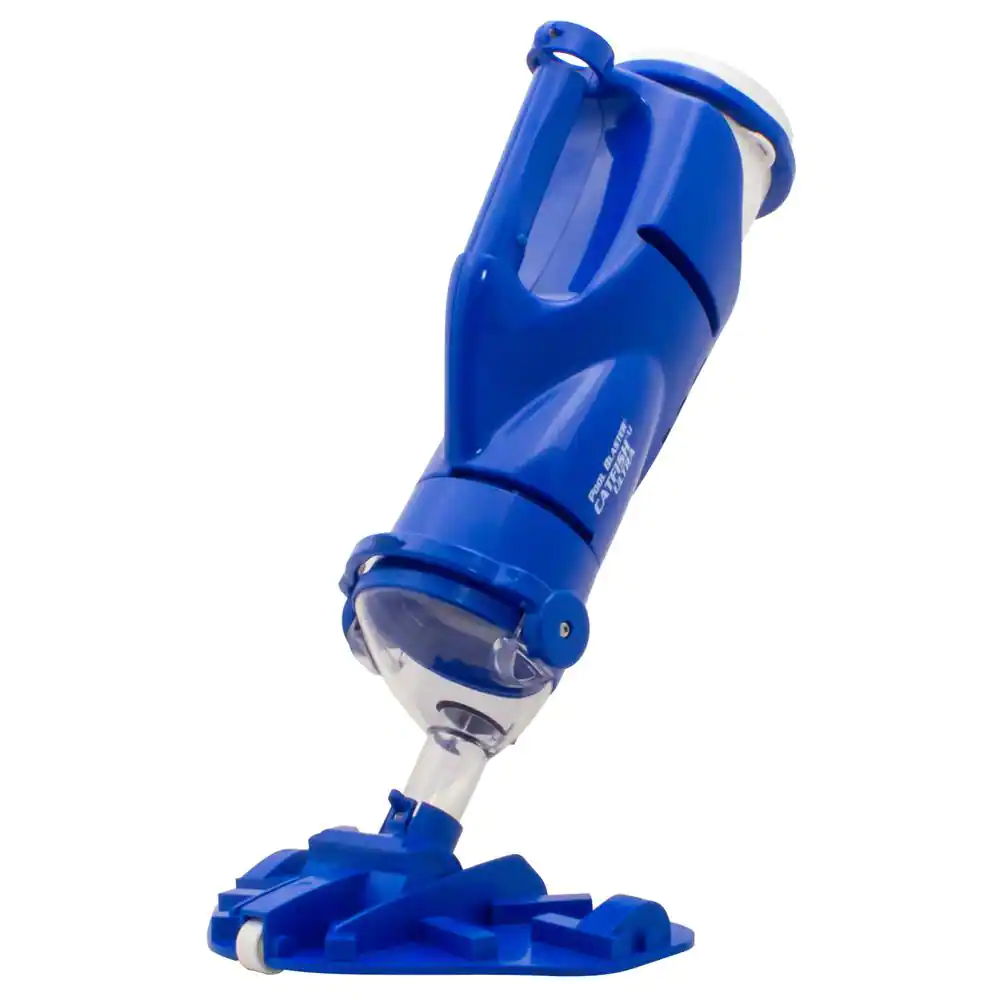 Pros
Cleans all sorts of dirt
Has a powerful battery
Provides faster cleaning than Efurden Hot Tub Vacuum
Has the chamber with microfilter for the fine sediment
Cons
If your hot tub is constantly contaminated by different kinds of sediment (whether leaves or sand) and you don't need anything specific, the Pool Blaster Catfish Hot Tub Vacuum is right for you.
This vacuum is lightweight and portable, and it may be used by hand or attached to any conventional telescopic pool pole.
The Catfish battery is supposed to last 45 minutes, which is 25% less than Efurden Hot Tub Vacuum, but Catfish has more power to collect all sorts of sediment. The spa vacuum also comes with a removable 7.5-inch vacuum nozzle for general cleaning, or you can simply remove it to reveal a nose cone nozzle for hard-to-reach areas.
Although we should warn you: this hot tub vacuum can be a bit tricky to set up, as the device has two filter bags that you need to choose. So, you should read instructions to assemble it clearly. Other hot tub vacuums on the list have only one filter bag, so there you don't need to choose and set up the exact one.
Customer reviews
"I can use it several times on a single charge"

I have one area of the pool that constantly seems to require vacuuming, even when the rest of it does not. I had a battery-powered unit, but it was a headache to deal with the batteries, so I bought this simply to give it a shot. It's been fantastic! It may be used several times on a single charge. Using the two filters effectively gathers up the dirt I require, and emptying the filters is simple.
David, TX
"Powerful battery"

It's simple to use and effective even on small dirt or algae particles. It is simple to clean and has a charge time of at least 45 minutes.
Jinny, MS
What Is the Best Way to Vacuum a Hot Tub?
A hot tub vacuum cleaner is an efficient way to remove debris, cosmetic residue, and other impurities from the water. However, to attain the greatest outcomes, some regulations must be followed.
Here are some tips on how to use a hot tub vacuum cleaner properly:
Fill the hot tub 2-3 inches above the filter level with water.
Make sure your vacuum cleaner has the right hot tub attachments for your spa. They will allow you to reach inaccessible areas and clean your hot tub more effectively.
Before cleaning, turn off the air massage system. This will help prevent foaming and filter contamination.
Begin cleaning the hot tub from the borders, moving up, and running the nozzle over the whole surface.
If your cleaner has many power levels, select the one that is appropriate for your hot tub depending on how dirty it is.
When you're done cleaning, switch off the vacuum and let the water flow through the filter for at least 30 minutes to eliminate any lingering debris or toxins from the system.
Clean the filter regularly to guarantee that the hot tub is always clean and safe for users.
You can make the most of your hot tub vacuum and keep your bathtub clean by following these simple recommendations.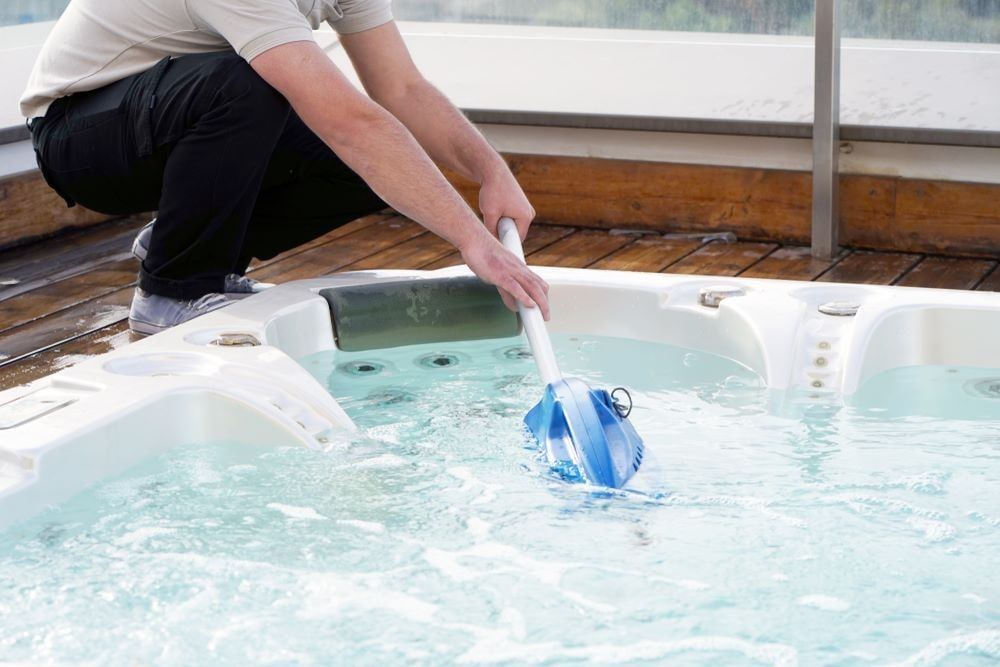 Maintenance of the Hot Tub Vacuum
It's important to note that while hot tub vacuums can be effective at removing debris from the water, they are not a substitute for regular water maintenance and chemical treatments. Hot tub owners should still follow a regular maintenance schedule and use appropriate chemicals to keep the water balanced and free from bacteria.
Also, your vacuum filter allows the free flow of air through the unit while catching particles. 
To prevent your hot tub from bacteria forming, you need to
drain the water
there regularly.
Summary
Cleaning your hot tub with chemicals to eradicate all bacteria is an effective method. But chemicals won't remove all the sediment, so here the hot tub vacuum comes in play! They offer a range of useful functions for cleaning your hot tub: you can collect fine sediment, and vice versa, gather large leaves with these devices in almost no time.
In our article, we have described in detail the best devices that are both easy to use and powerful to make a choice as simple for you as possible. Moreover, we explained how it works, and if it's worth it — all this based on extensive research where we discovered the opinions of real users and shared them with you!
FAQ
🌸 Does sand damage the hot tub?
Sand, like other trash, may eventually destroy your hot tub if it is not controlled. It commonly causes hot tubs to fail by clogging the drainage system, resulting in significant backflow and leaks into your hot tub. Prevent sand from building up in your hot tub by taking precautions and cleaning it on a regular basis with the hot tub vacuum.
🦠 Should you vacuum the hot tub?
Yes, a hot tub needs a vacuum cleaner to suck up the smallest materials such as dirt or sand. It can also help circulate the water, which keeps it clean and free of debris.
💨 Why is there sand in my pool after vacuuming?
With time, the sand breaks down into smaller and finer particles that may readily flow through the filter. This is one of the most common reasons why your pool remains unclean even after you vacuum it. You will also notice that the water is cloudier than usual, which is an indication that the sand is being replenished.
💧 Do you backwash after vacuuming?
Yes, we recommend backwashing your pool after vacuuming it. This permits the filter to expel any dirt or debris that has been sucked up.