Have you ever wanted to maximize your swimming time instead of constantly checking chemical levels? Sure you have! I want to introduce the subject of pool stabilizer to you, as this is your rescue on a sunny day. I used to see my chlorine evaporating in a few hours when I was a pool newbie many years ago, until my friend once said to me, "You definitely need pool stabilizer." So let me become such a friend to you! In this article I'll reveal what a pool stabilizer is and all the secrets of efficient use. I'll also suggest the best pool stabilizers you won't regret buying.
Comparison Table
Here is a short overview of several brands of pool stabilizer. If you're interested in one of them, you can simply click on it to jump to its more detailed analysis.
| | | | |
| --- | --- | --- | --- |
| Product | Clorox Pool & Spa Chlorine Stabilizer | PuriTech Stabilizer Conditioner | Natural Chemistry Liquid Stabilizer and Conditioner |
| Winner in the category | Most Durable Effect | Best for Salt Water Pools | Quickest Dissolution |
| Key benefits | Free water testing app, crystal clear water effect | Cheapest price per ounce, biggest packaging | High efficiency in any water temperature, safe and easy to use and store bottle |
| | Read more | Read more | Read more |
Pool Stabilizer: What It Is And What It Does
Pool stabilizer. Two words, but so many benefits. If you don't know, pool stabilizer is an unofficial name for cyanuric acid (CYA). Cyanuric acid for your chlorine is like sunglasses for your eyes or sunscreen for your skin. With the help of a pool stabilizer, the sun's UV rays won't be so harmful to the sanitizer. As a result, it will last many times longer!
So the first thing to find out is what CYACYA stands for cyanuric acid level you should maintain for the maximum result. The perfect range is from 30 to 50 ppm. If your stabilizer level is lower than 30, the chlorine will evaporate as quickly as if there was no CYA in it. However, if it's higher than 50, your chlorine's efficiency will decrease. This means chlorine won't be effective at fighting bacteria, even though the levels are fine.
Good news: you can forget about constantly adding chlorine to your pool. Read our research on the best
salt chlorine generators
to find out how they will solve this problem.
Do You Even Need Pool Stabilizer?
Remember I told you a story about my friend suggesting me a pool stabilizer? I listened to him, but then doubts gained control over me. I asked myself: "Do I need a pool stabilizer at all? What if chemical companies just want me to waste money?". That was the moment I started deep research on pool chemicals.
I'll be brief and give you a straightforward answer. You don't need a pool stabilizer in one case – if you have an indoor pool. Having some cyanuric acid is crucial on sunny days. It's much more beneficial to invest in one bag of pool sanitizer than buying tons of chlorine.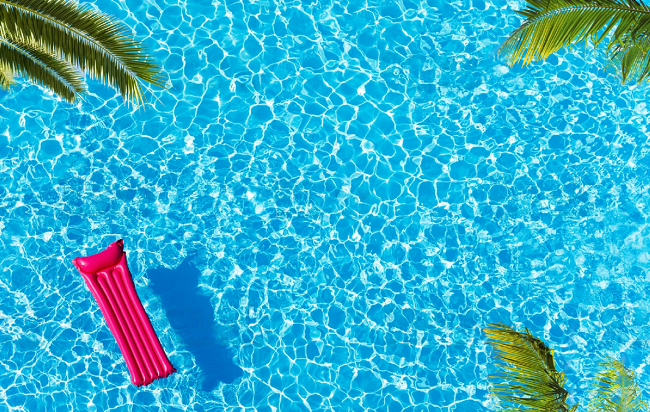 Your pool water should reflect clouds, but not be cloudy itself. We have a detailed article about
pool flocculants
to make your pool shiny.
How We Choose Products For You
I know how important it is for you to understand what our results are based on, so I'm going to reveal all the secrets behind our research. My mission is to help you understand all the strong and weak points of each product and help you make the best investment decision!
When we started our research, we found more than 15 pool stabilizers on the market. Then I selected the seven best ones. Some of these stabilizers are used by me and some by other members of our team, while others are not. We made sure each product has enough public reviews to reach an objective conclusion.
Once the list of products was composed, I analyzed more than 200 positive and negative reviews. Based on these reviews, I made up a list of quality criteria to find what customers find each model best at. In addition, such a method let me disclose all the weak points too.

Best Products In Detail
Clorox Pool & Spa Chlorine Stabilizer — The Most Durable Effect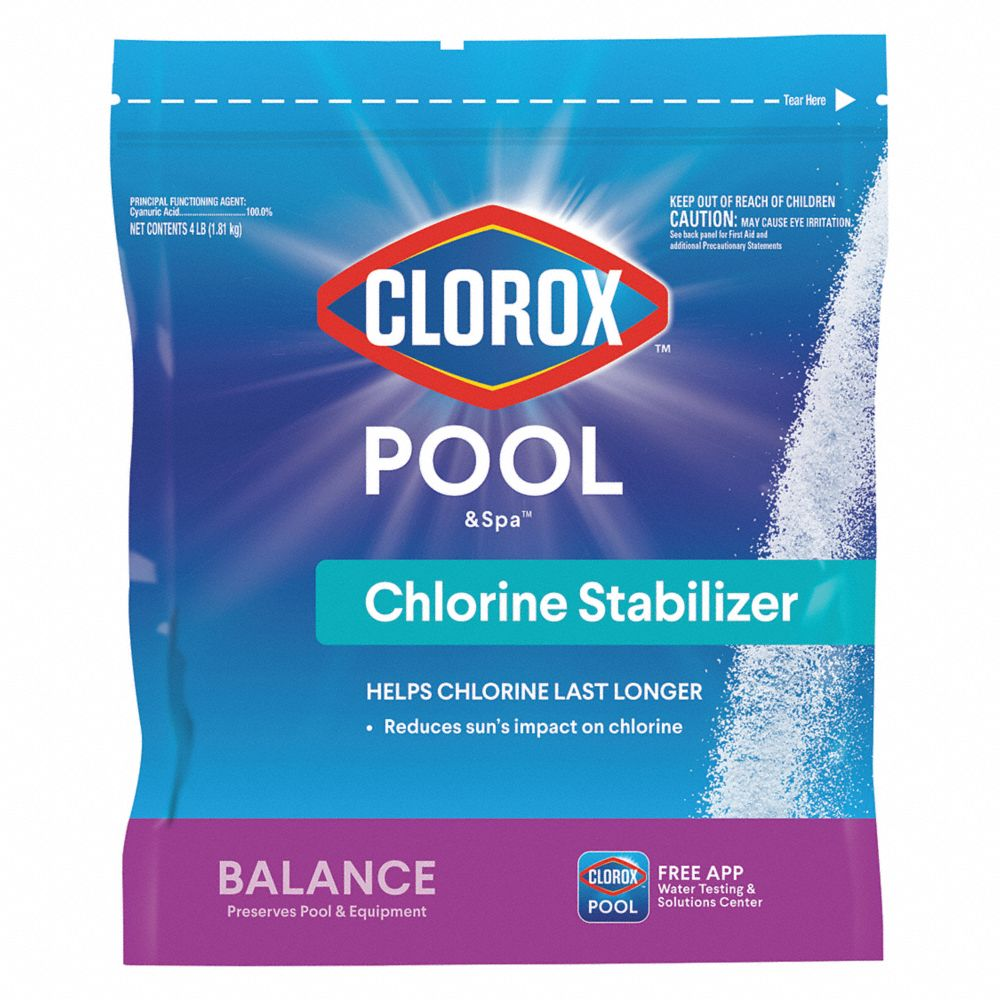 Pros
The most durable impact on chlorine
Free water testing app
No need to shock
Crystal clear water effect
Cons
Poor instructions
The packaging may be too unwieldy to comfortably store or use
You'll find Clorox one of the leaders when choosing chlorine stabilizers. Why? This brand has earned the trust of its customers. For example, if you have problems using the Clorox pool stabilizer, there's an excellent option – the free Clorox app. In addition, a lot of people discover that they not only need to add chlorine but perform a spa shock every so often too.
This pool stabilizer is so strong that the chlorine lasts much longer compared to other cyanuric acids. But consider the fact that the packaging might not be as comfortable to use as Natural Chemistry Liquid Stabilizer, so you should likely choose another container to safely store and use it.
PuriTech Conditioner — The Best for Salt Water Pools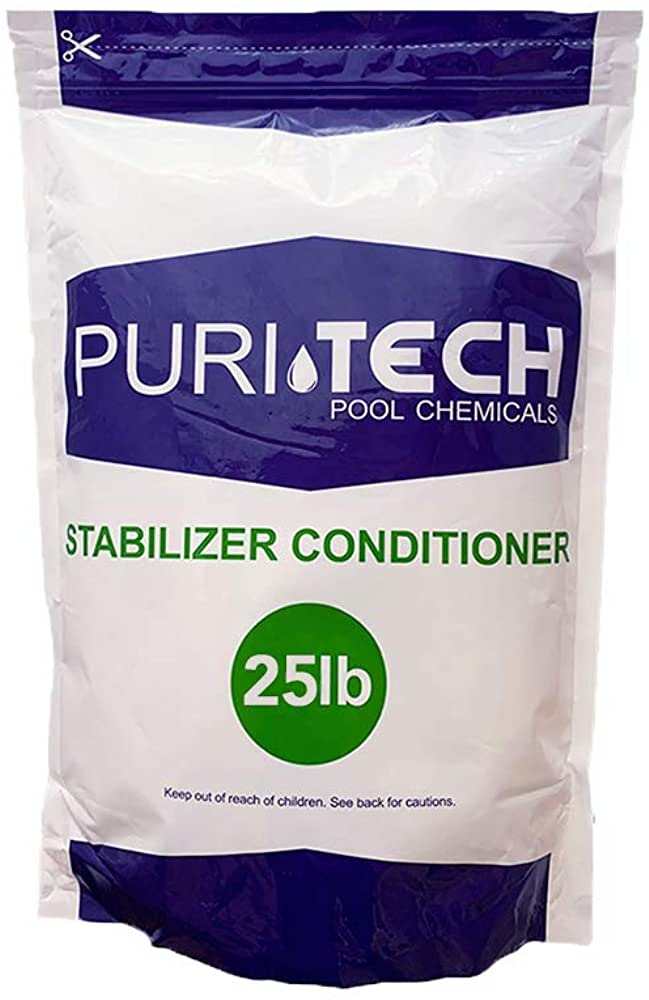 Pros
The best option for huge pools and long-term use
The lowest price per ounce compared to competitors
Built-in ziplock makes the pack comfortable to store and use
Cons
Some people needed a bigger dose of stabilizer than was stated in the instructions
Do you have a large or saltwater pool? Or prefer buying big-pack chemicals to always have some in reserve and save money? Then PuriTech is the perfect choice for you! You'll get a high-quality pool stabilizer in a huge amount that will ideally suit your saltwater system. In addition, you won't need to worry about finding and purchasing another stabilizer throughout the year! Also, the pleasant bonus is that its price per ounce is one of the lowest on the market. You may ask, "How can it be that high of quality if it's so cheap?" Consider that by choosing PuriTech pool stabilizer, you pay for the product, not the fancy packaging and brand name (compared to a popular brand like Clorox).
But even though the packaging is big, some customers had to use more of it than stated in the instructions, so the powder consumption may be a bit bigger than with Natural Chemistry Pool Stabilizer (as it is a liquid chemical).
Natural Chemistry Liquid Stabilizer And Conditioner — The Quickest Dissolution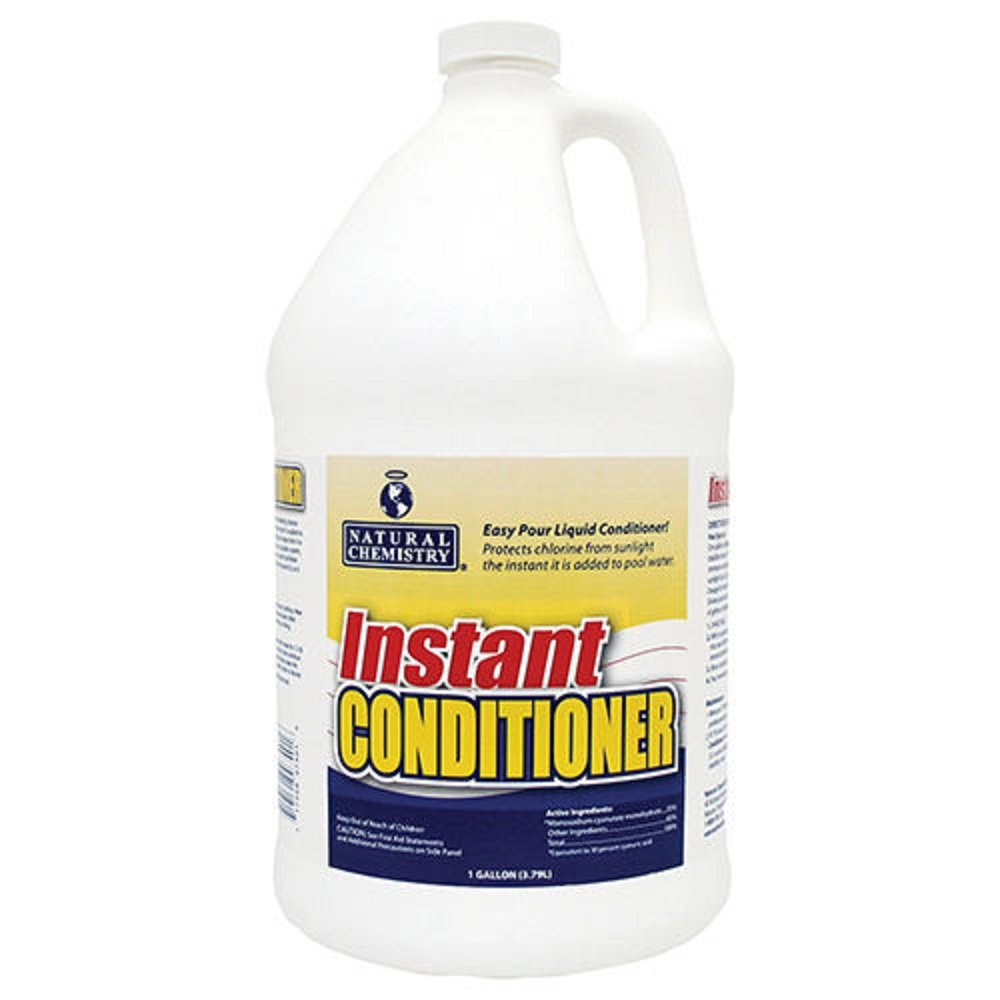 Pros
The quickest dissolution
Super easy to use compared to powder-based stabilizers
The plastic bottle is safe to store
Cons
Some people don't like the fact that the bottle doesn't have a seal
There's no more need to wait several days for stabilizer powder to dissolve in your pool. Natural Chemistry has an instant liquid solution for you! It may be a bit more expensive compared to PuriTech, but there are no doubts that the extra time you'll spend waiting for the powder version to dissolve costs much more than a few bucks. Furthermore, the National Chemistry Pool Stabilizer comes in a handy bottle, which facilitates better storage and use, which you can't say about Clorox and PuriTech.
The only disadvantage is that there is no seal, so some buyers were confused about its quality and safety. So if you prefer using liquid stabilizers for instant effect, don't be surprised by the absence of a seal here.
Your Simple Guide To Using Pool Stabilizer
Once we know the right stabilizer levels for our pool, let's find out how to properly control them.
Socks: Your Helper In Effective Dissolution
You may be puzzled after reading this heading, but let me explain. The dissolution of pool stabilizer is the most difficult task here, so it's essential to approach this problem creatively to make maintenance truly stress-free. That's where socks come in. Yes, the kind of socks you wear on your feet!
To take advantage of this method, you'll need about one sock per pound of stabilizer and a 5-gallon bucket. First, fill the bucket with warm water, then fill the needed amount of socks with cyanuric acid. Then leave the socks in the bucket for about an hour, as this will let them soak completely. Finally, put the socks in your pool and massage them for about 10 minutes, so the pool stabilizer will dissolve and give you the desired effect.
💡 Hint:
You can do the sock method without a bucket if the water in your pool is warm enough. Just let your socks hang in front of the skimmer, so the stabilizer will soak and dissolve independently.
P.S. Since cyanuric acid is completely safe for your skin, you can squeeze the socks with your bare hands.
How to Lower the CYA Level in Your Pool
Monitor your CYA level consistently so it won't exceed 50 ppm, as lowering the efficiency of your chlorine is not something you want to do.
The most popular way is to fully or partially drain your pool, because the lack of chemicals can effectively lower the CYA level. Keep in mind that it may take up to several days to fully refill your pool afterwards. Also, if you do so, we suggest you clean your pool as well, so there won't be any build-ups of cyanuric acid.
But if you don't want or simply are not able to drain your pool, reverse osmosis filtration is the method for you. You can order such filtration at your local pool service, at which point a trailer will be delivered to your house. In this trailer, you'll find a reverse osmosis water filtration system. The pool service technicians will stretch the hose to your pool, and all the water will go through the trailer and return crystal clean to your pool!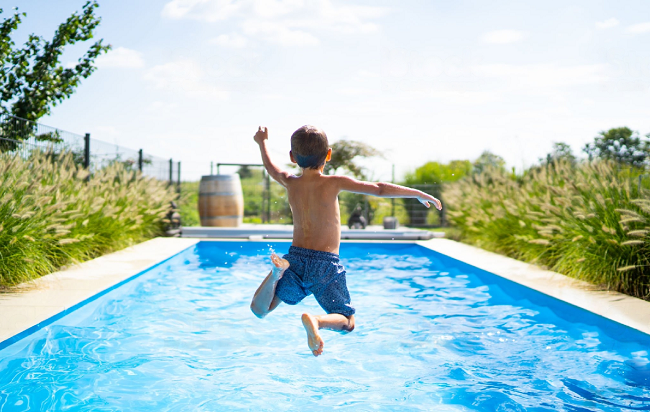 How Soon Can You Swim After Adding Stabilizer?
The time to wait after adding stabilizer depends on the amount of time the CYA needs to completely dissolve. If you add your pool stabilizer directly to the pool, it may take up to 12 hours to dissolve. But if you want to try our sock method with a bucket, the pool stabilizer will break down in about 10 minutes (after one hour of pre-soaking). After there are no traces of cyanuric acid left in your pool, we recommend you wait for 20 more minutes for maximum safety. As a result, you'll need only 30 minutes to wait!
Does it still seem too long? Well, we have a decision for you: look into
salt chlorine generators
, and you won't have to deal with chlorine directly ever again!
Conclusion
Having doubts about chemicals is fine, as it's important to see real proof of its benefits. But now after reading this article, you too can be a pool stabilizer expert! I hope that by choosing the best pool stabilizer and following our step-by-step instructions, you'll achieve the greatest effect possible. You also won't have to spend unnecessary money on extra chlorine, as by investing in a stabilizer you can spend that money on something more pleasant.
🌅 P.S. Don't forget to invite your friends to a pool party so that you can meet them with a shiny pool and a smile on your face.
FAQ
⛲ What Does Stabilizer Do for a Pool?
A stabilizer is a kind of sunscreen for your chlorine. On average, half your chlorine will evaporate under the sunlight during the first hour, but stabilizer will make it last much longer!
⏰ When Should I Add Stabilizer to My Pool?
If you notice your CYA level to be lower than 30 ppm, then it's time to add a pool stabilizer. Maintain your stabilizer somewhere between 30 and 50 ppm, so your chlorine will stay around as long as possible.
🎭 Is Pool Shock the Same as Stabilizer?
Not really. A pool shock's purpose is to quickly raise your chlorine level, while a pool stabilizer protects chlorine from sunlight, so as a result it'll last longer.
🔎 Is There a Substitute for a Pool Stabilizer?
Unfortunately, there are no sunlight protectors for your chlorine as effective as cyanuric acid. But in our research, you can find many cost-effective pool stabilizers with useful tips for easy use!