If you want to relax after a hard day's work, the hot tub will be a great option for you. It's great to have regular relaxation right in the backyard of your home! But how do you make the experience even more comfortable and private? No one wants to feel uncomfortable or awkward when relaxing in a hot tub. In this article, we'll help you learn a few ideas for backyard hot tub privacy. With these tips, you will be able to enjoy the secrecy and not have to worry about other people's eyes.
We will share with you different options for setting up a secluded area in the backyard and share the secrets of arranging a cozy nook for your backyard hot tub. So let's read on and learn new information soon!
If you have not yet decided on a worthy
model for a hot tub
, we recommend reading an expert article based on real user experiences.
When You Might Need Privacy Systems for Your Backyard Hot Tub
Well, let's find out what backyard hot tub privacy ideas are in more detail.
Hot tubs are special devices that help you relax and unwind. They can be installed both inside and outside the house, including in the backyard.
Whether you decide to put a hot tub in your garden will depend on how comfortable you are and what you like. Consider adding a privacy device if you feel that neighbors or bystanders are disturbing your relaxation while you are using your hot tub.
Backyard hot tub privacy ideas are a measure to protect the confidentiality of the people who use the hot tub.
The zoning, fence, and backyard structure laws and regulations that apply locally should also be taken into account. If you're unclear, you can get in touch with your neighborhood's governing body to learn more about the laws and regulations that are in place there.
Finally, installing a privacy system can be helpful not only for protecting your privacy but also for enhancing the beauty and allure of your garden.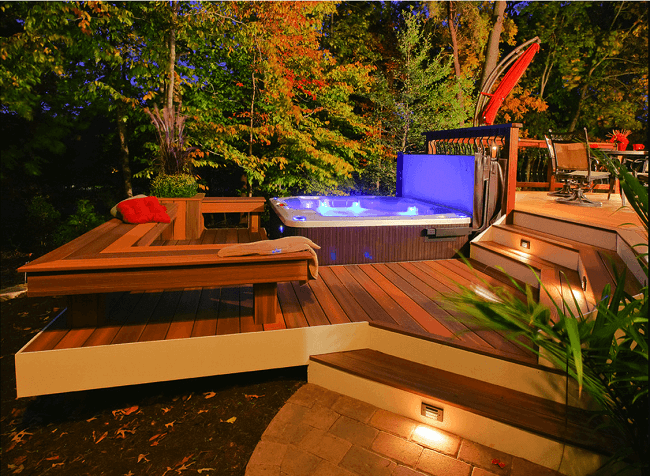 Should I Install A Hot Tub In My Backyard?
Many users want to install a hot tub, but not everyone is convinced that this is a good idea. Let's take a look at the pros and cons of installing a hot tub in your backyard.
Pros:
👍 Convenience and comfort: Installing a hot tub in your backyard, help you relax and unwind right in your yard, enjoying the beautiful views of nature and your garden. You can relax in your hot tub at any time of day or night.
👍 Health improvement: People who have joint problems and other health issues will especially benefit from installing a hot tub in the backyard. This makes it possible to relax and improve your health.
👍 Increase in property value: A hot tub in the backyard can boost the property's value, which can be advantageous if you ever decide to sell the house.
👍 Creating a cozy and comfortable environment: The backyard hot tub will be a great place to gather with friends and family. You can have a great time socializing and relaxing while enjoying the whirlpool.
👍 Improve the appearance of your backyard: A hot tub can be a beautiful addition to any outdoor space. You can pick a model that complements the style of your yard and home's exterior.
Cons:
👎 Lack of privacy: You may not feel any privacy because the hot tub is outside and strangers can invade the extra space.
👎 High energy usage: The hot tub consumes from 3.5 kW to 7 kW per hour during continuous operation at maximum power when in frequent use.
👎 Usage Restrictions: Not all types of weather permit the use of hot tubs. Because of the cold and snow in the winter, using a hot tub may not be practical or comfortable. This is something to consider when you choose this device.
As we can see, installing a hot tub is overall a good way to relax and have a good time in your backyard yet with some minor drawbacks.
Backyard Hot Tub Privacy Ideas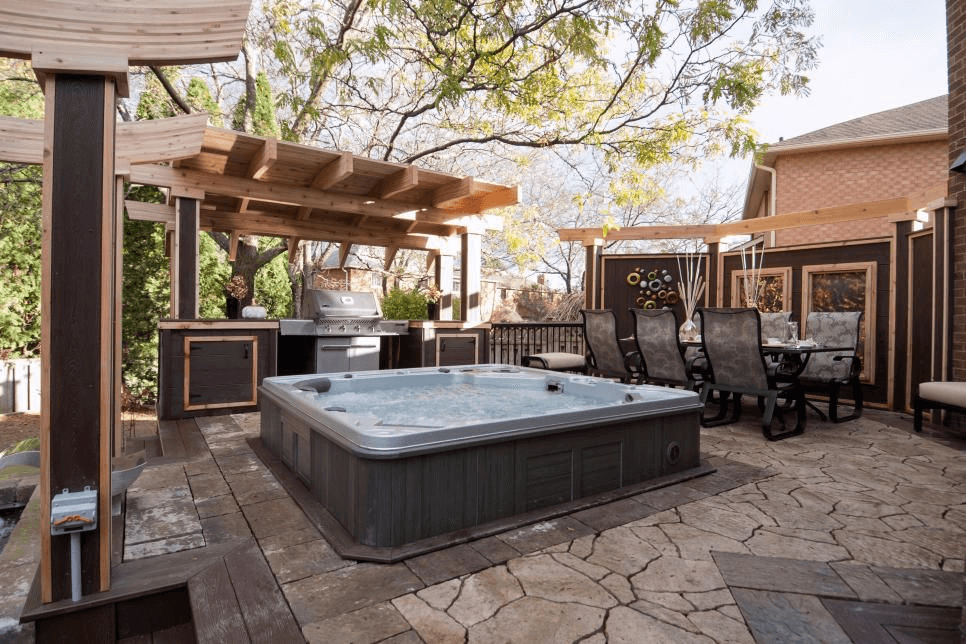 If you have a hot tub in your backyard, you can create a retreat where you can relax, unwind and enjoy the moment. But one of the key drawbacks is the lack of privacy. There are some backyard hot tub privacy ideas, we suggest you take a closer look at the most popular ideas.
Installation Of Bushes Or Hedges
Hedges and bushes can be installed around your hot tub to create seclusion and shield you from curious eyes. This option is ideal for people who like to take care of plants. If you live in a region with a warm climate, this would also be ideal for you.
Here are some instructions for setting up a hedge around your hot tub:
Choose the most appropriate plants for your climate and garden. The plants should be easy to care for and should cover the hot tub well from view.
Choose a suitable location. Once you have decided where the hedge will be located, choose a good place for the selected plants. Make sure that the plants get enough light and water to live and grow.
Find the right plants for the proper size. It's necessary to find the right plants to fit the size of your hot tub and your site. Make sure there is enough room for them to grow and develop.
Proper plant care. It is very important to water the plants in time and make sure that various hot tub care chemicals do not get into the soil.
Hedges and bushes around your hot tub may require some time and work to install, but the outcome provides not only additional security but also a warm and private ambiance.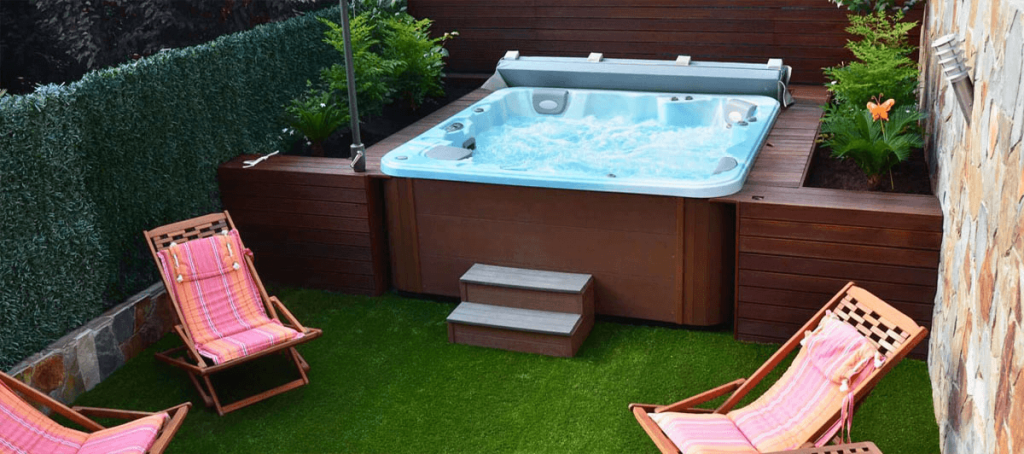 Curtains Or Blinds
Curtains and blinds are two different coverings that can be used to protect the hot tub and create privacy. Such curtains are ideal for users who like maximum privacy, and also for such an enclosure as easy to maintain as possible. They can be made of different materials such as wood, metal, and fabric.
Here are some steps for proper installation:
Choose the right size. Measure the area you want to keep out of sight. Make sure it will cover the entire area you need to hide.
Determine the attachment point. Make sure it will be stable and will not interfere with the proper use of the hot tub.
Job Safety. Make sure that you have properly secured the blinds or curtains. They should stand firmly and open and close freely. And most importantly, the fasteners must hold well, so they don't fall and hurt people who are resting in the hot tub.
Such protection will cover the hot tub well from prying eyes, protect it from the sun, and look good on your property.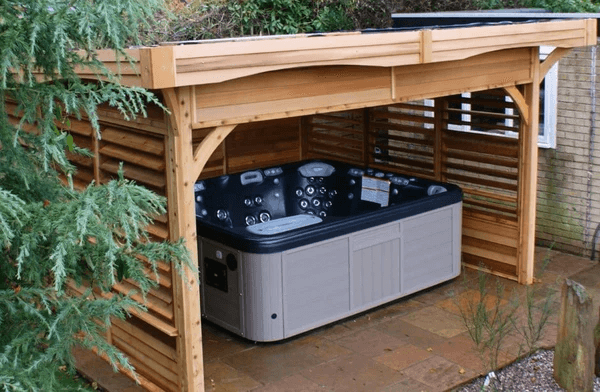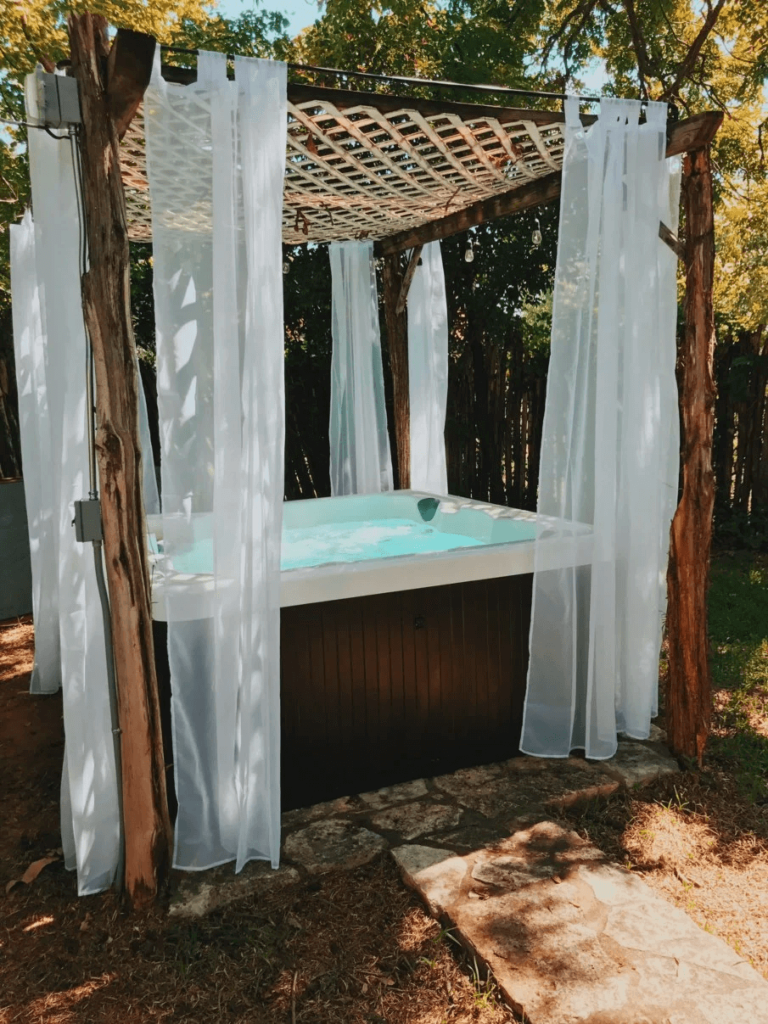 Special Fences
These devices are made specifically to protect outdoor hot tubs from prying eyes, the wind, and other harmful natural elements. These fences are ideal for users who don't have a lot of time to look after them. They are also almost twice as durable as other fences.
You can read about how to make a similar wooden fence yourself that will look great in your backyard and protect the privacy of your hot tub.
Here are some tips on how to properly install such structures:
Hot tub size: Before choosing a special fence, it is important to consider the size of your hot tub to provide privacy and protection from wind and sun.
Material: Choose a material that you can easily clean. Such fences come in wood, plastic, and metal. While wood and plastic require a bit more maintenance, they are still relatively easy to care for. However, metal fences are the easiest to maintain and keep clean.
Safety: Once the fence is installed, make sure the structure is secure and provides you with privacy.
This fencing is ideal for people who don't have a very large area. Or if your hot tub is close to the road, special protection will help you get rid of prying eyes.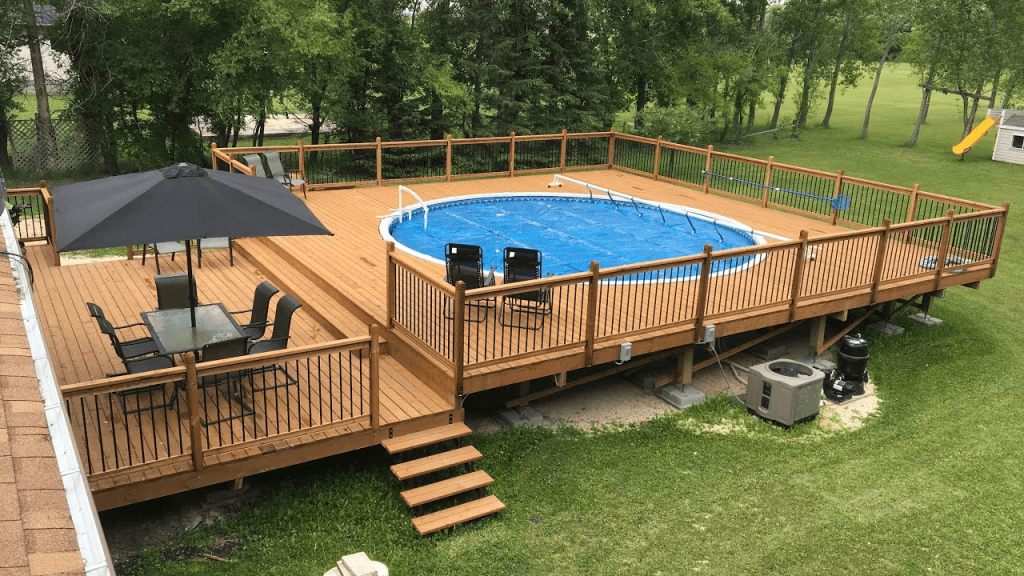 Placement Of A Hot Tub In A Remote Part Of The Yard
This option is suitable only for those users who have not yet installed a hot tub but only want to do so.
If you are planning to install a hot tub in your backyard and are concerned about privacy, then set it up in your garden right away. It is advisable to find a remote location on the spot so that there is no road or fence nearby.
Here are some tips on how to properly install a hot tub in your backyard:
Place to install: Choose the location where the hot tub will be installed, but it is important to consider access to electricity and water. Ensure the place is both secure and accessible.
Safety: The hot tub must be located in a safe part of your yard where there will be no exposed electrical wires. It is also important that the surface to install the hot tub is level.
Proper installation: It's important to remember that proper installation determines how long you'll use your hot tub. So it's best to contact a professional to get the right design and location.
We want to remind you once again that this idea of a backyard hot tub retreat is only suitable for users who only want to install a hot tub and choose a location.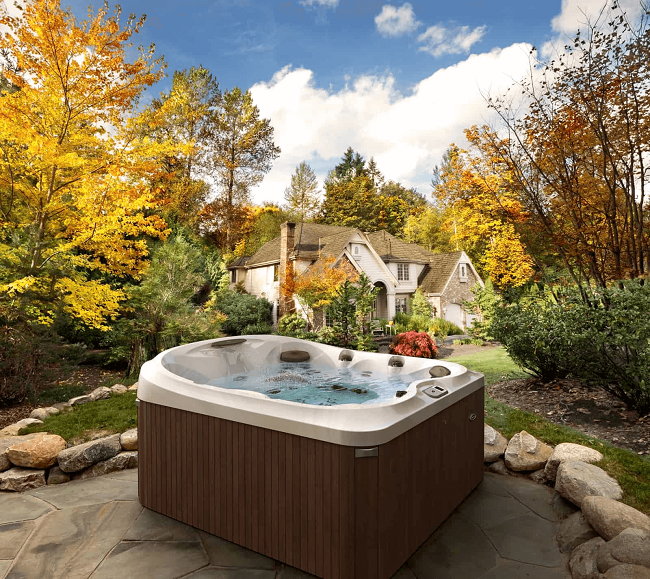 Consequences Of Not Respecting Privacy For The Backyard Hot Tub
If you want to install a hot tub in your backyard, it is important to remember that privacy rules are necessary.
Using a hot tub without special privacy measures (especially if you live in a densely populated area) is very undesirable. We suggest that you consider the consequences of a lack of privacy:
Breach of privacy: If there is not enough privacy and confidentiality around your hot tub, anyone can see you in your bathing suit or hear any of your private conversations.
Safety: If the hot tub is not fenced in, it is quite unsafe. It is important to realize that a child or animal could get in there. Also, any unauthorized person could gain access to your hot tub.
Legal Consequences: You may violate someone else's privacy, especially if you live in a crowded neighborhood, and face legal consequences such as privacy complaints or violations of local laws and regulations if your hot tub is in plain sight.
Bad relationships with neighbors: It is very important to use special protection because when you spend time in the hot tub, noise and extraneous sounds can disturb your neighbors.
To avoid the bad effects of violating someone's privacy, you should generally make sure that your hot tub is in a location where there is ample privacy and security. You should also take into account the opinions and interests of others.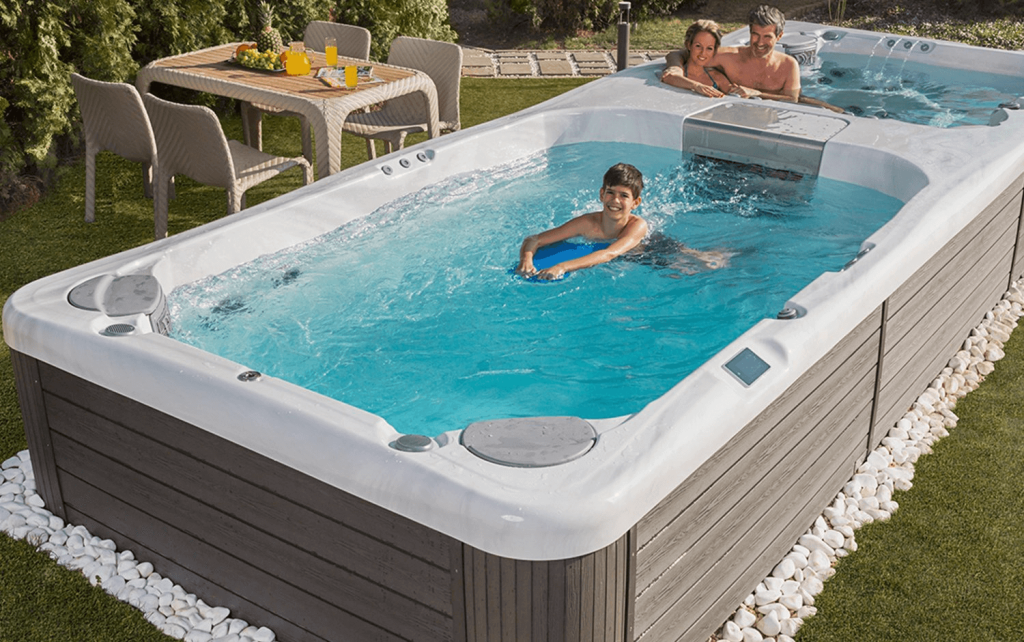 Where Is Best To Place the Hot Tub
Before installing a hot tub, it is very important to find the right place on your property.
Think about both what you'll be looking at and whether the spot you choose is hidden enough from the street/neighboring gardens.
It's usually better to choose a place with a nice view and where you can get some privacy. Thus, a fenced or covered patio or decking sometimes is best, although a hedge also provides ample protection.
Another option: you can place a hot tub on a special patioA patio is an outdoor area that is usually located in front of a house or building and serves as a place to relax and spend leisure time outdoors. A patio can be arranged as an outdoor terrace. or terrace. This way you will have both a special secluded spot and the installation of the hot tub will be easier.
So when choosing a place for your hot tub, it is important to consider such factors:
❗️ Privacy: When choosing a location for your hot tub, it's important to make sure that it provides enough privacy to make you feel comfortable and safe. The best option might be a terrace, a backyard that is surrounded by a fence, or a hedge.
❗️ Convenience: Put your hot tub in a place that is convenient for you to access and use. For instance, positioning a hot tub close to the entrance or next to the sauna and shower can be useful.
❗️ Safety: Put your hot tub on a level, sturdy platform that can hold its weight for safety. A slope or soft ground should not be used for the hot tub installation. To prevent falls and injuries, it's also crucial to have a sturdy railing or handrail.
❗️ Environment: Install your hot tub in a place where you can sit in it and enjoy the beautiful view of your garden or the view of your home. It all depends on your preferences.
❗️ Costs: It is important to choose a location in your backyard that will not require expensive preparation. For example, you will save a lot of money on installation if you choose a place with electrical and plumbing connections already installed.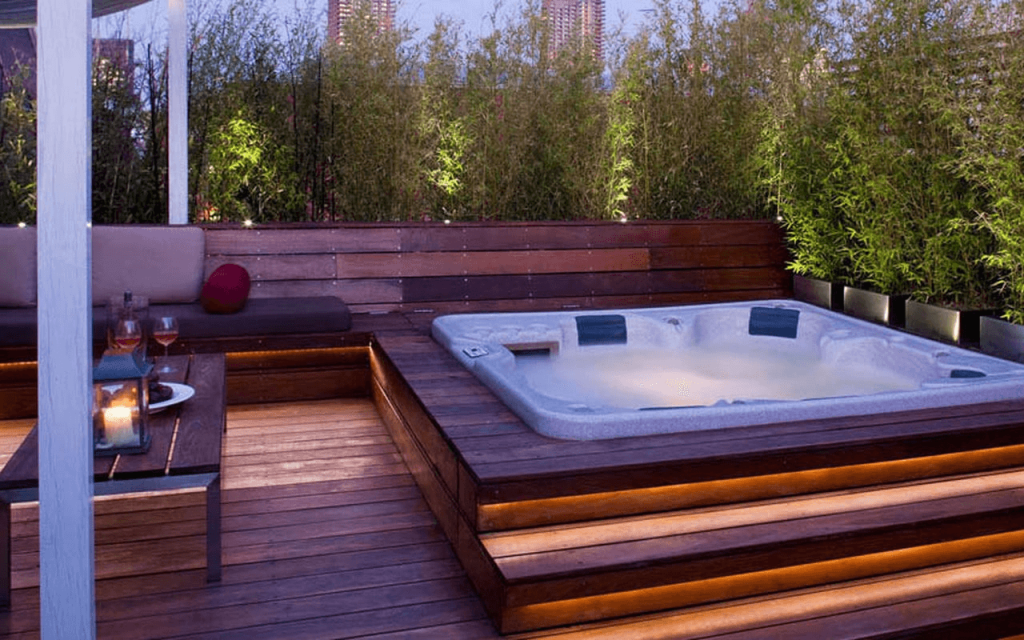 Summary
Backyard hot tub privacy ideas are necessary for many users who want to relax and enjoy their homes. But it is very important to consider aspects such as safety, relationships with neighbors, and legal regulations. You should also understand that you need to clean your hot tub properly so that there are no extraneous and unpleasant odors.
To prevent bad smells from your hot tub, you can use special pumps that will help properly clean your device and remove unpleasant odors.
Based on your tastes, you should make a thoughtful and practical decision about whether to build a private hot tub space.
Let's take another look at backyard hot tub privacy ideas systems.
| | | | |
| --- | --- | --- | --- |
| Criteria | Protection | Price | Installation |
| Installation of Bushes or Hedges | ⭐️ | 💲💲💲 | ✔️✔️✔️ |
| Curtains or Blinds | ⭐️⭐️⭐️ | 💲💲 | ✔️ |
| Special Fences | ⭐️⭐️ | 💲 | ✔️✔️ |
| Placement of a Hot Tub in a Remote Part of the Yard | ⭐️ | 💲 | ✔️✔️ |
FAQ
❗ How do I make my outdoor hot tub private?
If you want to make an outdoor hot tub more private, you can use the privacy ideas for a backyard hot tub. No matter which way you choose, it's important to make sure your hot tub's privacy is assured, and you can enjoy yourself without worrying that someone might see you.
👤 Can neighbors complain about the hot tub?
Neighbors can complain if it makes them uncomfortable, or violates privacy laws. They can also complain about the noise coming from the hot tub, for example, if you use it at night or if the people using the hot tub are not behaving decently.
🏡 Can the hot tub be too close to the house?
🛁 What can you put around a hot tub for privacy?
If you are looking for methods to have privacy in your hot tub and provide confidentiality, you should look into backyard secrecy ideas. A green hedge, a fence, or special curtains can be good options for protection. The choice depends on your preferences.