If you want to create the perfect oasis of relaxation in your backyard, choosing the right hot tub is just the beginning. There's something less obvious but really important — the base that your hot tub sits on. The right foundation ensures not only stability but also longevity, safety, and overall enjoyment of your hot tub experience.
My team and I prepared this detailed guide where we will explore the world of hot tub bases and show you how important they are. We have split this article into two parts, and each part is designed to help you with different types of hot tubs.
Bases are not the only things you need during your hot tub experience. We also recommend you explore
14 hot tub accessories
to make your relaxation moments even more enjoyable.
Comparison Table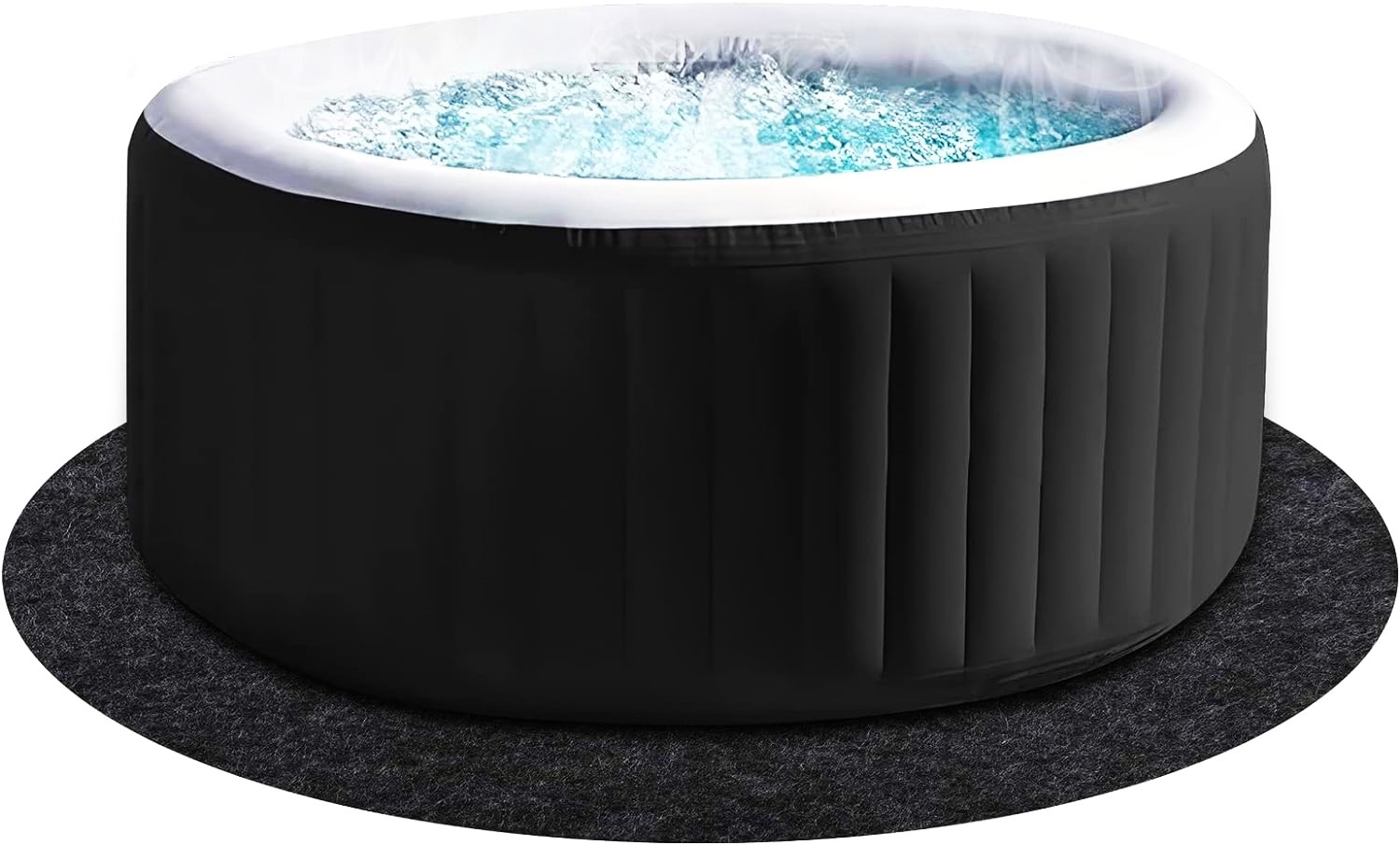 Novwang Hot Tub Mat
Winner category: Sturdiest and waterproof
Key benefits:
The most resilient and resistant to damage
Crafted from felt and
material, which suggests durability and long-lasting use
Provides a great extra layer of protection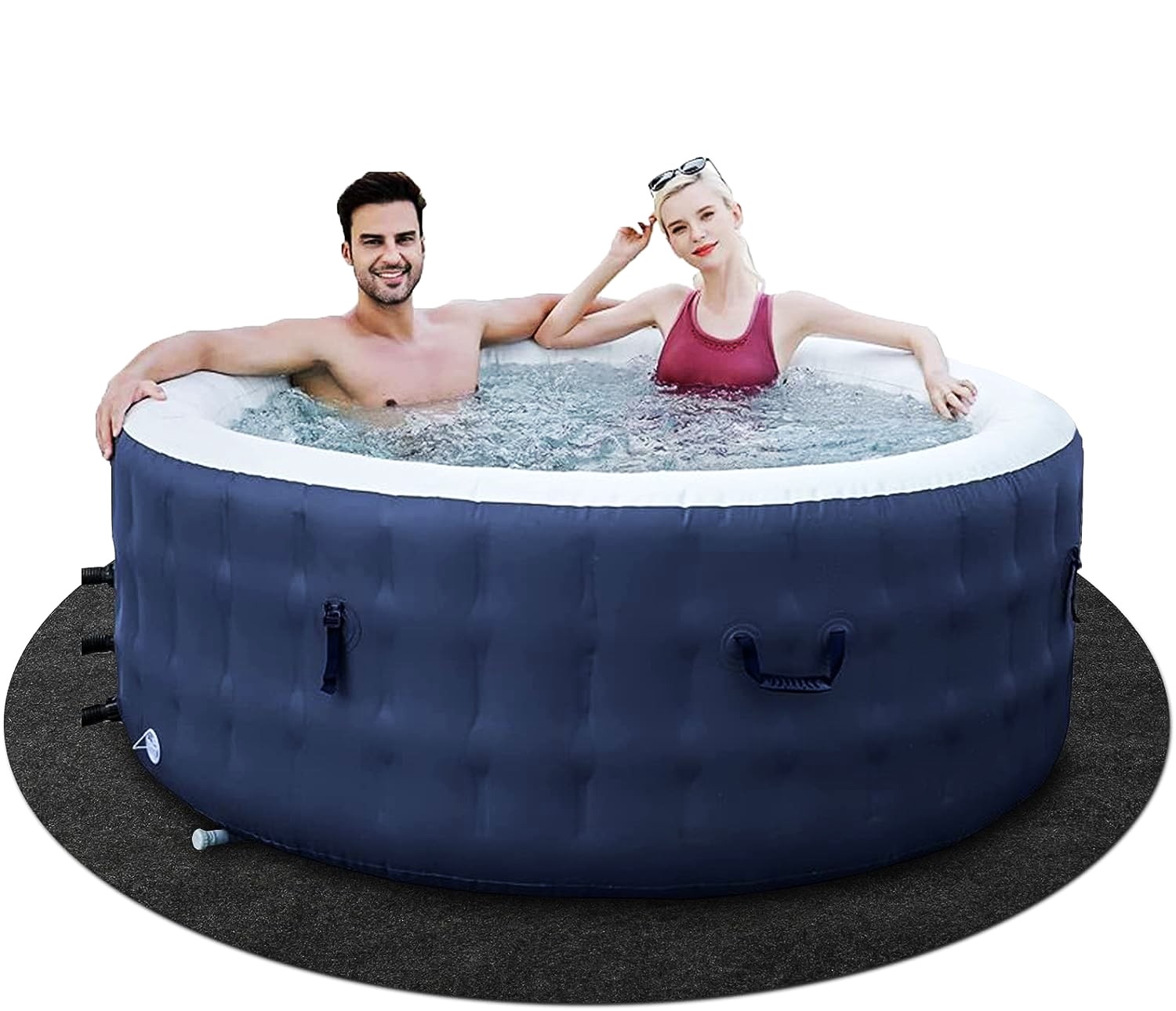 Zomofew Hot Tub Mat
Winner category: Most durable in-use
Key benefits:
Provides the best leakage prevention and high water absorption
Cuttable design which allows customizing it
The most effective in protecting hot tubs from potential damage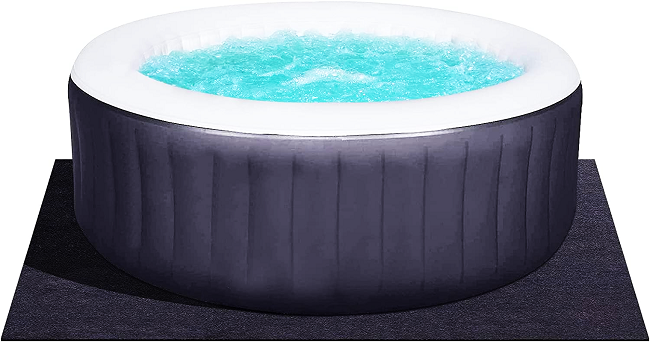 Xtingmeme Hot Tub Mat
Winner category: Best heat retention
Key benefits:
It most effectively insulates the base and retains heat
The easiest to clean, as it can be vacuumed up
Good protective qualities to keep the bottom of the hot tub from wear and tear
What Types of Hard-Shell Hot Tub Bases are Available?
When it comes to setting up your hot tub, choosing the right base is crucial for its stability, longevity, and overall enjoyment. In this section, we'll present various options for hard-shell hot tub bases, also known as hot tub pads or platforms, to help you make an informed decision.
Hot Tub Base Requirements
Before delving into the specific types of hot tub bases, let's outline the essential requirements for any base. Regardless of the material you choose, your hot tub base should meet the following criteria:
Your hot tub must sit on a stable, level surface to prevent any tilting or wobbling that could lead to structural damage or discomfort during use.
Ensure that the base can support the combined weight of your hot tub, water, and occupants. This is especially important for larger tubs.
Proper drainage is crucial to prevent water from accumulating around the hot tub. Water can erode the base and create a breeding ground for mold and mildew.
Consider how you'll access your hot tub. A well-designed base should allow for easy entry and exit.
Now, let's explore some specific hard-shell hot tub base options.
Concrete Slabs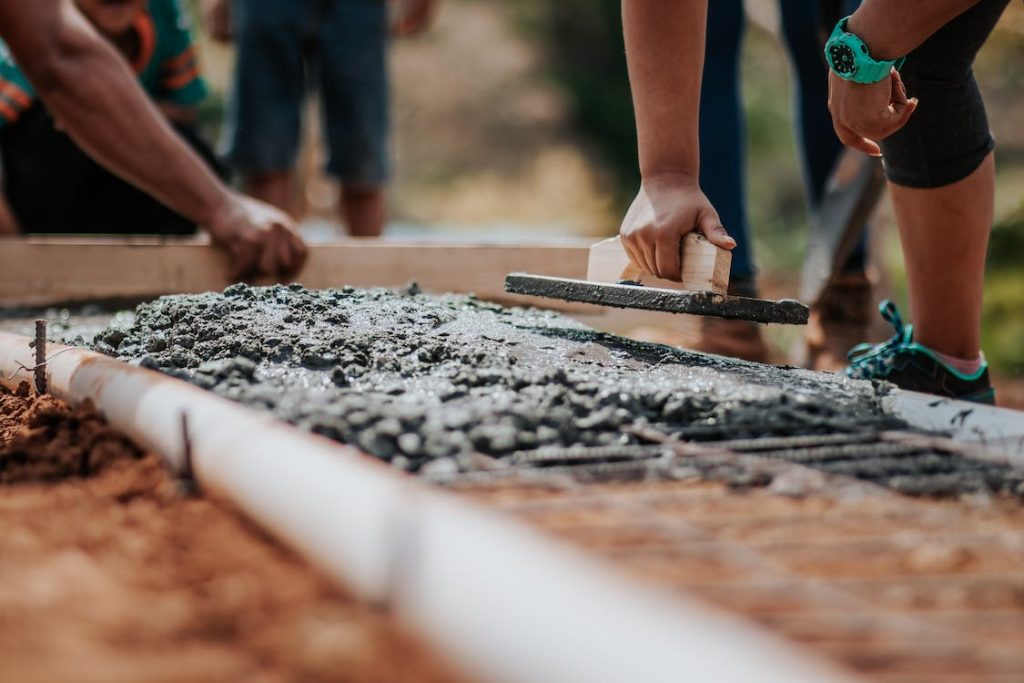 Concrete pads for hot tub installations are popular due to their durability and longevity. A well-poured concrete slab provides excellent stability and is ideal for larger, heavier hot tubs.
Here are the basic requirements for a concrete slab that will help you achieve a stable and durable hot tub:
⚒️ First, ensure the ground under the pad is well-prepared, free from waste, and properly compacted to enhance stability.
⚒️ The pad should have a minimum thickness of at least 4 inches to evenly distribute the weight of the hot tub, water, and occupants. For added strength and to prevent cracking or settling over time, reinforcement with rebar or wire mesh may be necessary, especially for larger or heavier hot tubs.
⚒️ Then the concrete surface must be perfectly leveled, which is achieved through the use of levels and appropriate tools, as an uneven pad can affect the hot tub's stability and performance.
⚒️ Remember that proper drainage is essential, requiring a slight slope away from the hot tub to prevent water accumulation that could lead to erosion and mold growth.
⚒️ Adequate compaction of the ground beneath the pad is very important to prevent settling and ensure a solid foundation.
⚒️ When you're making the concrete pad, you also need to put in something called expansion joints or control joints. These are like little spaces or gaps in the concrete that help it move a bit when it gets hot or cold. They're important because they stop the concrete from cracking as it naturally expands and contracts with the temperature changes. So, those joints basically keep your concrete pad in good shape.
⚒️ Choosing a high-quality concrete mix of the right strength for your hot tub's specifications is imperative.
⚒️ Lastly, allow the concrete pad to cure fully according to the mix's recommended time frame (7-28 days) to prevent damage upon hot tub placement.
Make sure to follow these hot tub concrete pad requirements to ensure the slab's thickness and reinforcement meet industry standards.
Wooden Decking Systems
Wooden deck platforms for hot tubs offer a visually appealing option that can seamlessly integrate your hot tub into your outdoor living space. They provide an inviting surface for relaxing around your tub. However, proper hot tub base preparation is essential to ensure reliability. It includes some general points and special ones for the deck:
Make sure the deck is sturdy and can support the weight of the hot tub, water, and people. There are some necessary steps:
Calculate the combined weight of the hot tub, water, and occupants
Verify that your hot tub's weight aligns with the deck's load-bearing capacity
Level the deck to ensure it's flat and even.
Check for any weak spots or damage in the decking boards and repair them if needed.
Inspect for damage, rot, or sagging in support posts, beams, and joists
Check connections, ensure secure attachments, and assess footing condition
(Consult a structural engineer or contractor if you have doubts about its integrity).
Add extra support beams or joists if needed for added stability.
Create an access point for easy entry and exit from the hot tub.
Apply a waterproof sealant or coating to protect the deck from water damage.
Consider proper drainage to prevent water from accumulating around the hot tub.
Ensure the deck is clean and free from debris before placing the hot tub on it.
Gravel and Crushed Stone Bases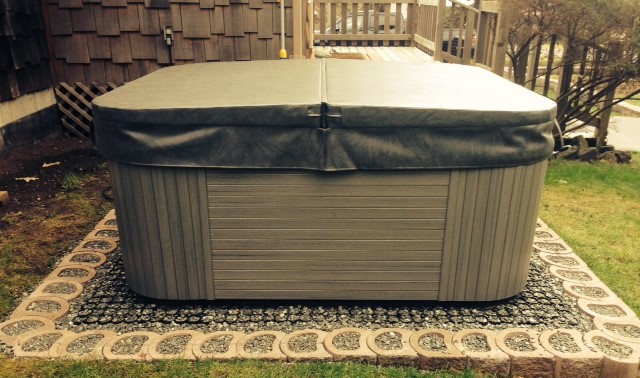 For a cost-effective and easily customizable option, consider a hot tub gravel base or one made of crushed stone. These materials are permeable, allowing for effective drainage. Proper leveling of gravel is crucial to prevent uneven settling over time.
Other Base Options
In addition to the above-mentioned choices, there are several alternative base options worth exploring:
⚒️ Pavers
A hot tub on pavers can create a visually appealing base that's easy to install. Ensure the paver surface is level and well-supported.
⚒️ Composite Materials
Modern composite materials offer durability and low maintenance. They are often used in composite foundation pads designed specifically for hot tubs.
⚒️ DIY Solutions
If you're a handy homeowner, you can explore various DIY solutions for creating a solid hot tub base. For example, you can:
Create a level and well-draining base by spreading and compacting gravel or crushed stone.
Arrange concrete pavers on a leveled surface to create a base for your hot tub.
Use interlocking deck or patio tiles to create a stable and leveled surface.
Lay concrete blocks in a grid pattern to create a base that evenly distributes the weight of the hot tub.
Just ensure you meet the basic requirements mentioned earlier.
These alternative bases, such as DIY solutions, may require extra attention to detail when it comes to leveling a hot tub, and ensuring the best gravel for the hot tub base or other materials are properly selected.
If you want to feel like an expert and know more about foundations, read our detailed review of the 5 most
solid and durable hot tub bases
and be confident in your choice.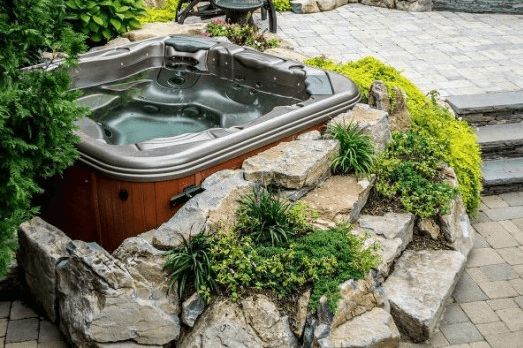 How to Choose a Hot Tub Base?
Selecting the right base is a crucial decision whether you have an inflatable or a hard-shell hot tub, because this can greatly impact your overall experience. In this section, we'll guide you through the key factors to consider for both types.
Base Thickness and Cushioning
One of the first factors to evaluate is the thickness and cushioning provided by the hot tub base. The ideal base should offer both support and comfort. Here's what to keep in mind:
For hard-shell hot tubs
Concrete slabs and decking systems are sturdy enough to support the weight of the hard-shell hot tub, which can be considerably heavier than inflatable ones. They are thick and can help distribute the weight evenly, preventing the tub from sagging or deforming.
Consider adding a padded or cushioned base beneath hard-shell hot tubs for enhanced comfort, even though they typically come with built-in seating and cushioning (for example, decking materials, foam pads, rubber mats, hot tub cushions, outdoor carpets).
For inflatable hot tubs
While you need a flat and reliable surface—for example, a concrete patio or deck—it should also offer some level of cushioning as with the hard-shell hot tubs.
Choose a base that can be easily cut to change its shape. This flexibility allows you to adapt the base to the specific dimensions of your hot tub and the space available, whether it's a round hot tub pad or a custom shape.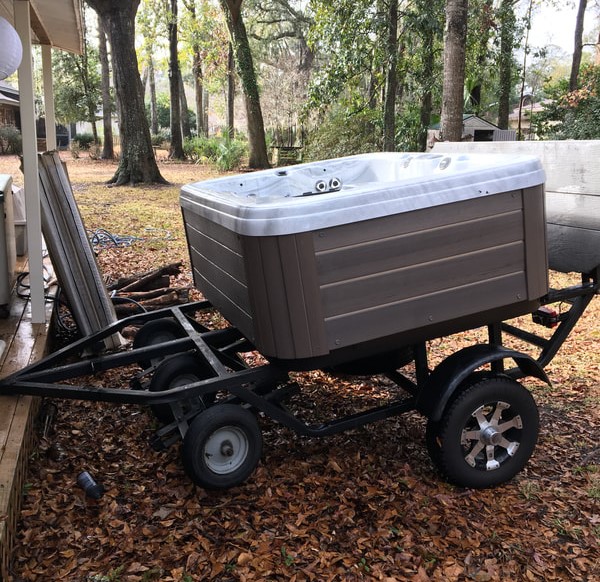 Installation and Portability
The needs differ significantly between hard-shell and inflatable hot tubs. The choice of a base for your hot tub not only affects how effortlessly you can set it up but also the flexibility to move or store your hot tub. Whether you're seeking the permanence and stability of a hard-shell hot tub or the convenience and mobility of an inflatable one, we've got you covered.
For hard-shell hot tubs
Hard-shell hot tubs typically require a solid, level surface like a concrete pad or a specially designed hot tub deck. Installation may be more involved, often requiring professional help.
They are less portable than inflatable ones due to their weight and permanent setup, so are generally meant to stay in one location.
For inflatable hot tubs
Look for a base that is easy to assemble without complex instructions. A quick and hassle-free setup can save you time and effort.
If you plan to move your hot tub occasionally or store it during certain seasons, choose a base that is lightweight and easy to transport. Portability is especially important for those who prefer a DIY hot tub pad.
Ensure that the base can be easily stored when not in use, so it doesn't take up unnecessary space in your backyard or garage.
Longevity and Maintenance
Investing in a durable hot tub base ensures the longevity of your hot tub setup and reduces maintenance requirements. Consider the following:
For hard-shell hot tubs
Hard-shell hot tubs often rest on concrete pads or decking materials, which are inherently durable and low-maintenance. Regular cleaning and occasional sealing or staining may be required for the decking. Concrete pads are typically easy to clean and maintain.
For inflatable hot tubs
Assess the durability of the base material. It should withstand the weight of the hot tub and resist wear and tear over time. You can read our reviews to gauge the products' real-world performance.
Choose a base that is simple to keep clean. Look for materials that don't absorb water like rubber or
, closed-cell foam, and interlocking plastic tiles, as they are less likely to develop mold or mildew. A base that dries quickly after exposure to moisture is a plus.
If you plan to use your inflatable hot tub in different seasons, select a base that can withstand various weather conditions, ensuring it doesn't heat up quickly under the sun or deteriorate when exposed to rain or snow. Materials like closed-cell foam, high-density polyethylene (HDPE), or rubber are often more resilient to weather conditions. As an option, you can look for information on the base material's resistance to UV radiation (sunlight), water resistance, and durability.
Detailed Review of Inflatable Hot Tub Pads
We've conducted detailed research and compiled reviews of inflatable hot tub pads to help you make an informed decision. These pads are specifically designed to provide a stable and moisture-resistant foundation for your hot tub.
We conducted analytical quality criteria (QC) researchWhen we conduct quality criteria research, we usually analyze reviews, and ratings of products on marketplaces, calculate the importance of each quality criterion, and pick the best products to share with you. and decided to focus on pads. Why? You can buy pads and mats on the spot, unlike hard-shell bases, which require different components and manufacturing methods.
Novwang Hot Tub Mat — The Sturdiest and Waterproof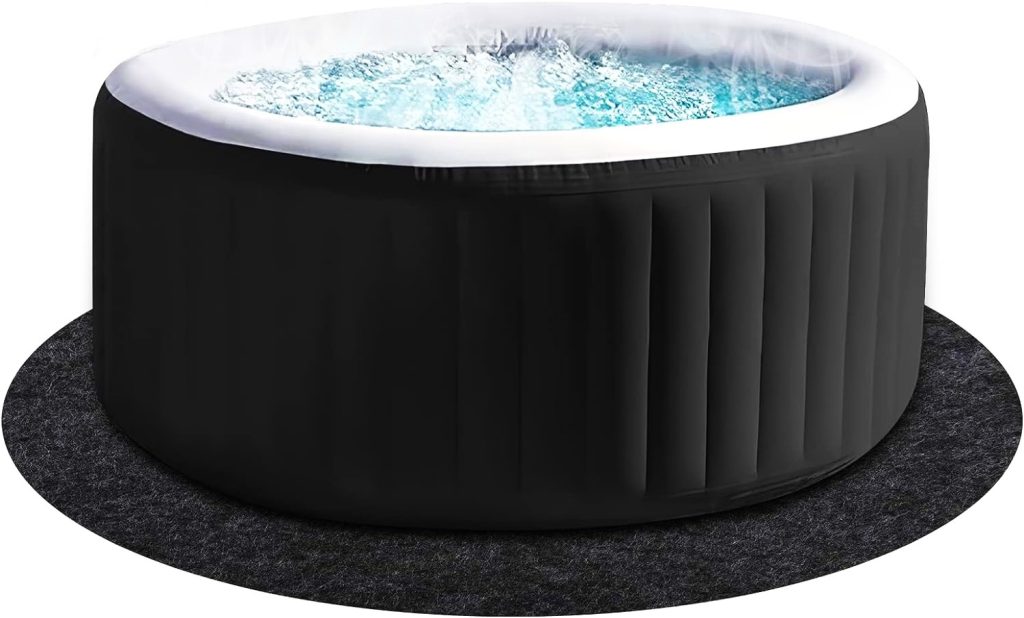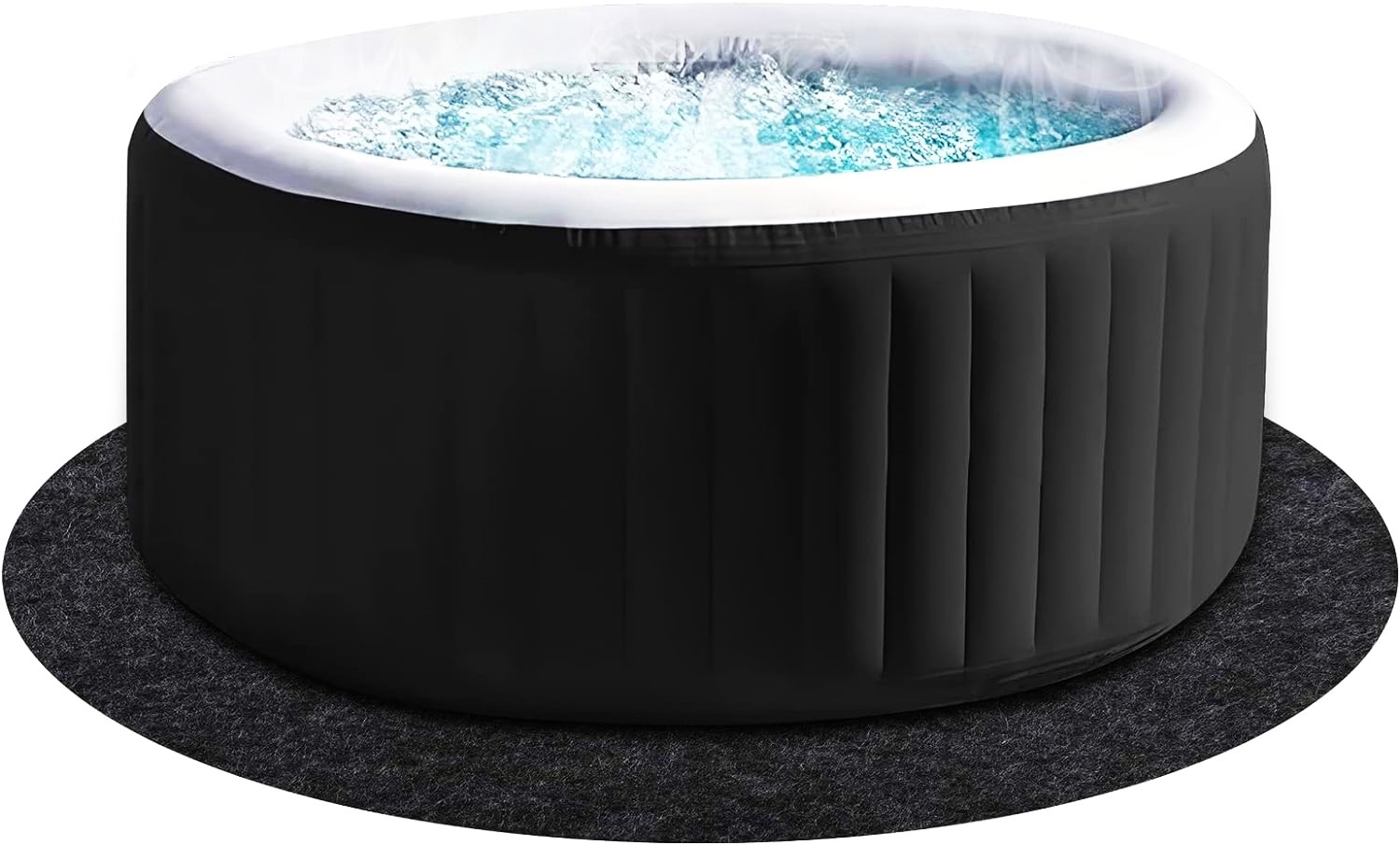 The sturdiest and waterproof
Pros
Best choice for preventing friction between a hot tub and floor, reducing annoying noises and effectively absorbing moisture
It can boast a generous 78-inch diameter, capable of accommodating round hot tubs up to 77 inches in diameter
If it's too large for your needs, it can easily be trimmed to size
Crafted from high-quality felt and
material, this mat excels in water and oil absorption
Cons
Some customers have noted that it is relatively thin, measuring about 1/8″ in thickness.  It may not provide the additional padding that some users expect
A few users have experienced issues with the edges of the mat curling up. While this can be a minor inconvenience, it doesn't detract from the mat's overall effectiveness in moisture protection
The Novwang Round Hot Tub Mat is praised for its size and waterproof bottom, effectively protecting deck floors from moisture. It's also noted for its sturdiness and overall quality.
Some customers commented that it was easy to clean up. You won't have to wash it during regular use, simply place it in a well-ventilated area or under the sun to dry. For stains, a quick wipe with soapy water does the trick. When not in use, it's foldable, saving you precious storage space.
While designed for hot tubs, this versatile mat can be used under inflatable swimming pools, for outdoor barbecues, or as a car-fixing mat, effectively preventing water and oil from causing any damage. You can even customize its shape to fit your specific needs.
To summarize, Novwang Hot Tub Mat is a standout choice for those seeking robust moisture protection for their outdoor spaces. Its size, durability, and versatility make it an excellent addition to any hot tub setup. Yes, it may be thinner than expected for some users, but its efficiency in preventing moisture and easy maintenance are significant advantages.
Zomofew Hot Tub Mat — The Most Durable in Use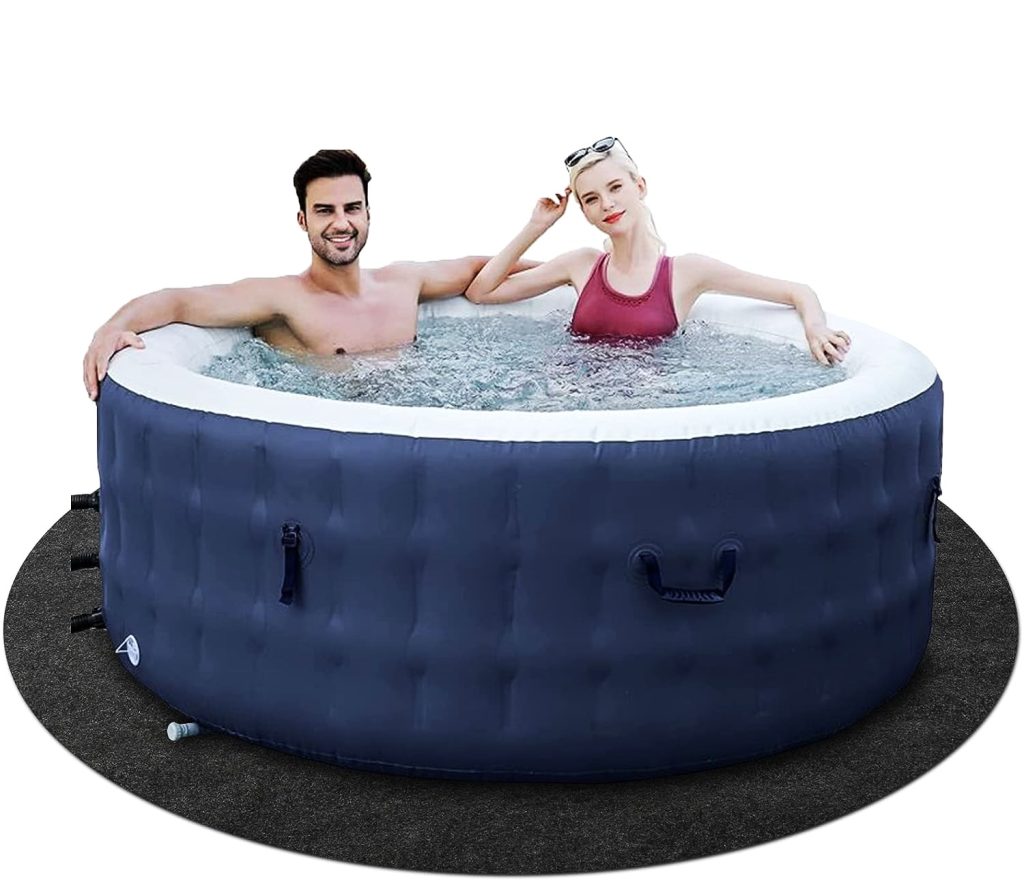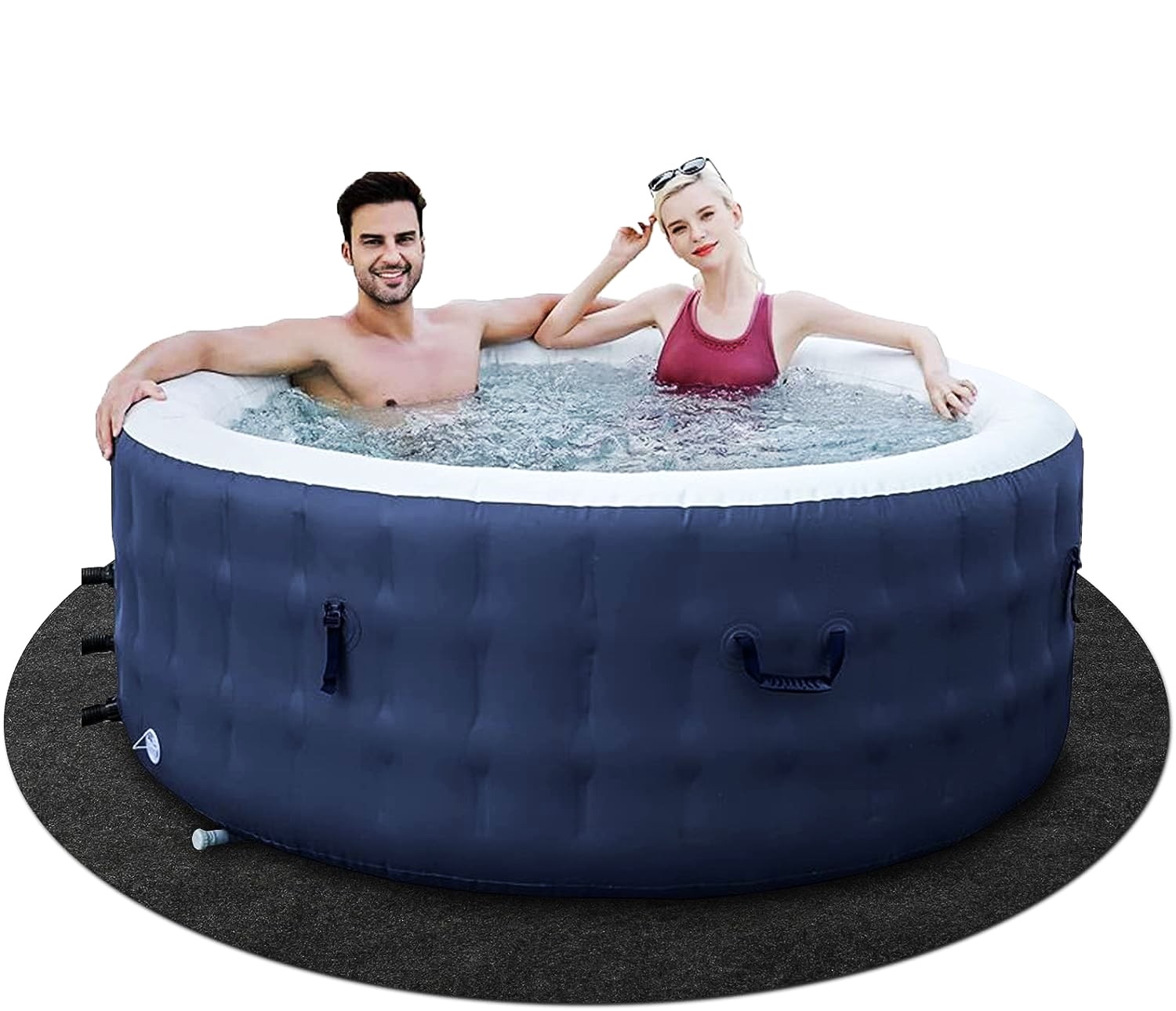 The most durable and long-lasting use
Pros
The best construction features, a double layer with a felt surface that excels in water absorption and leak prevention, with the bottom made of
, which provides both non-slip properties and outstanding wear resistance
This mat can comfortably hold round hot tubs up to 77 inches in diameter
Works well on concrete patios
Zomofew stands by the quality of their mat and offers a 100% money-back guarantee if it doesn't meet your expectations
Cons
While it excels in durability and protection, it may lack the added cushioning that some individuals desire
Some customers noted that the corners may curl up, which can affect its aesthetic appeal
The Zomofew Hot Tub Mat earns positive remarks for its durability and suitability for customization, as it can be cut to fit your specific needs. Users appreciate its protection against deck flaws and its performance on concrete patios. Additionally, it not only protects your floor but also reduces noise, provides insulation, and retains warmth.
While primarily designed for hot tubs, this mat is a multipurpose gem. Use it under various household devices, small swimming pools, yoga mats, and treadmills.
Regarding the corners, we have such a solution: you can apply a specialized adhesive or double-sided carpet tape to the corners of the mat (ensure that the adhesive is safe for use on the mat's material). You may consider trimming the corners slightly to create a smoother edge, or gently heating the curled corners with a hairdryer or heat gun (while heated, press the corners down firmly to reshape them, allow the mat to cool and set in the desired position).
This mat shines in terms of durability and sustainability, making it an excellent choice for protecting your hot tub and floors. Its customizability, premium materials, and versatile applications add to its appeal. Like the Novwang Hot Tub Mat, it may be thinner than expected for some users; however, its performance in safeguarding your hot tub area is a definite advantage. Plus, the satisfaction guarantee ensures you can buy with confidence.
Xtingmeme Hot Tub Pad — The Easiest to Clean Up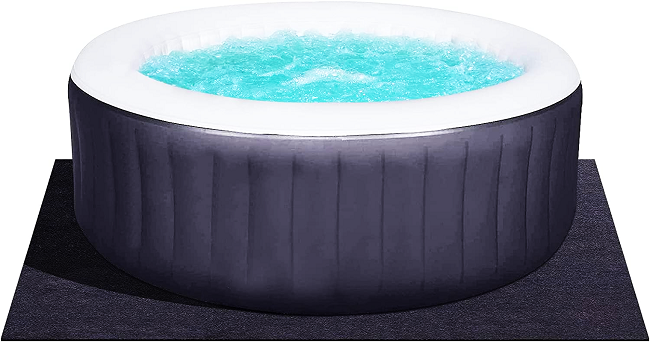 The best heat retention
Pros
It is known for its remarkable ability to retain heat
Keeping this pad in top shape is a breeze. You can simply handwash it or hose it off. It's also machine washable for even more convenience
Its soft felt fabric surface protects your hot tub equipment, while the
backing ensures your expensive wood floor remains unscathed
Suitable for use on gravel
Cons
Some customers have expressed concerns about the pad's ability to effectively keep water out from underneath it
The Xtingmeme Hot Tub Pad is favored for its heat retention capabilities and easy maintenance. It effectively safeguards the hot tub from wear and tear. As with the previous models, it offers versatility in its application.
The Xtingmeme Hot Tub Pad stands out for its protective qualities, which help preserve both your hot tub and flooring. There may be some concerns about its waterproofing capabilities and thin profile, but it remains a valuable choice for hot tub owners looking for a hassle-free solution that enhances their overall experience.
If you want to see even more options, be sure to explore our comprehensive guide on the 3 best
hot tub pads to fit any hot tub
to fit any hot tub. Discover more options to enhance your hot tub experience.
| | | |
| --- | --- | --- |
| Concrete slab base | Concrete slab base | Concrete slab base |
| Decking | Wooden decking system | ne more decking variant |
| Wooden decking system | Pavers | Pavers |
| Another paving stone option | Gravel | Crushed stone |
Hot Tub Base Ideas
So, you're thinking about setting up a hot tub, and you want to make it not just functional but also visually appealing, right? Well, in this section, we've got over 10 fantastic hot tub base ideas of all types lined up for you.
These ideas aren't just about providing support for your hot tub, they're about creating an outdoor space that's inviting and beautiful.
How to Move a Hot Tub on Grass?
Moving a hot tub on grass can be a challenging task, but with the right equipment and a well-thought-out plan, it is possible. Here's a step-by-step guide on how to move a hot tub on grass.
Tools and equipment you'll need:
Hot tub dolly
Plywood sheets
Ropes or straps
Work gloves
Helpers
You can follow these step-by-step instructions: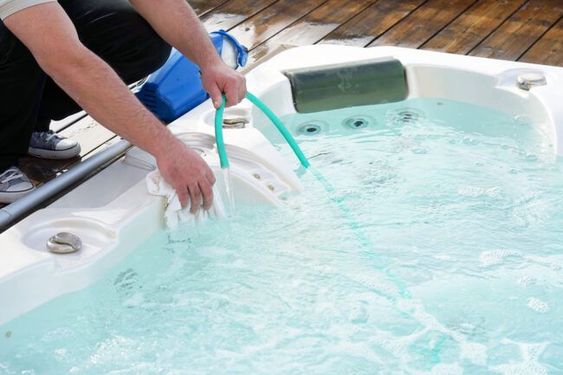 👣 Prepare the pathway
First off, lay some sturdy plywood sheets to create a smooth path from where your hot tub is now to where you want it to go. You don't want these sheets shifting around, so make sure they're nice and secure.
👣 Drain the hot tub
Now, it's time to empty your hot tub. You can use a special pump for this or just open up the hot tub's drain valve. Let all that water out.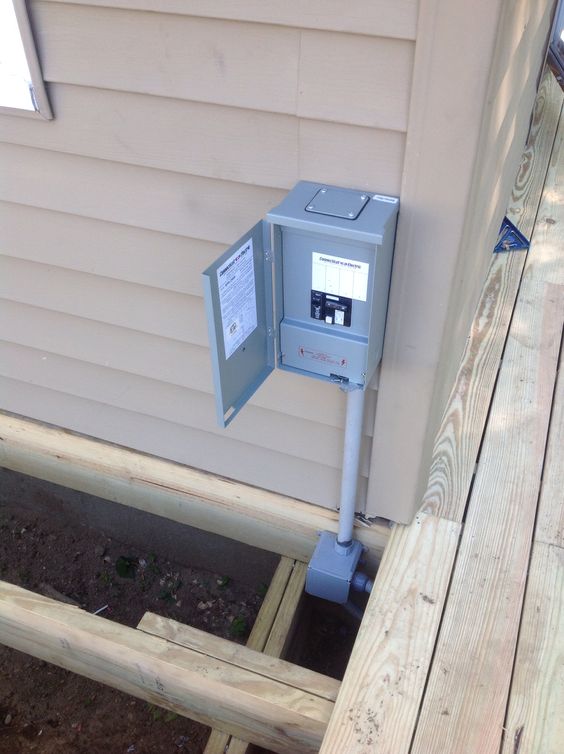 3. 👣 Utility check
Before you even think about moving the hot tub, turn off the electricity that powers it and disconnect any hoses or plumbing. Keep these parts safe from harm during the move.
4. 👣 Dolly duty
Grab a hot tub dolly and slide it up next to the tub. You'll need some extra hands for this part. Gently tilt the hot tub onto its side and slide that dolly underneath. Secure everything with straps or ropes so nothing budges.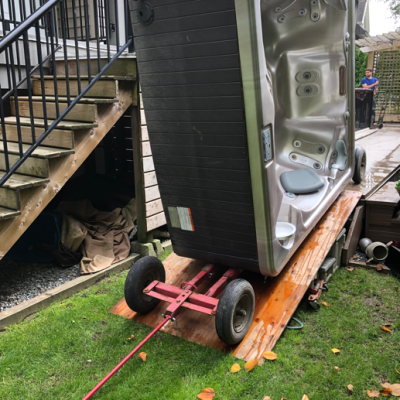 5. 👣 Moving time
Get one person on each side of the dolly handles and start the slow and steady march to your new spot. Keep an eye out for obstacles and make sure the path is clear.
6. 👣 Clear obstacles
Ensure that the pathway is smooth and free from debris.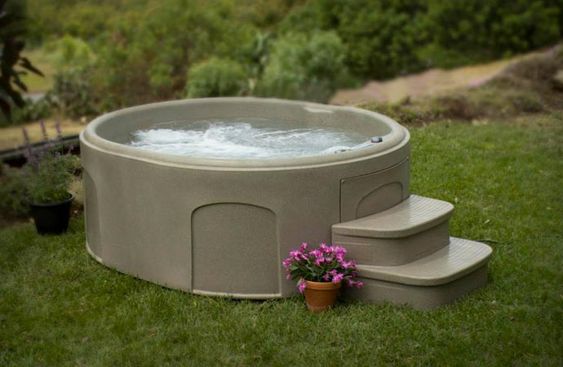 7. 👣 Perfect placement
When you reach the chosen spot on the grass, gently lower the hot tub off the dolly. Check that it's leveled and in the right position.
8. 👣 Reconnect utilities
Now, it's time to reconnect the electrical supply and plumbing if needed.
9. 👣 Test the waters
Fill the hot tub with water, check for leaks, and ensure that all systems are functioning correctly before you use it.
Remember that moving a hot tub is a physically demanding task, and safety should be your top priority. If you're unsure about your ability to move the hot tub safely, or if it's a particularly large or heavy unit, consider hiring professional movers who have experience with hot tub relocation.
Taking into account all the information above, you will also need a perfect space where you can relax in peace, so take a look at our article about
backyard hot tub privacy ideas
to increase your comfort of using a hot tub.
Summary
Selecting the best base for your hot tub is essential to its long-term performance and your enjoyment. Consider your specific needs, budget, and requirements outlined above to make an informed choice. Whether it's a concrete slab or a creative wood platform, the right base will ensure you get the most out of your hot tub experience. And remember, with the right base, you can even place your hot tub on grass, provided it's properly prepared.
All in all, when deciding on the best hot tub base for your needs, consider factors like thickness, ease of installation, portability, durability, and weather resistance. By carefully evaluating these aspects, you can create a stable, comfortable, and long-lasting foundation for your hot tub, regardless of the surface or location you choose.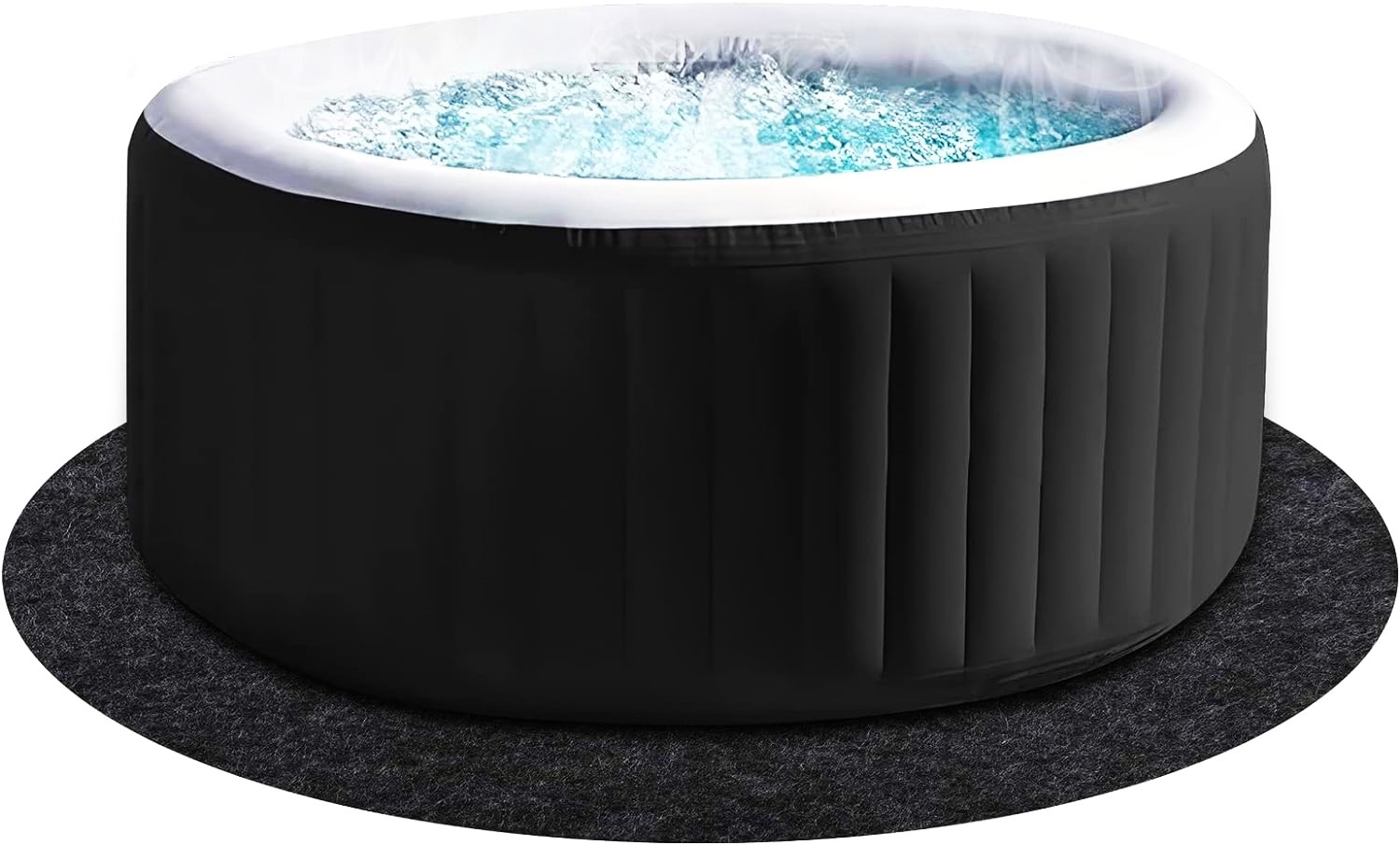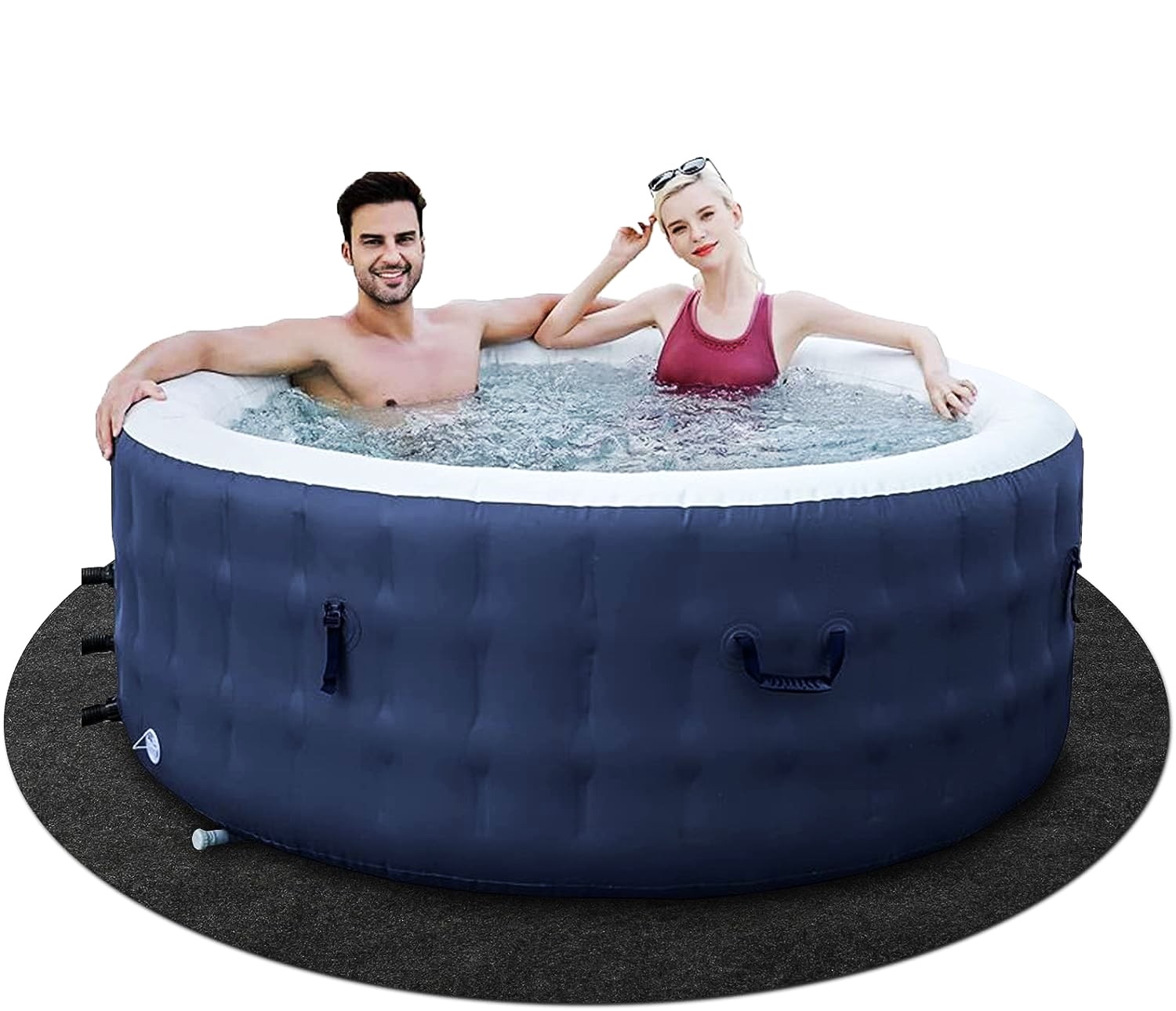 Zomofew Hot Tub Mat
Most durable and long-lasting use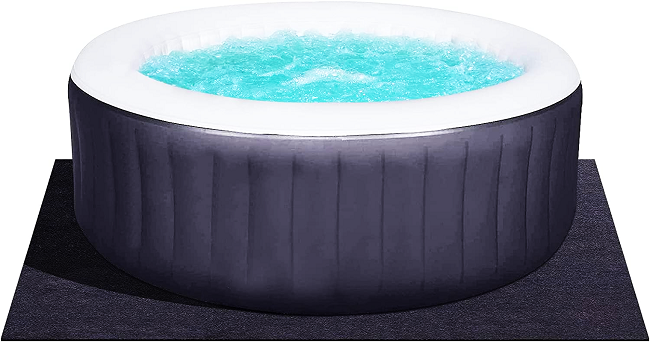 FAQ
📏 How big should a hot tub base be?
The size of your hot tub base should match the dimensions of your hot tub, with some extra space for access and maintenance. Typically, the base should be at least as large as the bottom footprint of the hot tub. Check the manufacturer's recommendations for your specific hot tub model, as sizes can vary.
🔝 What is the best base to put a hot tub on?
The best base for a hot tub depends on your specific circumstances and preferences. Common options include concrete slabs, wooden decking, gravel or crushed stone bases, and prefabricated hot tub bases. The choice should consider factors like stability, weight-bearing capacity, drainage, and ease of installation.
✍️ How thick should a hot tub base be?
A hot tub base's thickness depends on the base material you choose. The base should typically be at least 4 inches thick for concrete slabs to provide adequate support. Wooden decking systems should have joists spaced appropriately for stability. Gravel or crushed stone bases should have a minimum thickness of 4 inches for good weight distribution.
⚖️ Should I level the ground before installing the hot tub base?
Yes, it's essential to level the ground before installing the hot tub base. A level surface ensures the hot tub sits evenly and prevents structural problems or discomfort during use. Use a level and, if necessary, make adjustments to the ground by adding or removing material to achieve proper leveling.
🤔 What type of gravel is best for a hot tub base?
For a hot tub base, use clean, crushed stone or gravel that is angular rather than round. This type of gravel provides better stability and drainage. A base layer of crushed stone followed by a top layer of smaller gravel or stone dust can create an excellent foundation for your hot tub. Keep in mind that the specific gravel requirements may vary depending on your hot tub's weight and size, so refer to the manufacturer's recommendations for the best results.