If you read this article, you're probably thinking about improving your outdoor space or envisioning a backyard in the dream house you're building. And you've come to the right place because the hot tub patio is indeed a fabulous concept. Imagine having a warm bath under the stars on a chilly night or watching your kids happily splash in the water! We want to show you that a luxurious hot tub experience is achievable and provide you with inspiring design ideas and knowledge necessary to build a hot tub patio.
We'll try to answer all the essential questions: why your house specifically might need a patio with a hot tub and fire pit, can a wooden deck be a better foundation, and how to plan backyard updates. And, of course, you'll find a collection of 18 ideas grouped by the materials used for a hot tub patio (from concrete to porcelain). Wish you pleasant and inspirational reading!
Why Consider a Hot Tub Patio?
From our experience, homeowners who end up building a hot tub patio ideas share several traits: they want to maximize the benefits of the outdoor spaces, look for less widespread backyard concepts, and are ready for a substantial investment. If you feel positive about the three, you probably have to answer two questions: why choose a patio itself, and will the hot tub be the best addition (instead of a simpler hammock or more common furniture options). Let's explore those separately.
Why a patio (even on its own) is a great idea
I don't know a single person who would regret a well-built patio (a poorly done one can cause a headache, though, so make sure not to skip these important planning steps). When you invest in a patio, you create an elegant living space in the backyard your family will enjoy for decades. It requires little maintenance, as you only need to clean it thoroughly before the spring season—the rest is occasional tidying from debris and washing furniture and cushions (if you have those).
It is also a great way to add value to your property if you are considering a future sale. A patio can be adapted for dozens of activities, from peaceful outdoor family dinners and friend parties to gardening. And, of course, it can host a luxurious hot tub!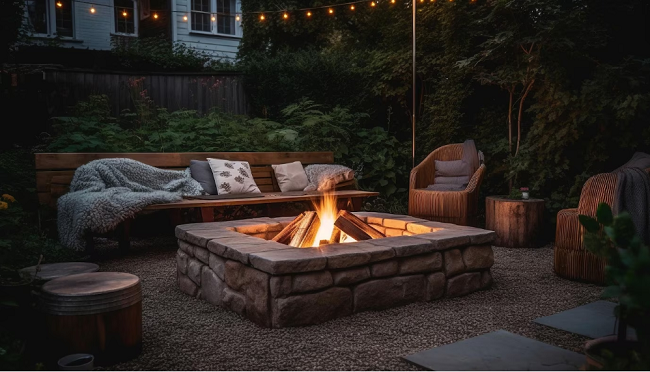 And why a hot tub is an even better addition
There are many reasons why a hot tub patio is one of the best backyard concepts. If you envision your backyard as a place of ultimate tranquility and relaxation, nothing achieves this goal better than an open-sky jacuzzi. It will also extend the usability of your patio, making it enjoyable even during cooler seasons. You can choose a hot tub of your preference: a larger one for family use or a one-person tub for private relaxation, water jets hot tub for quality massage and pain relief, or bubble jets for gentle soaking.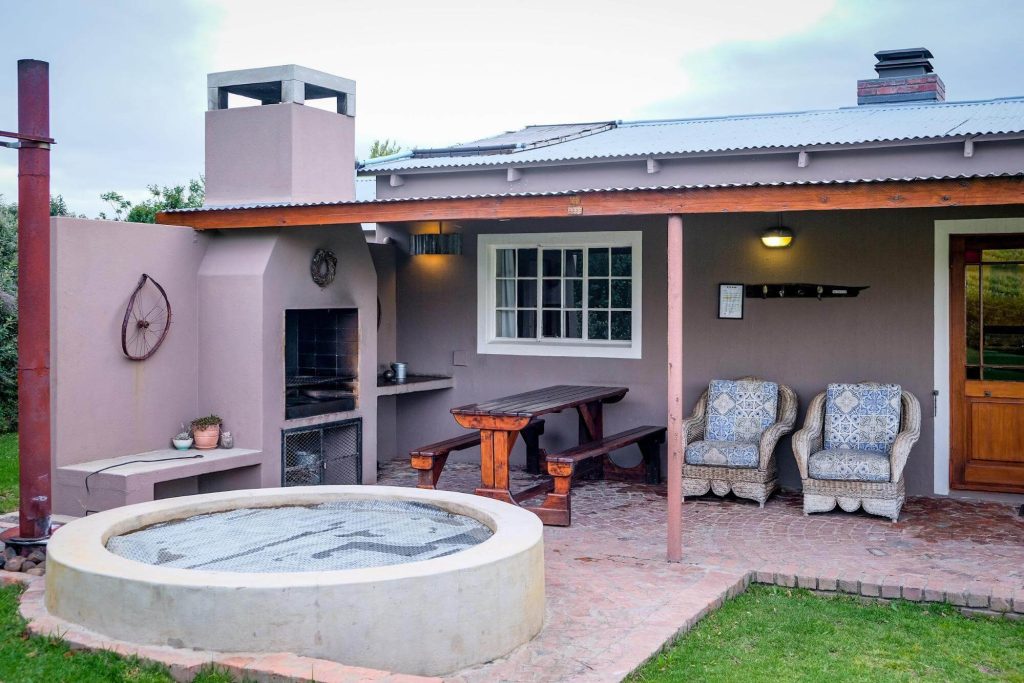 As you can see, the range of benefits is, indeed, extensive. But before continuing with backyard patio ideas with a hot tub, we need to address several popular questions. Can you put a hot tub on a deck, and how different is it from a patio?
Patio vs. Deck: What's the Difference
It must be said that both the patio and deck can suit your backyard very well. The choice depends on your preferences and budget. Let's compare the patio and deck by considering the 3 most crucial aspects:
🏗️ Materials and Construction
The most important difference between a patio and a deck is that the patio is laid down on a solid, level foundation, while the deck is elevated and can be built over a slightly sloped surface. As you will see further, the patio can feature very different material combinations, while the deck is almost always made of wood. Overall, there is much more room for creativity if you go with the patio.
💲 Cost and Maintenance
On average, patios are cheaper, especially if you choose materials like concrete or gravel. Putting up a deck is a more complicated process, and the cost of materials is higher (depending on the type of wood). The average square foot price a contractor will quote falls between $30 and $60 (including the cost of the material). The effort you need to put in to maintain a deck is also greater because the wood needs regular sealing, staining, and protection against rot, insects, and weather damage. So yes, building a deck is more expensive but adds more value if you're considering a future resell.
💡
Pro tip: if you start the construction process in winter you will likely get a cheaper estimate because the winter is a less busy season for contractors.
🏖️ Use and Function
Just like a patio, the deck can be used for almost any activity. However, if you plan to place something heavy onto it (like a hot tub), you'll need to ensure that the deck can actually hold such weight. Consider winter usage as well: while the patio is good year-round, snow and ice make decks less comfortable to use, and you might need to install a cover or a heat lamp.
And here we have several simple, but sleek hot tub deck ideas for you: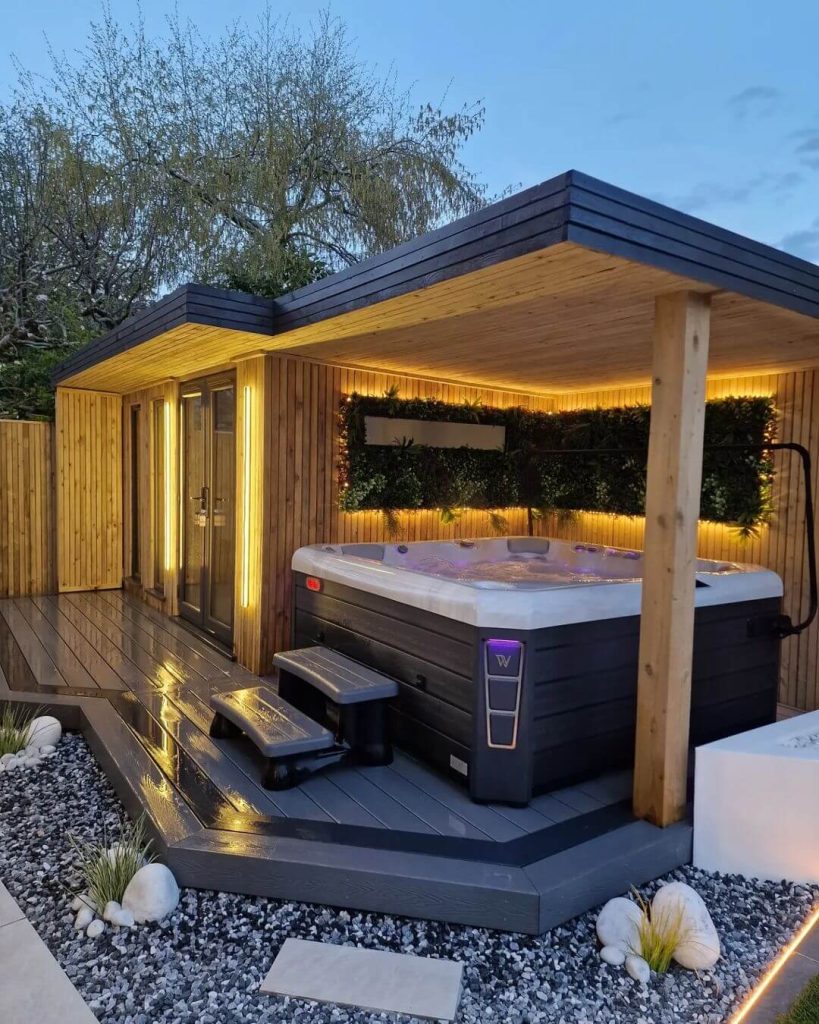 What Does a Good Hot Tub Patio Design Look Like?
For this article, we've selected 15 hot tub ideas for a patio and grouped them by the type of building material. We'll also cover the most essential information you need to know about each option, including price estimates.
Standard Concrete Patio
It is very easy to place a hot tub on a concrete patio. This option is popular, versatile, and the most affordable. Concrete allows customization, so you are flexible with the shape and color. The cost you can expect floats around $10 per square foot. The only thing you need to worry about, in this case, is avoiding cracks that can happen if the concrete is poured under cold weatherIf the air temperature remains below 50º F for more than 12 hours, it is considered cold weather conditions.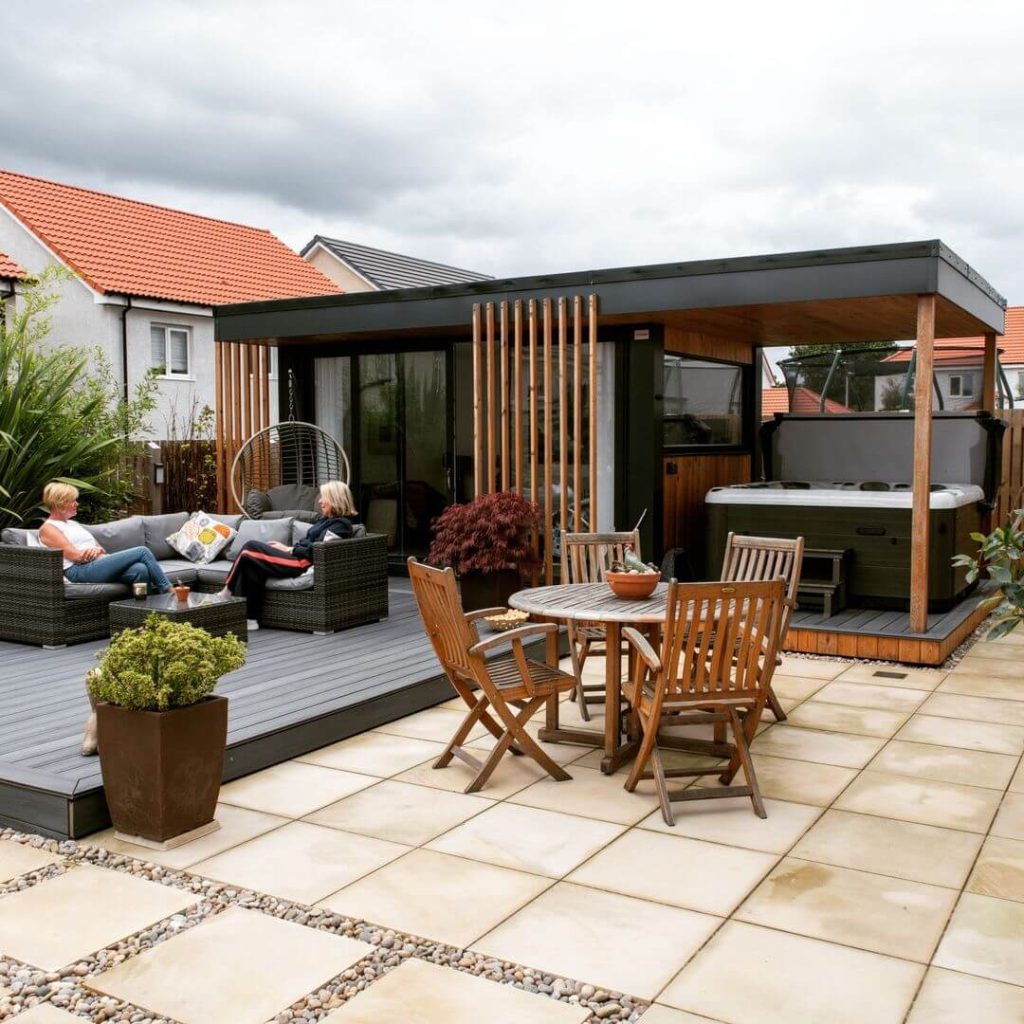 Budget-Friendly Gravel
Gravel patios are a budget-friendly option with a relaxed, informal aesthetic. It shares many advantages with concrete as this material is easy to install and even more affordable. The average price is between $5 and $10 per square foot. Gravel requires very little maintenance, however, you might need to replenish it periodically.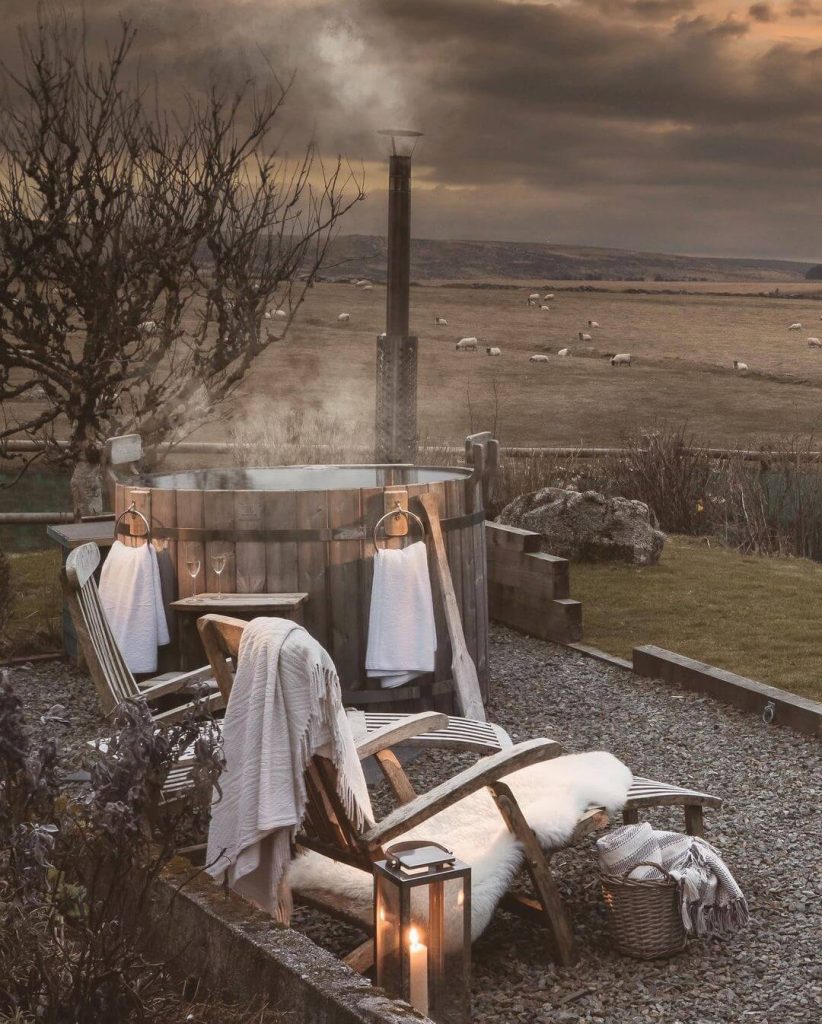 Versatile Paver Patio
Paver patios can also suit a hot tub well. They can be made of concrete, clay, or natural stone. As pavers are available in all possible shapes, sizes, and colors, you get a wide range of design options. It is also rather easy to replace a damaged paver if needed. You can expect to pay between $10 and $25. The downside is that you'll almost certainly have to deal with the weeds growing between the pavers.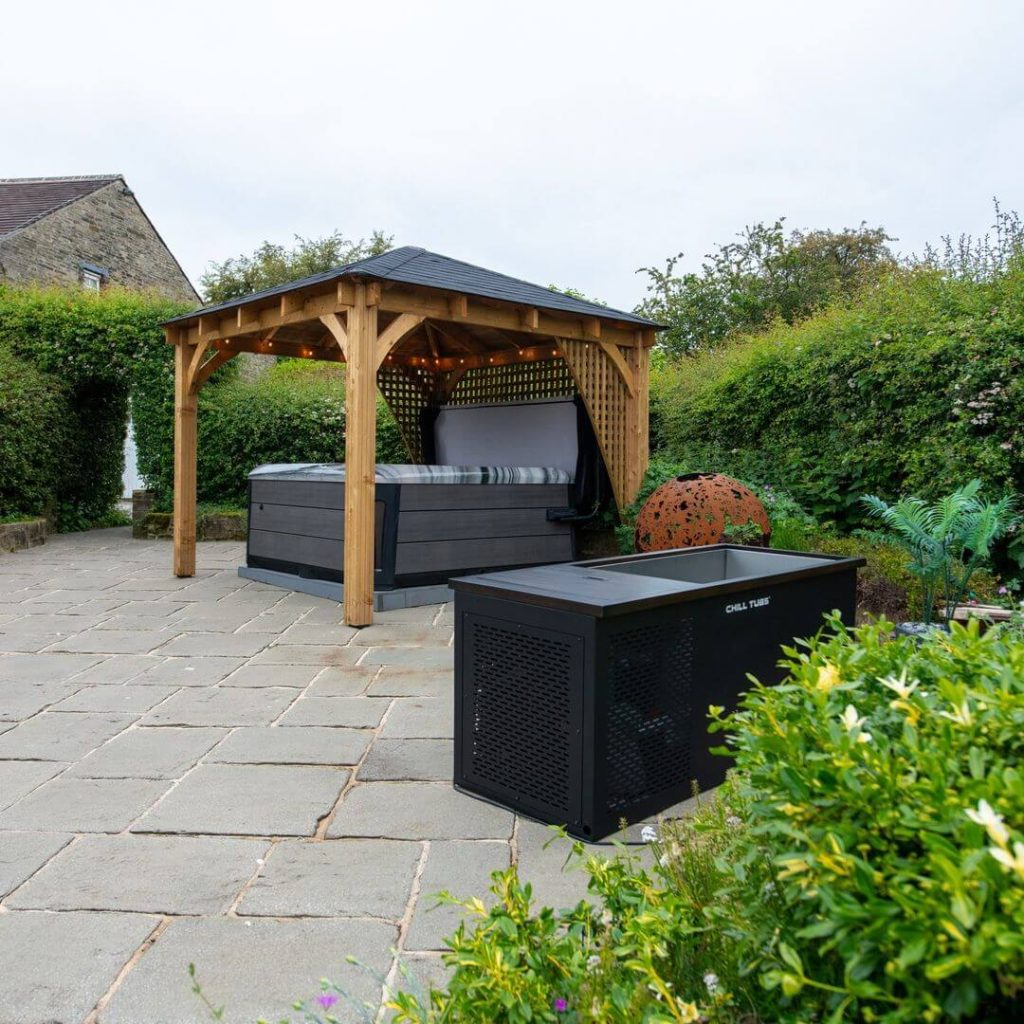 Ceramic or Porcelain Tiles
There are types of porcelain and ceramic for outdoor use. Such tiles can create a sleek and modern patio. They are also resistant to moisture and staining, so your cleaning effort will be minimal. In this case, the price depends greatly on the type of porcelain you use: the cheapest options cost around $15 per square foot, while the most high-end tiles can cost more than $50. Also, you shouldn't put the hot tub on these tiles to avoid cracking, so you'll have to combine porcelain with other materials.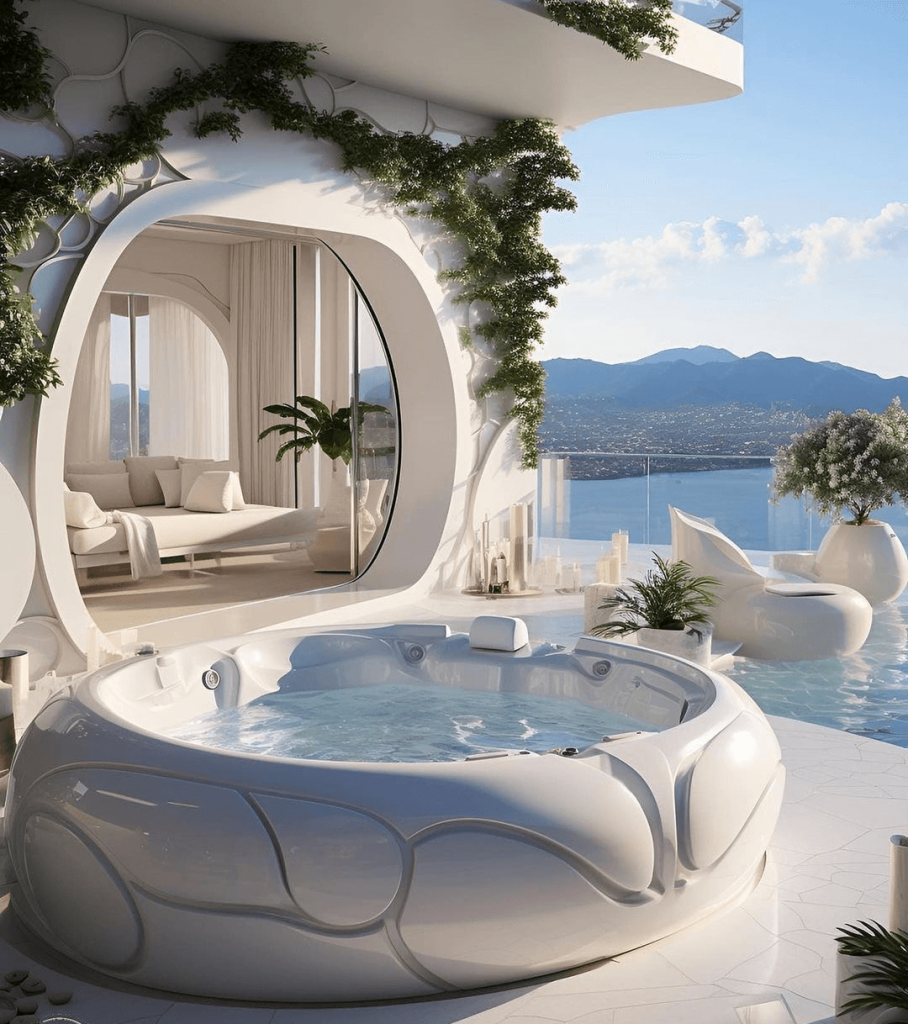 Elegant Natural Stone Patio
Natural stone, such as flagstone, slate, or bluestone will create an elegant and highly durable patio surface. Stone patios can use odd shapes to emphasize the organic look or, instead, be cut into uniform shapes for a more formal design. It is one of the more expensive options because it requires professional installation—you should expect to pay more than $20 per square foot.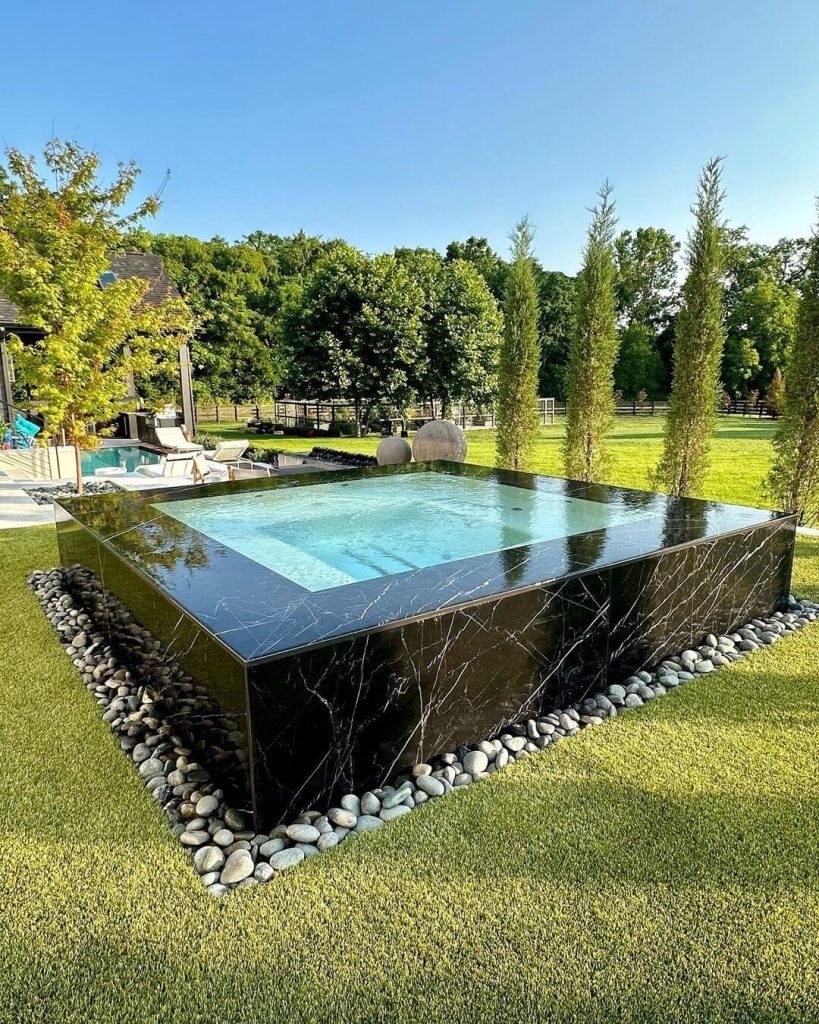 Another cool idea we really wanted to present is a rammed earth patio. Rammed earth is a tricky material and is mostly used for building walls. It is very rare to see a hot tub on a rammed earth foundation, but if you are looking for the most eco-friendly patio ever—this one is surely worth your attention.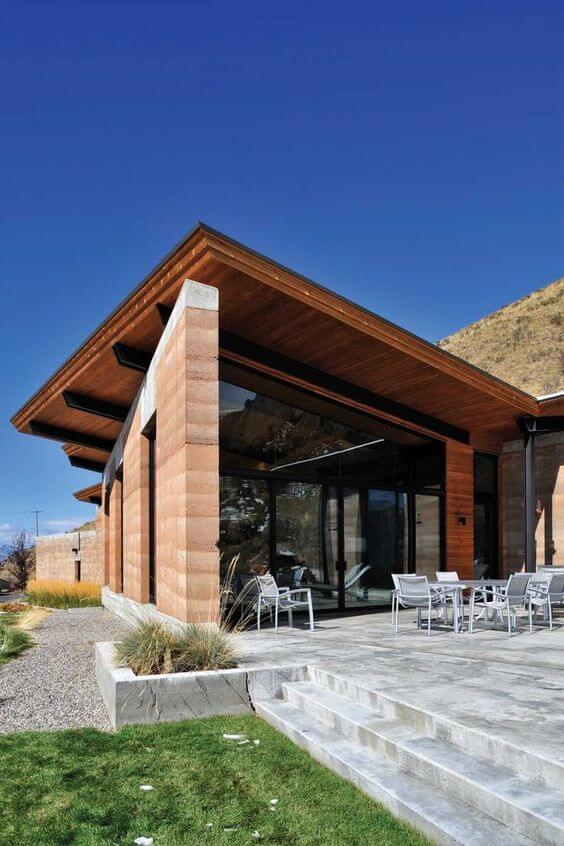 Now that you know the scope of patio options, we can take a look at the hot tubs to suit the chosen patio.
How to Choose a Hot Tub to Suit Your Patio?
When choosing which hot tub brand to incorporate into your patio, you need to make several considerations about its size, cost, and features.
Will the hot tub fit in the patio?
You need to measure the size of your backyard and compare it to the jacuzzi size. You will likely want something else to complement the hot tub (like a dining table or a fireplace), so make sure the tub doesn't leave too little space for the furniture.
What are your budget limitations?
A large variety of hot tubs is available on the market, so it should not be too difficult to find a financially suitable option. If you plan the process well enough, you can, for example, combine an inflatable hot tub with a deck to make the overall price less steep. Actually, we have all the details about hot tub pricing in a separate article. Check it out to avoid overpaying!
What are the hot tub features you want to have?
You might be surprised, but there are many advanced features that hot tub manufacturers offer. LED lights, in-built fountains, Bluetooth speakers—the list goes on and on. Of course, these features affect the price of the hot tub significantly. One brand that has several such cool features while keeping the overall quality solid is AquaRest. Recently, we've dissected their marketing and evaluated the strong and weak sides of their design.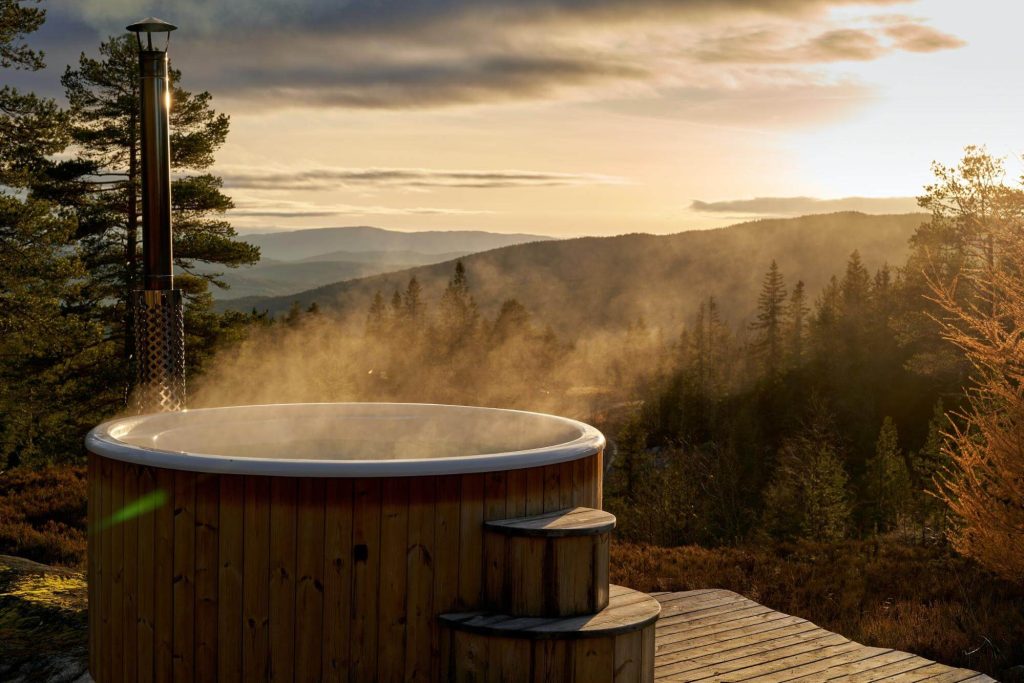 Finally, let's figure out what is essential in hot tub patio planning and how to avoid the most common pitfalls.
Frequently Overlooked, but Necessary Planning Steps
Not visualizing the end result
Nowadays, the designer toolbox is full of software that makes planning more convenient and illustrative. You can get lots of crucial insights about your dream patio when you see it done on the computer screen. You can do the visualization yourself or ask the designer to show you a couple of variations. Here's a short video of how to use such a tool.
Not considering privacy issues
Sometimes, a homeowner realizes that the backyard is not at all private by the end of the construction process. Of course, it is no longer possible to affect the final result, so a person needs to adapt. As always, it is much better to think such complications through in the very beginning. If you want to address your existing privacy issues or prevent future ones, we recommend exploring our article about hot tub privacy ideas.
Not planning a patio and a deck simultaneously
The more thorough your planning is, the better. The patio and the deck are both significant structural improvements, so if you choose to combine them (which is perfectly possible), you need to plan them simultaneously. The key here is to find suitable places to anchor the deck posts. If you plan to place a heavy hot tub or an outdoor kitchen on the deck, the footings need to be closer to one another. It will allow the deck to support larger weights. So, the best course of action would be to decide whether you want a hot tub, build a patio, and then add a pre-planned deck.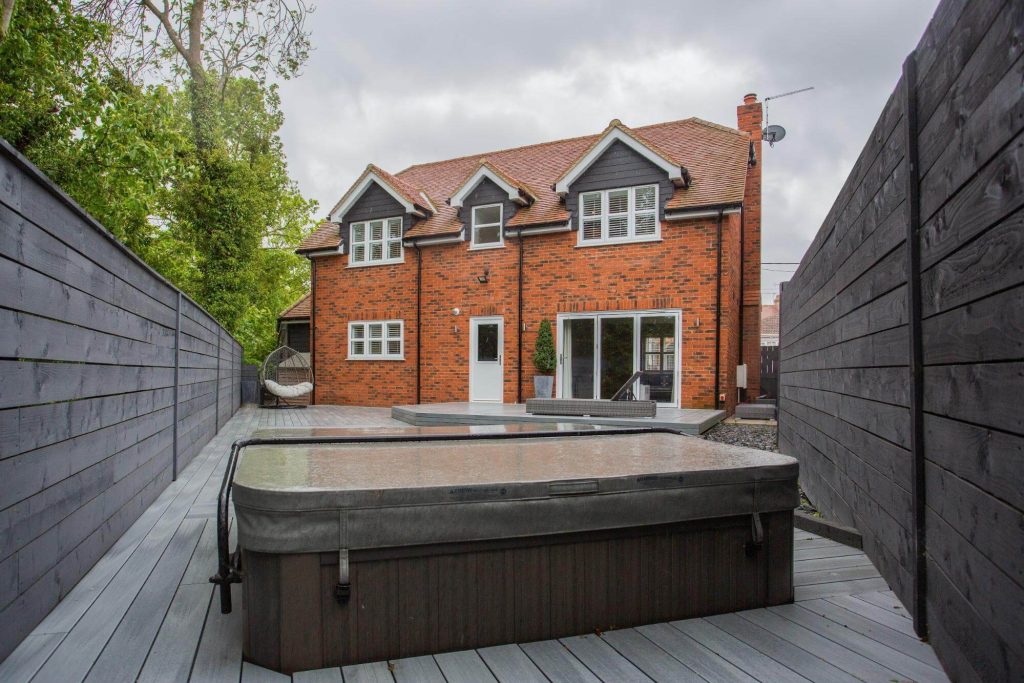 Summary
When you consider building an oasis in your backyard, the hot tub patio is one of the best concepts you can choose from. It offers a wide range of benefits, from solitary relaxation under the open sky to family evenings next to a fireplace. In this article, we showed 15 hot tub patio ideas to help you envision your future backyard and answered the most common questions about patio planning.
We started by discussing the motivation behind building a patio and the reasons a hot tub is a perfect addition to a backyard space. Next, we explored a choice between a patio and a deck in great detail and selected several hot tub deck ideas for you to explore. A patio can feature a variety of materials, so we presented the most essential information about each type alongside the inspiring ideas of hot tub patio designs. Finally, after you decide about the patio and start a comprehensive plan, our insights will help you choose the best hot tub for your preferences and not miss any important preparation steps.
We hope our expertise and effort will prove useful when you are building the house of your dreams!
FAQ
🛁 Can You Put a Hot Tub on Your Patio or a Deck?
Yes, and it is a great idea! Both a hot tub patio and deck are some of the best designs for a private relaxation haven. You need to consider the size of the backyard space, and the type of construction material, and then choose a quality hot tub brand.
🧱 What Is the Best Patio for a Hot Tub?
When it comes to choosing materials for your hot tub patio, you can get really creative. Our collection features concrete, pavers, gravel, natural stone, and a couple of rare and unique ideas!
💪 Is My Patio Strong Enough for a Hot Tub?
Most likely, it is. Of course, a solid hot tub patio requires a high-quality foundation, but if a jacuzzi addition is planned, the contractor will adjust the depth of the foundation accordingly.
🤔 What Is the Difference Between a Patio and a Deck?
There are quite a few differences, actually. The main one is that a patio is built right on the ground, while the deck is slightly elevated. We have dedicated a whole section to cover the variance in materials, costs, and needed maintenance.
💰 How Much Will My Hot Tub Patio Cost?
First, you need to calculate the cost of a patio. Multiply the price of the material from this section by the size of your patio, and you'll get a patio cost (without the cost of foundation placement). Then, add the price of a hot tub from this article, and you'll get a rough estimate.